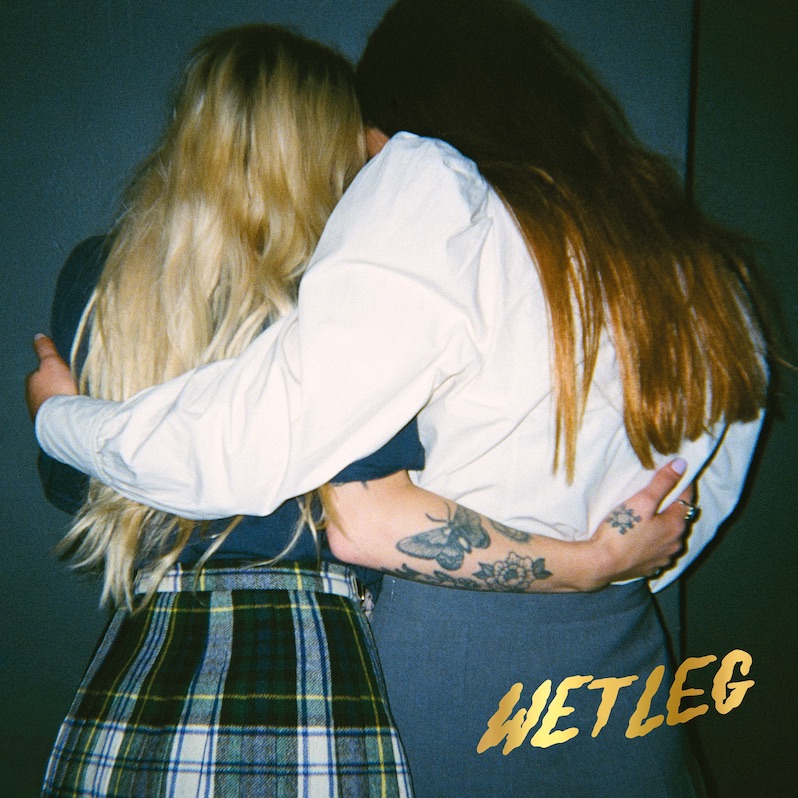 There's always a concern that when a band establishes a personal brand around humor—as Wet Leg most assuredly did with the lead single from their eponymous debut, "Chaise Longue"– that it'll quickly degenerate from a selling point to a gimmick, and then onto a tiresome drawback shortly thereafter. It takes just a little over 30 minutes for Wet Leg to prove that in their case, though, such fears are most certainly unfounded.
There is good reason why so much has been made of the jocular sensibility that runs throughout Wet Leg. Singers and guitarists Rhian Teasdale and Hester Chambers have a knack for delivering lyrics that are simultaneously utterly bizarre and reassuringly familiar, a series of witty snippets—aloof yet incisive—that create a patchwork commentary on the trials and tribulations of modern life. "I don't need no dating app to tell me that I look like crap" from "Too Late Now" will resonate with most anybody who's spent too much time exhausting their thumbs on Tinder. "It never really turns out right / At least we are all going to die" from "I Don't Wanna Go Out" is their nihilistic attempt at comfort. Perhaps the best example on the record, though, comes from the end of Wet Leg's sixth single, "Ur Mum": "I've been practicing my longest and loudest scream. Okay, here we go. 1, 2, 3, AAAAAAAAAAAAAGGGGHHHHH!!" It is, in all its cathartic idiocy, one of the most perversely relatable moments in music history.
As great as the comedy is, its praise perhaps overshadows an equally brilliant component of the album, which is its incredible aptitude for sincerity. The laughter opens up a door to a certain kind of authenticity that makes its sensitive moments seem all the more genuine, all the more immersive, and all the more enjoyable. Whether it's the desperate emotion of 'Loving You,' or the stupid, wonderful joy of "Supermarket"—one of the silliest and most genuine love songs I've ever heard—it's easy to see that although irreverence is something Wet Leg clearly excel at, they're far, far more than a one-trick pony.
The first half of the album suffers slightly from a lack of diversity of tempo—all the songs move at more or less the same head-nodding pace, which means that although they're largely great in isolation, they do rather start to blur together after track 5 or 6. But from the midpoint onwards, these problems seem solved, and Wet Leg gives us scores of ebullience and emotion in equal measure as it effortlessly cavorts from delicate, vulnerable ballads to breezy tunes mocking the narrator's clueless ex-partner.
At its core, Wet Leg is an indie-dance album. But it still boasts a great deal of variety within that space—it tends to sway between a kind of fuzzy punk and a folksy pop sound, with a few glitchy electronic touches thrown in here and there for good measure. It keeps everything bouncing along nicely, whilst still maintaining a sound for the band that is instantly recognizable as their own—quite the achievement for a debut release. Indeed, there's something about the simplicity of Wet Leg's minimalistic riffs, the space they create between the warm, hammering bass and the jangly guitar riffs, that manages to make their lyrics feel all the more personable. You're not just in on the joke—at times, it almost feels like Teasdale and Chambers are speaking to you directly, and that's another major element of the album's appeal; there plenty of things to complain about right now, and if you don't know whether to laugh or cry, well, Wet Leg don't either—and they're doing it with the kind of invigorating beats and fun, punchy riffs that ensure this album is impossible to resist.
---
Label: Domino
Year: 2022
Buy this album at Turntable Lab
---
Similar Albums: