Wolf Parade : At Mount Zoomer
Wolf Parade's debut album Apologies to the Queen Mary took surprisingly little time to be canonized. That it was so quickly ushered into the halls of `greatest of all time' can be partially attributed to the overt enthusiasm of a few dozen critics and a few thousand nerds with Internet access. Yet, more importantly, it got there for being such an incredible album on its own, independent of buzz. With just a few self-released EPs to serve as warning, Wolf Parade's full-length debut arrived like an explosion, blowing minds and eardrums with a sound so simple, affecting and unabashedly "indie rock" in a decade in which such a thing became more revered and loathed than in any before. In fact, we can probably thank/blame Wolf Parade for making almost everything that came afterward sound mediocre.
The tricky part, then, becomes sustaining that level of quality. Given the variety of sounds the band members make independent of Wolf Parade (Handsome Furs, Johnny and the Moon, Sunset Rubdown, to name a few), the possibilities for where the band could go next were seemingly wide open. And yet, when the band members form a whole, they merge into an unshaven, half-drunken Voltron. All the bits and pieces of side project shrapnel are absorbed into this scruffy, rock `n' roll colossus, which seems to only enhance the strengths of each individual member. That level of quality, then, is not only met, but the band's horizons have been broadened and the niche into which the band fits has been widened.
With song lengths extended, track list shortened and song structures allowing for extended bridges, interludes and codas, sophomore album At Mount Zoomer is Wolf Parade taken to more expansive territory. Because of this shift toward artier tendencies and away from shorter, catchier anthems, Zoomer is likely to be a more divisive album than its predecessor. In spite of this probability, the band's evolution into something more sprawling and exploratory is definitely a good thing.
The group's shift in dynamic is presented gradually, with the first third of the album sounding like the awesome anthems of yore, if a bit more elaborate. "Soldier's Grin" and "Call It A Ritual" are both accessible and powerful tracks, sounding quite at home alongside tracks like "You Are a Runner and I Am My Father's Son" and "Shine a Light." Likewise, "Language City" is as kickass a rock song as you're likely to hear from the band, driven by open, ringing chords and a bouncy piano melody. Somehow, as the song draws to a close, the final two minutes transform into something different entirely, from minor to major key, from syncopated to straightforward pop, and ultimately, a soaring coda. It's clear by this point that something has definitely changed.
Nowhere is the artistic transition most apparent as it is on the 10-minute "Kissing the Beehive," an epic which finds Spencer Krug and Dan Boeckner sharing vocal duties (thus placing each at the helm about 50 percent of the time on a nine track album). Stylistically, "Beehive" finds the right balance between Krug's baroque explorations and Boeckner's catchier, harder rocking selections, only on a much grander scale. While the song's path is linear, it contains about five or six different separate movements, making it lengthy, but never overly indulgent.
On the path toward that enormous closer, Krug and Boeckner alternate vocals, though not uniformly following a pattern of Spencer/Dan/Spencer/Dan. "Bang Your Drum" is the most Sunset Rubdown-sounding track on the album, not that that's a bad thing, though it's followed by the outstanding "California Dreamer," in which Krug's mind seemingly plays tricks on him as he reflects "I thought I might have heard you on the radio/ but the radio waves are like snow." A pair of Boeckner songs follow, starting with the fantastic, peppy "The Grey Estates," driven by light and fluffy keyboards and a crunchy groove, and the promise that "your world is just a minute away." The relatively subdued "Fine Young Cannibals" is no less impressive, strutting with the swagger of Spoon, yet with the unsettling declaration that "in this house, there's no order." And while just about any track on here is a standout, the album is even stronger as a whole, further reflecting the band's maturation.
In the three years since Apologies To the Queen Mary, Wolf Parade has come a long way, though their ragged art-rock punch is still as potent as ever. At Mount Zoomer is a challenging and refined piece of work, the sort of album that not only reinforces an artist's finest qualities, but manages to reveal a good many surprises in the process. One thing that hasn't changed is the band's soaring ambition; thank God for that.
Similar Albums:
Spoon – Ga Ga Ga Ga Ga
Destroyer – Destroyer's Rubies
Sunset Rubdown – Random Spirit Lover
MP3: "Call It a Ritual"
Download at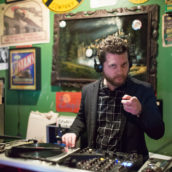 Jeff Terich
Jeff Terich is the founder and editor of Treble. He's been writing about music for 20 years and has been published at American Songwriter, Bandcamp Daily, Reverb, Spin, Stereogum, uDiscoverMusic, VinylMePlease and some others that he's forgetting right now. He's still not tired of it.