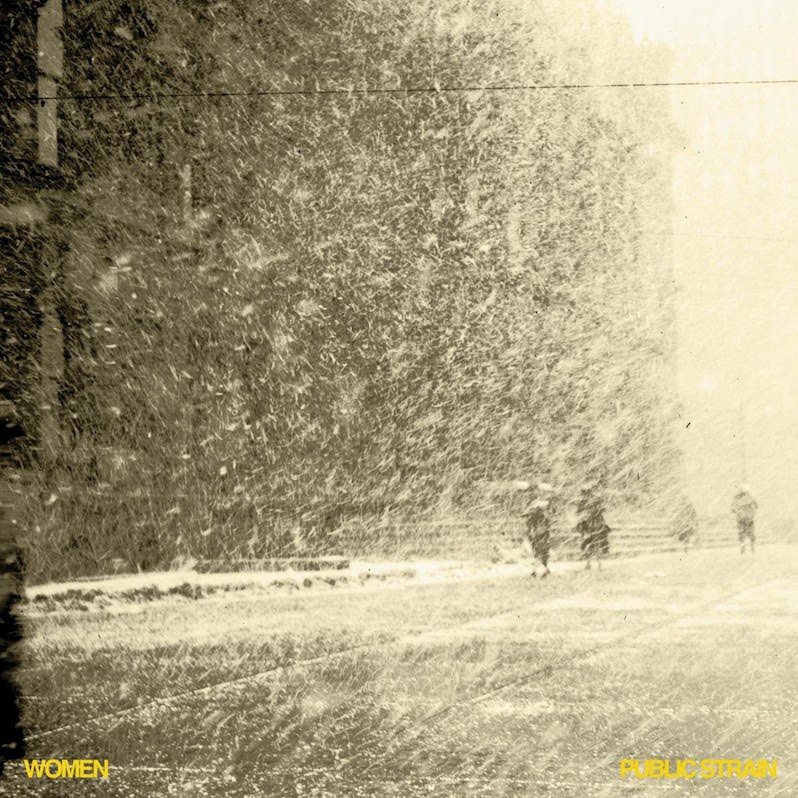 Sunshine and beach fetishism have conquered indie rock, but the warm front matters little to Calgary's Women. Much against the hedonistic trends that have, for the time, taken over North American indie rock, Women's second album Public Strain is adorned with the image of a bitter snowstorm, the kind of fiercely rugged weather that blankets the U.S.'s northern neighbor. Yet it's an oddly fitting image for the album, much of which was recorded in the dead of winter. Reflecting the weird chill that permeates the album's eleven songs, it's an apt companion to the band's own abstraction, the people and buildings in the photograph only barely coming into view behind the harsh torrent of snow.
Masters of abstraction and atypical song structure, Women proved themselves strikingly innovative and bizarre tunesmiths on their 2008 self-titled debut, a twisted mish-mash that at times recalled the vintage sweetness of the Zombies, and at others, the mangled post-punk of This Heat. Public Strain finds the band extending this aesthetic, retaining the heavy doses of distortion, reverb and askew time signatures that served them so well before. But in sharp contrast to the dissonant fragments of their debut, the songs on Public Strain feel much more complete and melodic, utilizing their implements of abstraction to better enhance their songs, rather than as ends in themselves.
Even if Women are approaching normal, though, they sound more interested in finding the most indirect path, and because of that, Public Strain is stacked with twisted-yet-catchy pop numbers. First track "Can't You See" is a slow, droning number, as appropriate a choice as a closer as it would be an opener, but here it draws the listener into the album's gorgeous, wintry world via noisy wheezes, screeching strings, a contrastingly serene bassline and infectious recitations of its title. Starkly juxtaposed against the atmospheric opener is "Heat Distraction," a more direct and abrasive pop song, or as direct as a pop song in 13/8 can possibly be. Despite its rhythmic complexity, it's one of the band's catchy numbers, more post-punk than Velvet Underground, jerky, jangly and outstanding.
Where the band's debut contained at least one breathtaking pop gem in the form of "Black Rice," Public Strain is loaded with numerous examples of the band's exceptional knack for melody and texture. Launching from the sound of back feeding buzz, "Narrow With the Hall" takes a solid minute before the rhythm section kicks in, but when it does, becomes a simple, yet solid garage rock standout. "Penal Colony" is a softly intoxicated lullaby, "China Steps" carries a krautrock-influenced pulse, and "Locust Valley" grooves with the rhythmic grace of Stereolab and the post-punk guitar chime of Sonic Youth.
And then there's "Eyesore." Nestled away at the very end of the album, this six-minute epic encapsulates all of Women's best qualities, from their tuneful sensibilities to their knack for surprising even the most seasoned listener. The song builds from a monolithic and unforgettable riff, before changing gears entirely to take on a simple, Beach Boys-inspired verse. As it approaches four minutes, the band changes it up again, pounding out a heavy rhythm in the song's dense bridge, which carries out well into the song's fade-out, repeating an entirely different but nonetheless magnificent riff. It's the mark of showmanship, the kind of performance that leaves an audience wanting more, but very little of it is actually repeated for more than 30 seconds at a time, operating more like movements in a suite than in verse-chorus-verse structure.
Much like the snowstorm on the album's cover, the music of Public Strain is often harsh and obscured. But Women's use of effects and noise is never used as a mask for insecurities or flaws. Rather, they wield it artfully, seasoning their songs rather than blanketing them. Women have long gone against the grain by taking on pop music with an infectiously irreverent ear, but by amplifying their melodic sensibilities their oblique, frostbitten approach has more than paid off.
---
Label: Jagjaguwar/Flemish Eye
Year: 2010
Similar Albums: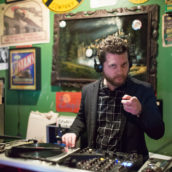 Jeff Terich
Jeff Terich is the founder and editor of Treble. He's been writing about music for 20 years and has been published at American Songwriter, Bandcamp Daily, Reverb, Spin, Stereogum, uDiscoverMusic, VinylMePlease and some others that he's forgetting right now. He's still not tired of it.