Wonderful People: An interview with Q and Not U
As long as pop music has existed, the most intriguing and influential bands have always been those that weren't afraid of change. Pop music, itself, is an evolving entity and those who don't try to stay ahead of its metamorphosis leave a decidedly shallower impression on music to come. It may sound cliché, but there's a reason why Bob Dylan, David Bowie and Tom Waits have had such long and storied careers — they challenged themselves. More recently, bands like Fugazi and Modest Mouse have proven to be musical chameleons, further cementing their relevance in the history of rock. But if there's one band that's shown more dynamics and pleasant surprises than anyone in the last five years, it's been Q and Not U.
In 2000, Q and Not U were four youngsters coming straight out of D.C. with a guitar case full of driving rhythms and serrated guitar interplay. Fitting heirs to the post-hardcore throne, the quartet fit right in on Dischord Records, home to the aforementioned Fugazi. But in 2002, after the departure of bassist Matthew Borlique, the trio found themselves abandoning the guitar-centric assault of No Kill No Beep Beep for a more rhythmic and melodic approach on Different Damage. But nobody could have been prepared for what was to come in 2004.
Power, the band's most recent release, is the funkiest album made by white guys since Remain in Light. Singer and guitarist Christopher Richards traded in distortion and shouting for a clean, funky guitar style and a falsetto delivery. Meanwhile, Harris Klahr seems to have doubled the amount of keyboards he played previously, resulting in some serious Bernie Worrell-isms. And drummer John Davis has moved on from the frantic punk rock beats of before to a more danceable form of disco-influenced punk.
For some bands, this kind of change is far too drastic, but for Q and Not U, it's a natural progression. According to Chris Richards, the band was ready to abandon the loud guitars.
"I play most of the guitar parts on this record, and I can just tell you that I was bored with distorted jabbing," Richards said. "It's something we've been doing since day one, so I thought it would be more fun to try and emulate someone like Prince or Nile Rogers. It's really hard to play confidently in that style, and that's far more interesting to me than just banging away through the distortion pedal."
One result of Q and Not U's descent into funk is a more free, unrestrained sound. "Wonderful People" is the band's first-ever party jam, while "Tag Tag" strips their abrasive punk down to a more rhythmic, percussive form of rock. By far, however, "Wet Work" is the most intriguing track on Power. It's somewhere between Talking Heads and Prince, marrying Eno-esque keyboards with simple guitar licks and an almost call and response vocal style. The origins of this song go back to some improvisation the band did over a year ago, which resulted in a free form funk jam, using the song's lyrics, at the Coachella Arts and Music Festival in Indio, CA, earlier this year.
"We had been ending our set with a rhythmic, improvisational jam for a year or so before the Coachella show and I would always try and write a little rap the day of the show, based on that day's news headlines," Richards said. "Sometimes I would recycle little rhymes from shows prior. The lines from `Wet Work' (Something beautiful happened in the church house, but it didn't have to do with God) – came from a show we played at a church in Albany, NY earlier that year. They wandered into the Coachella jam, and then I eventually mined them once more when it was time to put lyrics to `Wet Work.'"
On top of experimentation and a willingness to evolve, political awareness has been on the band's plate since the beginning. At shows, Q and Not U have set up voter registration tables, and on stage, they've proven themselves to be outspoken voices on today's state of affairs. At one show in California, before Arnold Schwarzenegger was elected as governor by a majority of slightly over one-third, Richards held up a copy of the Los Angeles Times and criticized pollsters for excluding youth from their surveys. And more recently, the band has even more been outspoken on the subject of the presidential election.
"I was disappointed that more pop artists didn't speak up during this election cycle," Richards said. "I think it's tragic when mainstream artists with so much influence are afraid to speak their hearts because they're afraid of hurting their sales. I loved Puffy's `Vote or Die' campaign, but why didn't they just endorse Kerry? `Vote or Die' is a pretty strong sentiment, but imagine if those shirts said `VOTE KERRY OR DIE IN IRAQ.' I know the process is more important than a partisan angle, but this election was just too important. And now we're stuck with this crypto-fascist for another four years. It's not Diddy's fault, of course, but you catch my drift. After all, asking for political extremism from pop musicians is too much, I guess. But I can dream! Public Enemy did it!"
Q and Not U are constantly touring, hitting most major cities in the US at least once a year and visiting Europe whenever possible. As of this past summer, however, another destination was added to the band's travelogue — South Africa.
"South Africa was a blessing and a curse for us," Richards said. "Logistically, we had some hang ups, but it was still amazing to be able to play music in that part of the world. We got hooked up through a promoter friend in Denver who used to live in SA. The shows were a real mixed bag, but we did get to go on safari and visit the Apartheid museum. And most importantly, we played our music for people who had never heard anything like us. Overall, it was amazing to play music in a country with such a charged and inspiring socio-political history, and I'm grateful to the folks who brought us over."
No matter where Q and Not U ends up geographically, it's a safe bet that no one truly knows what's in store for the band, come two years from now. They've shown more growth in five years than many bands display in an entire career. There is one thing we can bet on however — more surprises.
"We have to keep it free," Richards said. "I think the constant craving for freedom will probably be our downfall in the end – I'm sure the band itself will feel too constricting someday. But until then, it's all fair game and we're excited to venture wherever our music takes us."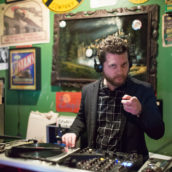 Jeff Terich
Jeff Terich is the founder and editor of Treble. He's been writing about music for 20 years and has been published at American Songwriter, Bandcamp Daily, Reverb, Spin, Stereogum, uDiscoverMusic, VinylMePlease and some others that he's forgetting right now. He's still not tired of it.