Yo La Tengo : I Am Not Afraid of You and I Will Beat Your Ass
It begins with a relentless motorik bassline, shakers, handclaps and fuzz, droning and squealing for more than two minutes before the vocals even start. It rocks hard, though it goes nowhere, and not in any particular hurry either, loitering for well past ten minutes. It's a thing of wonder, it is. Considering it's Yo La Tengo, "Pass the Hatchet I Think I'm Goodkind" is remarkably listenable and aurally appealing, an exercise in fuzz-n-groove that would be unbelievably obnoxious in the hands of others, not to mention dreadfully boring. As this is Ira Kaplan's forte, however, he and his musical partners Georgia Hubley and James McNew know the intricacies and subtleties of a long-winded jam session. They also have the sense not to repeat themselves for another eight tracks.
I Am Not Afraid of You and I Will Beat Your Ass, in addition to having one of the best all-time album titles, is Yo La Tengo's eleventh, and like their other lengthily named discs (I Can Hear the Heart Beating As One, And Then Nothing Turned Itself Inside Out), easily one of their best. It's almost as if the length of the album title becomes a beacon of quality, like Star Trek movies in even numbers. Not that I'm knocking 2003's Summer Sun, a record I enjoy quite a bit, but it's almost as if the band needed to recharge before attempting an artistic feat on a scale as grand as the one on I Am Not Afraid.
Much in the manner of 1997's I Can Hear the Heart, I Am Not Afraid (typing these titles is getting exhausting) is something of a hodgepodge of '60s and '70s pop blended with a modern touch. Examine the song that follows "Goodkind," the bouncy, upbeat "Beanbag Chair"; the combination of vocal harmonies and trombone recall some meeting place between the Beatles and Bacharach, while lines like "making misery out of fun" and "slash the beanbag chair" reflect the band's own sweet silliness. Similarly, "Mr. Tough" adds trumpet players over an almost Vince Guaraldi-like bossa nova pop rhythm, and Kaplan attempts his best falsetto to croon clever call-outs like "why don't you meet me on the dance floor, when it's time to talk tough." It's an immensely well-crafted pop song, and quite frankly, one of the best songs I've heard all year.
Yo La can still play it slow, as on the dreamy "I Feel Like Going Home" and the gorgeous "Black Flowers," on which James McNew takes the lead while strings and horns weep and glide in the background. Georgia Hubley has her share of standouts as well, like the Byrds-y Rickenbacker jangle of "The Race is On Again," and "The Room Got Heavy," a trippy, buzzy, fuzzy, bongo-beating psychedelic freak-out, man. This too is one of the best songs I've heard all year—far out.
Ira Kaplan's songs seem to be the ones most steeped in loungy '60s pop, "Sometimes I Don't Get You" being no exception, a gentle waltz touched up with graceful hues of xylophone, sounding as close to Summer Sun as anything on this album is going to get. Yet Kaplan also takes the reins on the distorted, rocking "I Should Have Known Better," which approximates early Velvets cranking out British invasion singles. "Watch Out for Me Ronnie" is considerably sillier, something of a faux-White Stripes sound that actually rocks pretty hard for all of its fuck-all attitude, while "Point And Shoot" revisits that swinging '60s psych-pop sound for some groovy good times.
As the album closes with another lengthy, epic masterpiece titled "The Story of Yo La Tengo," I Am Not Afraid of You and I Will Beat Your Ass reveals itself to be a pop sandwich, wrapped in layers of heady, psychedelic fuzz. Yo La Tengo has always succeeded where variety is concerned, sometimes erring on the side of being too eclectic, but absolutely never risking staleness. And no other band can write a ten-minute song like they can.
---
Label: Matador
Year: 2006
---
Similar Albums: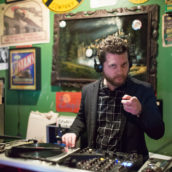 Jeff Terich
Jeff Terich is the founder and editor of Treble. He's been writing about music for 20 years and has been published at American Songwriter, Bandcamp Daily, Reverb, Spin, Stereogum, uDiscoverMusic, VinylMePlease and some others that he's forgetting right now. He's still not tired of it.