Cymbals Eat Guitars : LOSE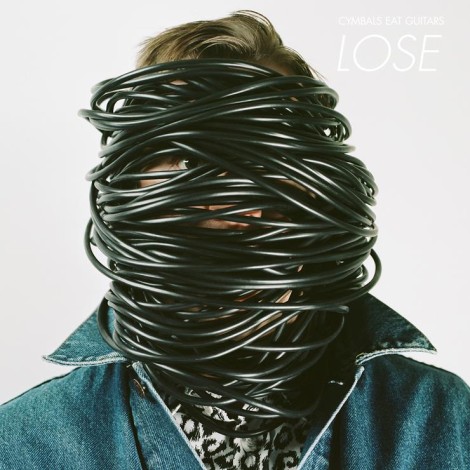 In 2009, Staten Island indie rockers Cymbals Eat Guitars kicked up a storm with Why There Are Mountains. That self-released debut was a '90s indie-rock encyclopedia of sorts, paying sincere homage to everyone from Pavement and Yo La Tengo to Modest Mouse. The effort got them positive attention from critics and fans alike, eventually landing them a deal with Barsuk Records. 2011's Lenses Alien, their first label-funded project, brought more of the same, but with a larger emphasis on expansive, shoegaze influenced passages. Critical response was positive but the fans had tuned out; attendance at the band's headlining tour was relatively bare. Cymbals Eat Guitars started to become pigeonholed as another '90s revival act, and their catalog didn't make a strong argument against that diagnosis.
When it came time to write a third record, guitarist, singer and sole remaining founding member Joseph D'Agostino turned a critical eye on his own work. In a recent interview with Wondering Sound he admitted to growing weary: "All the exercises with words and all the crap writing Lenses Alien… I was very tired of that. I just wanted to say something true about myself and about my life so far." D'Agostino had previously felt self-conscious about playing rock music, adding space and references to well-known bands to bring a high-art aesthetic to his work.
But on LOSE, D'Agostino puts it all on the line, ditching stretched references and poetic obscurity to write a record based on his own life experience — of which, it turns out, he has quite a bit. Throughout LOSE we learn that D'Agostino formed Cymbals Eat Guitars in the wake of a best friend's death in 2007, Green Arrows frontman Benjamin High. It was the friendship of a lifetime, a loss that affects him to this day, but this is the first time D'Agostino has let that pain and growth cross over into his art.
Not every song on LOSE is about High, but his image remains forefront as D'Agostino openly deals with grief and the struggle to fall in love again — with friends, family and rock 'n' roll. There's an openness here that recalls Radioheads' The Bends, with its straight forward, emotional narratives and cutting-yet-sympathetic hard-rock sound. There are still valleys and peaks to the record, but the band has given up on trying to achieve a particular sound and opt to play what feels right to them. Each song feels natural, and – instead of resembling a collection of impressive demos – form an eye opening, cohesive whole
Modern rock albums of late tend to strive for a temporary loss of reality — a sense of being in a separate place and time. But, despite all its layers of sound, LOSE stays grounded firmly. On "XR," D'Agostino's focused fascination with vinyl sleeves and High's MySpace grave date his loss in a very tangible way. Like most people, he and his music are both unable to truly leave this present in favor of the past they might long for. Instead of mourning, however, there's an air of acceptance and a willingness to press forward.
D'Agostino has made strides forward on LOSE, but he isn't alone. New drummer Andrew Dole brings a more driving, moshable approach to these tracks that helps round out the album's self-aware rock tone. Producer John Agnello draws out a rich, expansive tone that he last exposed on Kurt Vile's Wakin on a Pretty Daze. "Jackson," "Place Names," "Laramie," and "2 Hip Soul" are better-executed revisions of the band's tendency towards ambitious six-minute songs. "XR" is a roots-rock inspired jam that gives Japandroids a run for their money. "Warning" is a short-but-complex revision of classic post-punk. All-in-all, the songs on LOSE find the band finally comfortable in their role as a great rock band.
In 2014 it's more difficult than ever to write a truly terrific rock album without relying on irony or musical nostalgia, but that's exactly the trend Cymbals Eat Guitars break on their third record. D'Agostino's switch from avant-garde poet to singer-songwriter and the band's willingness to commit to straightforward, well structured rock pay off ten-fold; by moving past their favorite '90s influences they've finally crafted a record that lives up to those artists' legacies.
Similar Albums:


Radiohead – The Bends


Cloud Nothings – Here And Nowhere Else


Titus Andronicus – The Airing of Grievances