10 Honorable Mentions of the '70s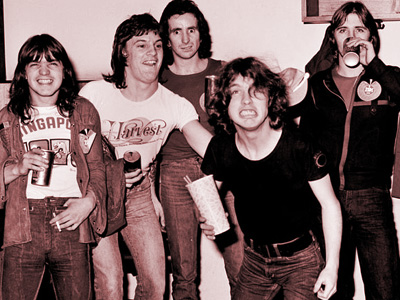 Last week we put aside our regular record reviews to revisit a decade that's produced some of the most innovative sounds in pop music — the 1970s. Our Top 200 Songs of the `70s list has already proven to be one of our most-read features of the year, and has inspired a lot of debate. Frankly, I'm not going to explain again why there's not more Pink Floyd on the list (one more and we would have been at the limit, for the record), but I will concede that even with 200 songs, some great tunes can slip through the cracks. Some of them are surprise classics, some of them are obscurities that missed the cut for pretty obvious reasons, but there are more than a few great songs from the decade that deserve a little extra recognition. Here are ten honorable mentions from the '70s, and then we're getting back to the present day.
---
AC/DC – "It's a Long Way To the Top (If You Want to Rock `n' Roll)"
(1976; Atco)
A long list of Bon Scott-era AC/DC bangers fills any number of classic rock radio station playlists, and you could just as easily fill this space with any of them. "Dirty Deeds Done Dirt Cheap," "T.N.T.", "Highway to Hell," "Let There Be Rock" — they all contain pretty much the same basic makeup of blues-rock simplicity, power chord crunch and one badass motherfucker belting out some tough talk. We'll go with this one though, which is essentially AC/DC's first true anthem. The group knew plenty about working their way up from being pub rockers into one of the biggest bands in the world, so you can look at it as inspirational, or aspirational. But it's mostly here because Angus Young performs a guitar duel with a set of bagpipes.
---
Mulatu Astatke – "Yékérmo Sew"
(1974; Amha)
Available on New York, Addis, London: The Story of Ethio Jazz 1965-1975
Mulatu Astatke is a household name in his native country of Ethiopia, and a notable figure for being the first African to graduate from the Berklee College of Music in Boston, but still not as well-known in the States as he is across the Atlantic. So it's not really a surprise the bandleader, keyboardist and vibraphonist didn't make his way onto our list, but "Yekermo Sew," off his 1974 album Ethio Jazz, came surprisingly close. It's a cool and mysterious spiral of organ grooves and saxophones, most recently notable for having featured prominently in Jim Jarmusch's film Broken Flowers. Nonetheless, it's a damn cool song, and if it didn't make the list, it's not because it's not an amazing piece of music. It's just, perhaps, not on enough writers' radar.
---
Bohannon – "Disco Stomp"
(1975; Dakar)
Available on Insides Out
Aside from being a drummer for Stevie Wonder, Hamilton Bohannon made a name for himself in the 1970s with a series of disco club hits. "Let's Start the Dance" even cracked the top ten in 1978, but "Disco Stomp" stands as one of his most incredible tracks, carrying a pulsing funk groove that just keeps on going and going and always feels just right. Female vocals whisper things like "Philadelphia" and "Altamont," and they could be replaced with any other word and it would still sound just fine. As it turned out, Tom Tom Club would pay homage to Bohannon with a similar chant in "Genius of Love," only instead of saying "Chicago, Chicago, Chicago," the chant goes "Bohannon, Bohannon, Bohannon."
---
Cabaret Voltaire – "Nag Nag Nag"
(1979; Rough Trade)
Available on The Original Sound of Sheffield
Throbbing Gristle essentially invented industrial music, and for that matter actually coined the term (it was the name of their label), though their peers in Cabaret Voltaire made more of an effort to take the abrasive and chaotic assault of industrial and apply it within the context of more structured songwriting. This aesthetic grew more sophisticated later on, but "Nag Nag Nag" isn't a bad start, a Suicide-style synth-punk burner that's confrontational while remaining danceable.
---
Don Cherry – "Brown Rice"
(1975; Horizon)
Available on Don Cherry (Brown Rice)
By the very nature of our list of `70s tracks being a pop music list, jazz didn't really play much of a prominent role, save for a track by Alice Coltrane and another by Miles Davis (in the top 50, though — not bad!). That's cool; jazz and popular music don't always lend themselves much to crossover, though that doesn't mean their respective audiences can't come together over some definite jams. For instance, Don Cherry's "Brown Rice" came pretty close to cracking the top 200, despite being one of the more obscure selections. But it's definitely not one of the least accessible. Despite Cherry's reputation as an avant garde icon, this track is all ethereal funk and whispered scat. "Brown Rice" is built for gettin' down.
---
The Jam – "Down in the Tube Station at Midnight"
(1978; Polydor)
Available on All Mod Cons
It's a little surprising that The Jam didn't make it on to our list, considering "That's Entertainment" was actually in the Top 20 of our `80s Songs list. But that's alright; for whatever reason, certain artists we associate with certain decades more than other, I suppose, though The Jam arguably hit their peak in the '70s. "Down In the Tube Station at Midnight," which closes their landmark album All Mod Cons is at once an infectious anthem, all mighty rock guitar and funk basslines. But Paul Weller's lyrics actually narrate a much more grim scene than the upbeat music would suggest, detailing a viciously brutal mugging after hours at a tube station. It's pretty dark stuff, so why does it feel so triumphant?
---
Elton John – "Mona Lisas and Mad Hatters"
(1972; Uni)
Available on Honky Chateau
You would think a list of the best tracks of the '70s would have at least a few songs by Elton John on it. You would be wrong, though. It's not because we didn't try! In fact, quite a few Elton John tracks ended up in the running, from the 11-minute "Funeral For a Friend/Love Lies Bleeding" to perennial favorite "Tiny Dancer." Vote splitting ultimately meant that no consensus was ever reached, though this one was the closest, and for good reason. "Mona Lisas and Mad Hatters" isn't a hit, or even a single, and you probably wouldn't hear it on the radio all that much, but it's simply one of the prettiest, most affecting tunes in Elton John's repertoire.
---
Pere Ubu – "Non-alignment Pact"
(1978; Blank)
Available on The Modern Dance
We would be remiss to fail to mention the experimental garage punk genius of Pere Ubu at least once in a retrospective on '70s music — which we did, but twice certainly seems justified, the opener of pivotal debut The Modern Dance being an absolute essential. Beginning with the measured, piercing shriek of feedback, "Non-Alignment Pact" carefully builds up, first adding a languid bass guitar and then some dead-on Chuck Berry riffing — creating a brilliant but ephemeral three-way counterpoint — before opening up into a perverse take on a rock and roll song. Guided by David Thomas's increasingly paranoid but precisely executed voice — which ranges wildly from conversational punk singing to neurotic wail to a kind of Pentecostal scat — the song charges ahead, punctuated periodically by the screams of industrial machinery (musique concrete samplings of the pneumatic "modern dance") before exploding and ending abruptly, leaving the first time listener completely enthralled, aghast, or both.
---
Todd Rundgren – "Hello, It's Me"
(1974; Bearsville)
Available on Something/Anything?
There are a lot of songs on Something/Anything?, one of several double-wide albums Todd Rundgren released in his storied career. And a lot of them are quite good, though none with the simple beauty and easy hooks as "Hello It's Me," a song that went top five on the Billboard charts and stands as one of the singer's most well-known tracks. Originally written for his band Nazz, "Hello It's Me" was subsequently treated to a different version four years later, which has since become the definitive version, and for good reason. It may sound like a ballad, but the uptempo energy is what really makes this sentimental little tune cook.
---
Thin Lizzy – "The Boys Are Back in Town"
(1976; Mercury)
Available on Jailbreak
Ok, there's really no excuse for this one. And I'm not about to make one. But we've gotta face facts, here — "The Boys Are Back In Town" didn't make the list. It's time to accept that and move on. Or better yet, revisit what makes the song a stone-cold classic, regardless of who chooses to recognize it. So, it's got some kickass guitars. That much is a given. And it's got a beat that really swings — and when I tell you it's cool, I mean it's red hot. Yet the best part, by far, about "The Boys Are Back In Town" is singer Phil Lynott. The dude doesn't just croon with swagger and charisma, he's got a smirking charm about him that makes him seem like he's telling the story of these rough and tumble brutes from the inside. I'm not sure if anyone ever said that being a great musical performer means being a great actor — if not I'm claiming it — but Lynott definitely makes a great case for it.
---
Treble's Top 200 Songs of the '70s
Album Review: Thin Lizzy – Jailbreak
Best Song Ever: Oscar Edition