10 Iconic Album Cover Artists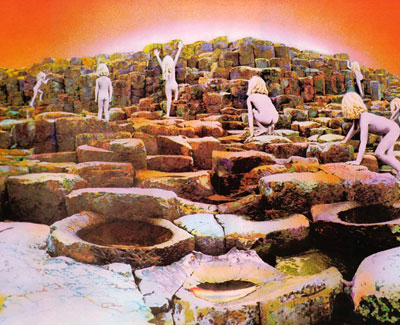 Saturday is Record Store Day, a celebrated day in which that sacred institution of musical discovery and treasured payday pilgrimages gives us a flood of previously-unreleased and coveted items. We wanted to mark the occasion with a list of sorts, but everyone else is doing a list of their most-wanted RSD releases, but we thought we'd do something a little different. (Oh, btw, here's a full list of Record Store Day limited edition releases, to help you make your list, while we're on the subject.)
When we think of what actually makes that trip to the record store something we hold so dear, most of it comes down to the physical album itself. The music is what we seek, certainly, but there's a bigger, collaborative effort as well. The art itself is something that captures our eye, which makes us begin to think about the incredible treats that lay beneath the sleeve. For some, artwork might be a secondary concern, but we don't see it that way. We buy music because we want to hear it, of course, but there's an immersive experience to it as well, and sometimes that visual aspect can speak just as loud as the music itself. Why treat just your ears, when you can give your eyes a feast as well?
So, in advance of Record Store Day, we celebrate ten figures that have continued to entice us to pick up records bearing their photography, design and illustration.
Barney Bubbles
Barney Bubbles, born Conrad Fulcher, began his career in marketing design, like many other notable album designers, and transitioned into album art in 1969 with Quintessence's In Blissful Company being his first entry into the field. From there, he became one of the medium's more prolific artists, having designed several of Hawkwind's album sleeves, including In Search of Space and Space Ritual. In 1977, however, he joined Stiff Records as in-house designer, where he produced sleeve art for the likes of Ian Dury, The Damned, Wreckless Eric and Elvis Costello. His work for Costello is probably his best known, and often displayed a quirky, humorous quality about it. For instance, his sleeve art for This Year's Model is intentionally offset, so the first letter in "Elvis" and "This" are cutoff, while the right side of the sleeve displays CMYK color bars. Sadly, Bubbles committed suicide in 1983, though his work remains celebrated decades after his creative peak.
Bio/Gallery: HardFormat: Barney Bubbles
---
Anton Corbijn
Dutch-born Anton Corbijn has photographed just about every noteworthy artist in rock `n' roll, from Joy Division to Depeche Mode, U2, Nirvana and Captain Beefheart. His stark black and white photography is identifiable within an instant of viewing it, but the multimedia Renaissance man (which has most recently included directing feature films) has designed a large number of album covers as well. Early on he illustrated and shot images for post-punk acts like Propaganda and Fad Gadget, though his most celebrated works came later, with the sole rose illustration adorning Depeche Mode's Violator, the collage of images on U2's Achtung Baby, and the billboard scene on Nick Cave and the Bad Seeds' Henry's Dream.
Gallery: Corbijn.co.uk
---
S. Neil Fujita
The coolest jazz albums of the '50s, particularly on Columbia Records, often came paired with unforgettable abstract mid-century paintings, most of which were designed by the same man: S. Neil Fujita. Born to Japanese immigrants in Hawaii, Fujita enlisted in the U.S. Army during World War II, but following the war, he got a job doing design for an ad agency in Philadelphia, and in the process got the attention of Columbia, who enlisted him to design artwork for Miles Davis, Charles Mingus and Dave Brubeck albums, among others. Furthermore, the famed "Godfather" novel artwork is credited to Fujita as well.
Gallery/Bio: The Dazzling Vision of S. Neil Fujita
---
Hipgnosis
There's a 99 percent chance that everyone reading this list has at least one title with a cover designed by prolific design team Hipgnosis, and still pretty high odds that it's more than one. The team, comprising Storm Thorgerson, Peter Christopherson and Aubrey Powell, created the art for around 300 albums, and some pretty notable ones at that. Among their most famous works are albums by Pink Floyd, Led Zeppelin, Peter Gabriel, 10cc, Wings, AC/DC, Genesis and UFO. Their style often incorporated some element of fantasy or surrealism, with bright colors and occasionally optical illusions, as on Pink Floyd's Ummagumma. My personal favorite is T. Rex's Electric Warrior. Though the image of Marc Bolan against a black backdrop is pretty straightforward, the yellow glow gives him an almost religious quality that Justice certainly has taken to heart. Hipgnosis dissolved in 1983, though Thorgerson still designs album covers, his more recent work being for prog-leaning bands like Muse and The Mars Volta.
Gallery: Hipgnosis gallery
---
Julian House
One of the younger designers on this list, Julian House nonetheless has made an impressive body of work over the past 15 or so years, primarily designing covers for British artists ranging from Primal Scream to Stereolab and Broadcast, as well as the likes of The Prodigy and Oasis. His style tends to have a collage style, with psychedelic texts swirling among strange objects and disembodied parts. For instance, his artwork for Broadcast's haha Sound finds a headless mouth surrounded by a spiral staircase and gloopy letters. House has named pulp novels as one major source of inspiration, as well as the design aesthetic of legendary names like Saul Bass and Peter Saville. House is also a musician who records under the name the Focus Group (he recorded a collaborative album with Broadcast titled Investigate Witch Cults of the Radio Age), and is owner of the Ghost Box record label.
Gallery: The House of Julian House
---
Reid Miles
One would be hard pressed to find a graphic designer whose album covers embodied cool as much as Reid Miles' did. Miles, whose career began in the '50s at Esquire magazine, was hired around 1955 to design covers for Blue Note Records. His style made their titles as iconic as the music itself, his playful style with typography and juxtaposition of images and words are as much a part of the legendary jazz label's style as jazz itself. There's something simple about his style, and elegant at that. The funny thing about Miles, however, is that he reportedly wasn't much of a fan of hard bop, and would often give the albums he designed to friends, or trade for classical recordings.
Gallery: Hardformat:
Reid Miles
---
Vaughan Oliver
Vaughan Oliver might be better known through the design firms through which he's worked, v23 and 23 Envelope, but his aesthetic speaks for itself. The British designer has created countless works for various indie artists since the early 1980s, the vast (vast!) majority of his commissions for the long-running label 4AD. Frankly, almost every artist on the label has had something designed by Oliver at some point, from the Cocteau Twins to the Pixies, TV on the Radio, The Breeders, Mountain Goats and Throwing Muses. That barely scratches the surface, but no matter how different his work can be depending on the individual piece, there are always distinct themes to be found. There's always a keen, sleek typographic element, often juxtaposed with an ambiguous or abstract image. His work balances an elegant order with a kind of beautiful chaos. And it's pretty much always gorgeous, even when it's at its most bizarre.
Gallery: HardFormat: Vaughan Oliver
---
Raymond Pettibon
Raymond Pettibon, born Raymond Ginn, is the younger brother of Black Flag's Greg Ginn, so knowing that might give some insight into how he ended up being the artist who designed the punk legends' famous logo. And in the early days, Pettibon's work primarily adorned the sleeves of his brother's band's albums and singles, as well as other releases by SST affiliated acts like The Minutemen. There's a comic book-like style to his work, but darker, sometimes more disturbing or absurd. It's always instantly recognizable however. Even later on, as Pettibon moved on from his early days with SST to albums by Sonic Youth and Foo Fighters, his work held a uniquely punk rock quality to it that made those albums pop right off the shelf. But Pettibon's still punk rock; most recently he's designed sleeves for punk supergroup OFF!, fronted by Black Flag's original frontman, Keith Morris.
Gallery: Album Art of Raymond Pettibon
---
Mick Rock
One of the few artists featured here whose work is primarily in photography, rather than in design, illustration or multimedia, Mick Rock has been called "The Man Who Shot the '70s." Indeed, he's taken countless famous photos of musicians, ranging from frequent subjects like David Bowie and Lou Reed to Lady Gaga and Daft Punk. Rock's the man behind a number of highly recognizable album covers, however, including Lou Reed's Transformer, Iggy and the Stooges' Raw Power and, most recently, Atlas Sound's Parallax. And in several cases, as in that of Raw Power, the photo is left to stand on its own, Rock's image powerful enough to capture the listener's interest without even giving him a single word to hang on. Subsequent issues, of course, included text, but we think that picture of Iggy pretty much stands alone.
Gallery: MickRock.com
---
Peter Saville
Factory Records, much like 4AD, was emblematic of more than just a business, it was a seal of quality and a mark of a singular aesthetic, which goes for visual art as well. Peter Saville is the man responsible for that visual aesthetic, a designer commissioned by Factory to create artwork for many of its releases, primarily those of New Order and Joy Division, though he later designed cover images for artists such as Pulp and Suede. Saville's work often had a stark, minimal quality about it, and his techniques could almost be described as "sampling," in a way, as he would repurpose other images into different contexts and formats. For instance, his art for New Order's Power, Corruption and Lies juxtaposed Fantin-Latour's "Roses" painting against a color-coded alphabet, while his mysterious and very, very cool image for Joy Division's Unknown Pleasures is an image of pulsar pulses from the Cambridge Encyclopedia of Astronomy, with blacks and whites reversed.
Gallery: HardFormat: Peter Saville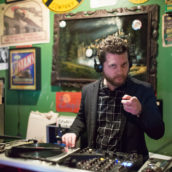 Jeff Terich
Jeff Terich is the founder and editor of Treble. He's been writing about music for 20 years and has been published at American Songwriter, Bandcamp Daily, Reverb, Spin, Stereogum, uDiscoverMusic, VinylMePlease and some others that he's forgetting right now. He's still not tired of it.