Run the Jewels : Run the Jewels 2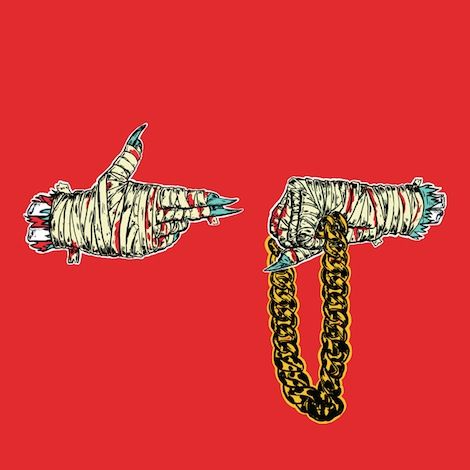 For most rap supergroups, braggadocio is the name of the game. This makes a certain kind of sense: Splitting each track among multiple personalities means that the spotlight must be shared and gets in the way of high-concept or story-centered pieces. So when Killer Mike stomps into the first verse of Run the Jewels 2 highlight "Blockbuster Night Pt 1," bellowing "Last album voodoo/ proved that we was fuckin' brutal/ I'm talking crazy/ half past the clock is cuckoo," you'd be forgiven for assuming this was a dime-a-dozen brag verse.
What Mike and El-P pull off as a duo — both on last year's Run The Jewels and this year's sequel — goes above and beyond the glittery beats and chest-thumping verses of an album like, say, Watch The Throne. They take one of the genre's most worn-out formats and breathe new life into it. And while that was certainly true the first time around, the evidence is that much stronger on RTJ2. El-P painstakingly crafts some of his grittiest, most mesmerizing beats to date, over which both rappers hammer out twisted, ingenious lines one after another. And where RTJ1's only flaw lay in its choppy, mix-tape style sequencing, this effort more closely resembles the flawless flow of 2012's R.A.P. Music, the first Killer Mike album that was completely produced by El-P.
In many ways, the Run The Jewels project feels like an experiment of sorts. Both albums have seemingly appeared out of thin air, with the duo taking little time to rest since R.A.P. Music's success. And where RTJ1 was a homegrown affair — a test to see what the two MCs could cook up together — RTJ2 bears the mark of a high-priority production, bringing a variety of impressive studio musicians and even the occasional co-producer to help round out and intensify the beats here. Newcomer BOOTS, most notable for his work on Beyonce's "Haunted," enhances two tracks with his vocals, but brings the strongest assist on his co-production of "Lie, Cheat, Steal," one of El-P's hardest bangers to date. For RTJ2, El-P has thought out every detail, crafting dark and stirring beats jam-packed with easter eggs and surprise moments.
Like its predecessor, RTJ2 finds success in its ability to keep the tone fun while showing off the relentless work ethic of the duo. Expert craftsmen far into their careers, the duo sets a high bar for each track and know exactly how to crush it. Take "Love Again," for instance. Mike and El-P's "she wants to have sex with me" verses could be mistaken for the biggest throw-away verses on the album, leading to the comically stupid hook "She want my dick in her mouth all day." But any listener familiar with the track's feature, ex-Three 6 Mafia emcee Gangsta Boo, would realize that the entire song is a set up for the MC to subdue the track and make it her own. It's that creative, innovative spark that makes Run The Jewels such an invigorating project: RTJ2 is a braggadocio album that, at its heart, is not at all concerned with ego. Rather, it's two masters of their genre, having the time of their life creating art together. It just so happens that this particular form of art is brutally badass.
Similar Albums:


El-P – Cancer 4 Cure


Killer Mike – R.A.P. Music


Danny Brown – Old