Christopher Owens : A New Testament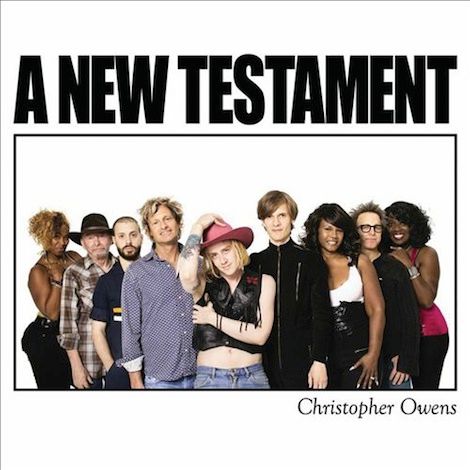 Listening to Christopher Owens' new country-tinged solo album makes me miss Girls, and wonder whether this is the path that the band would have gone down if they were to stick around. If so, then breaking up wasn't necessarily a bad choice. Girls, the San Francisco rock band that was helmed by Owens until July 2012, rocked impressively hard on songs like "Die," "Vomit," "Heartbreaker," "Summertime" and "Big Bad Mean Mother Fucker." A New Testament doesn't reach the astounding territory that Girls often did. Girls worked with a wide range of rock sounds; A New Testament keeps a similar country and gospel vibe throughout, and Owens doesn't sound like he's really challenging himself.
But maybe A New Testament would have been more rewarding if Owens hadn't already started off so strongly with Girls. Instead of expanding on the elements of his old band, Owens decided to dial back to the fundamentals of American music — country, gospel and R&B — with some of the simplest music he has ever put to tape. "Three chords and the truth," Owens has said, nodding to the old cliché about country music. The songs on A New Testament are cut and dry, and it sounds like Owens is trying to separate himself from his musical past by trying something unconventional, which is why it's confusing to see three former Girls members listed as personnel. Drummer Darren Weiss, guitarist John Anderson, and keyboardist Danny Eisenberg are back in the saddle with Owens after three years removed from the breathtaking Father, Son, Holy Ghost, which makes A New Testament even harder to understand.
Owens isn't interested in filling a role to play for the fans that want to hear him as the down-and-out, opiate-induced guy in so many gut-wrenching songs. He was a child of God, but he is not your Jesus. A New Testament starts off with a guitar strum reminiscent of George Michael's "Faith" on "My Troubled Heart"; substitute the lyrics, "Well I guess it would be nice" for "well early in the morning," and you get the idea. "It Comes Back To You" is a lumbering song about "giving your love away," and the song tries to reach some sort of peak, but it loses its footing with an awkward drum break. "Stephen," a gospel song about Owens' estranged father, would fit right in at your local church on Sunday, complete with three background singers — Makeda Francisco, Skyler Jordan, and Traci Nelson — who make frequent appearances on the album. "Nobody's Business" is a pleasing pop song, but it ends too short when it was just about to go somewhere. Owens says he's a "rolling cowboy following the stars of Tennessee" on "A Heart Akin The Wind," and his country guitar twang backs that up. With a delicate xylophone intro, "Overcoming Me" might be the only truly moving song on the entire album; it shines, shimmers, and sways all the way through to the cymbal splash at the end.
Nothing on A New Testament lives up to the work that Owens did with Girls, and Owens, like many who went solo before him, just can't shake the specter of his old band. A New Testament is by no means terrible, but it just makes Girls seem even more amazing by comparison.Christopher Owens is an interesting guy. He's been through a lot, and will no doubt go through even more. Here's to hoping that his best music is still ahead of him.
Similar Albums:


Foxygen – …And Star Power


Jim James – Regions of Light and Sound of God


Karen O – Crush Songs
Find it at: iTunes