Christopher Owens : Lysandre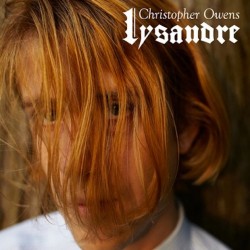 Buy at iTunes  | Buy at Insound
In his first opportunity as a solo artist, Christopher Owens has done the thing that so many ambitious songwriters cannot resist — he recorded a concept album. Lysandre is Owens' first new album since his sudden split from crème de la crème of San Franciso's indie scene, Girls, in the middle of last year. All seemed bleak — no more gospel singers, no more electric guitar solos, no more flowers — until Lysandre was announced. And while it may not be a new Girls album, it still boded well.
Lysandre charts the story of how Owens fell in love with a girl he met at a French music festival whilst playing with Girls. (Three guesses what her name was…) The album goes on a whirlwind tour through their highs and lows, whilst also exploring the journey of Girls' first year together. And Owens does so, all in just under half an hour.
As it is not a Girls album, Lysandre can in no way be treated as a new Girls album (which, perhaps, is just as well, for who could top the soaring highs and pensive lows of 2011's Father, Son, Holy Ghost?). And it's easy not to compare Owens' new oeuvre with his previous collaborative material. While Father, Son… was, for the majority, tight, Lysandre has moments, such as a roaring, almost painful saxophone solo in "New York City," which seem a bit all over the place. And that's not even starting on the album opener, "Lysandre's Theme," which somewhat resembles medieval lullaby (if such things exist, that is), which Owens has attempted to weave through each song as a motif. While it's a nice idea on paper, it doesn't quite work on the album itself.
That's not to say that Lysandre doesn't have its moments — "Here We Go" almost feels like the offspring of "Lust For Life" and "Honey Bunny," two of Girls' goofiest and most joyful songs. The eponymous "Lysandre" is also nice — it may not be the most complex song, nor the next world-conquering anthem, but there's just something about the lyrics, and the gentle flute that ebbs and flows throughout the song that elicits a smile.
Lysandre may not be the greatest first album in the world, but that in no way means that it's dreadful. Any chance to hear Owens' half snarky drawl, half Elliott Smith-esque crooning voice must be treasured after all. So while I may not give it the same hardcore devotion that I awarded to Girls' last album, it's still more or less the next best thing.
Similar Albums:
Girls – Album
Coconut Records – Davy
Edward Sharpe and the Magnetic Zeros – Here