Bob Dylan : Shadows in the Night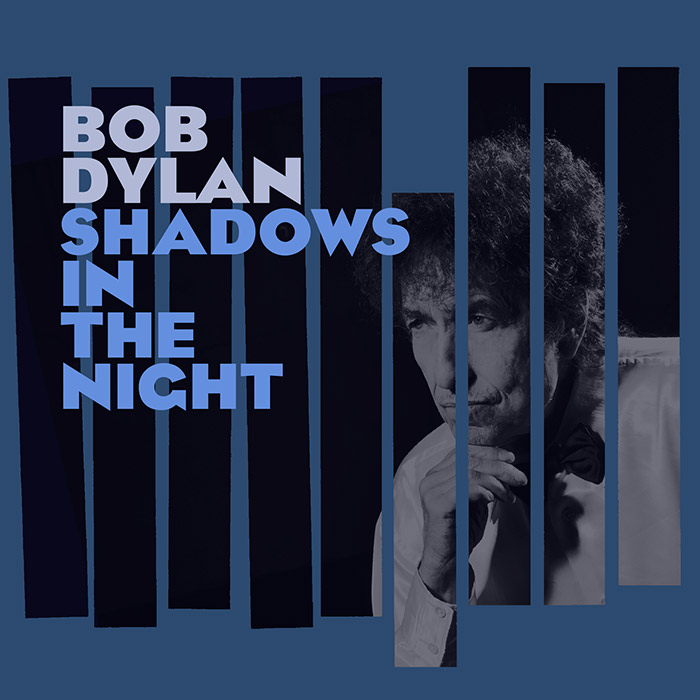 News of Bob Dylan making a cover album of songs that were all also interpreted by Frank Sinatra, to be perfectly honest, didn't sound nearly as strange as his doing a record of Christmas songs. For one thing, the Great American Songbook has sort of transitioned into the folk songs of current generations, and Dylan knows maybe a couple of things about folk music. In a chronological sense it fits too: Dylan's presence as a music historian is, perhaps, not one of his most obvious traits, but to think his complex writing didn't have any roots in the expanded emotional palettes of Porter, Berlin and Rodgers & Hammerstein is to miss the crazy development of pop music in the 20th century.
The contrast between Dylan and Sinatra, though, is impossible to ignore, and it lives in the throat. For many Dylan's adenoidal vocal approach is inseparable from his torrential songwriting. Sinatra's most notable accomplishment is nothing less than reinventing how songs were sung, and by extension arranged. He brought the warmth of his idol Bing Crosby together with the pacing of Richard III – he interpreted his lines like an actor, sometimes a conversationalist. Explaining how Dylan took his admiration for Sinatra and worked it into, say, "Sad-Eyed Lady of the Lowlands" is a daunting process we probably don't have time for, but it can be done.
On Shadows of the Night Dylan reclaims these standards as stepping-stones in the building of the American song. He doesn't turn these tunes into standard folk songs – that would be parody (or Self Portrait). But he does recast them with a measured, limited setting that anyone could, if not recreate, then at least contextualize. It's easy to access the feeling his band – particularly pedal steel guitarist Donny Herron – constructs here. With that unit's careful but effective sympathy, Dylan's freed to sing without too much pressure or expectation.
And to be honest, a couple of these songs feature some of Dylan's finest singing ever. "I'm a Fool to Want You," actually co-written by Sinatra, opens and practically justifies the album. Dylan effortlessly hits the intervals that bring tension to the composition, and it's assured, non-melodramatic and a little breathtaking. "The Night We Called It a Day," "Autumn Leaves" and "Where Are You?" follow that beat – the subtle cracks and fuzz remind you of Dylan's longevity and reinforce the wisdom of experience.
Dylan's current band knows him as well as any band he's ever played with – if only because bassist Tony Garnier, guitarists Charlie Sexton and Stu Kimball and Herron have been around him for longer than anyone else. Their care-taking of these songs imbue them with a fragility and resonance that's almost too hypnotic in parts: The pulse never alters, Herron carries the main counter-melodies, and not even a few well-tempered brass players get above their station. But the mood they sustain is undeniable, like a less affected version of Angelo Badalamenti's Twin Peaks music. Not to hasten anything's demise, but Dylan's band almost presents themselves as each song's ideal final resting place after decades of hard labor.
There are moments that don't quite match singer and song. Dylan's too measured on Rodgers & Hammerstein's "Some Enchanted Evening"; each of his notes falls on exact, leaden downbeats that stunt the movement of the song from South Pacific. There's a similar caution with "Stay With Me" and "Autumn Leaves" – not fatal, but a bit too much of a holding pattern. But the motion and drama is recaptured in the album's closers. "What'll I Do?" makes Dylan sound brave and vulnerable. "That Lucky Old Sun" stops just short of being, well, a showstopper, but captures Dylan's sense of incredibly good fortune, with the stout, Alpine-esque brass almost ending the album in Nelson Eddy splendor, backing off just in time to make Dylan's the last voice you hear.
Shadows of the Night starts off as idiosyncrasy, commutes as upturned musical theory, and finally resounds as an example of just how flexible and adaptable the best American compositions can be. The Sinatra overtones eventually fade from hearing, and Bob Dylan's tribute – as different as anything he's ever done, yet unmistakably him – reveals how greatly and unexpectedly Sinatra changed the rules of how to handle and convey popular music. Dylan might know a thing or two about that, too.
Similar Albums:


Van Morrison – Magic Time


Neil Young – Prairie Wind


Bruce Springsteen – High Hopes
Paul Pearson
Paul Pearson is a writer, journalist, and interviewer who has written for Treble since 2013. His music writing has also appeared in The Seattle Times, The Stranger, The Olympian, and MSN Music.