Father John Misty : I Love You Honeybear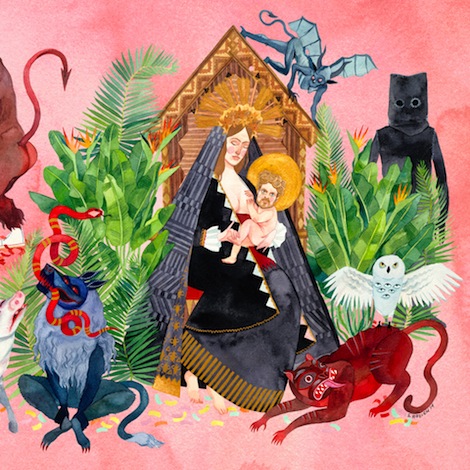 Father John Misty is at his best when juxtaposing irreverent lyrics with the sublime beauty of a slow '60s jam or a sunny, upbeat number, both found on his sophomore album, I Love You Honeybear. Gorgeous, swirling melodies and horn-infused tracks are jarring in their not-so-subtle, oft ribald subject matters. But this is nothing new for Tillman, who slipped under the Father John Misty moniker after he left Fleet Foxes. When Josh Tillman speaks about his art and the craft of the Father John Misty persona, you quickly realize if anything is true, it's that the man is clever, eloquent, and possibly too bright to take for granted. This isn't just about fun. It's not all about pissing people off with the sometimes discordant lyrics he throws in—sometimes tongue-in-cheek—and juxtaposes with melodies and instruments that belie their meaning. It would be easier to dismiss his strange ramblings as a joke. And maybe that would be for the best, because sometimes the way his ideas and phrases clash are like nails on a chalkboard.
But that would miss the point. "When You're Smiling and Astride Me" illustrates best the notion that Father John Misty appears to embrace a no-holds-barred take with music. It is languid, a slow-jam reminiscent of the psychedelic flow of a Pink Floyd track off Dark Side of the Moon, replete with a backing chorus of soulful "oh, oh, ohs." To ignore this would be to miss the dialogue, the influences that Tillman embraces as part of his FJM persona. Where psychedelic rock was conceived in the midst of an exploration of drugs, FJM deals with the indulgence and discovery of something mind-altering within a relationship—the experience of his connection with his lover, at its highest during their lovemaking. There's a sensual quality to the track, the lilting vocalizations of the backing choir, the organ, the strip-tease bass guitar, and the earnest singing of Tillman, "There's no need to fear me / darling I love you as you are, when you're alone." The track is about stripping down, admitting to whatever makes the two of them most naked, including divulging whatever kinky things pop up in their dreams.
Fans will undoubtedly recall the dominatrix from Fear Fun's "Nancy From Now On" music video, which actually featured Tillman and Emma Garr, who is now Emma Tillman. No news there, but I Love You Honeybear gets more complicated when the opening lyric from its first single, "Chateau Lobby 4 (in C for Two Virgins)" gets decoded as "Emma eats bread and butter / like a queen, we'll have ostrich and cobra wine." Despite the FJM persona, this is a love song for his wife, and in fact, so much of Honeybear is. "Chateau Lobby 4" is heartbreaking in its honesty and unabashed devotion all set against a backdrop of strings, horns a la Juan Gabriel, and percussion that would make Neil Diamond blush, to say nothing of the earnest nature of Tillman's singing, "I've never done this / baby be gentle, it's my first time / I've got you in sight."
For a sophomore release, Honeybear is no disappointment. Hell, it's a bit of a triumph. Though there are one or two tracks that seem to drag a little, this is partially a result of so many that simply soar like "Chateau Lobby 4," "I Love You Honeybear," "True Affection" (an oddly contemporary, electronic, loop-infused number) and "Strange Encounter." The Father John Misty mantle was, for all intents and purposes, a result of a fever-dream, a concept that Tillman came up with to purportedly allow him to explore territory outside his J. Tillman concern. To be quite honest, it worked better than I think anyone could have imagined.
---
Label: Sub Pop
Year: 2015
Buy this album at Turntable Lab
---
Similar Albums: