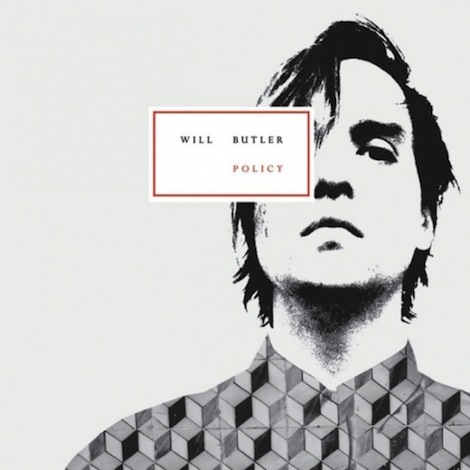 To say that Will Butler's solo debut is released under a shadow would be a fantastic understatement. Rising to prominence as the bassist, background vocalist and all-around multi-instrumentalist for Arcade Fire, Butler has served the mixed-blessing role of a hyper-talented background player. But while it's easy for interviews and reviews to highlight Will's brother and frontman Win Butler as Arcade Fire's artistic head, Will is definitely a creative fountain in his own right. After all, Will's story is not the traditional piggyback of "two brothers started a band." He was pulled on stage mid-set after Arcade Fire's original bassist quit during an early, pre-Funeral show. And when the band had to choose one member to represent them when they were nominated for an Oscar (along with Owen Pallett) for their Her score, they chose Will, stating that he easily contributed the most decisions to that complicated process.
And it's those skills — the spontaneity to join a band on stage with no rehearsal and the careful ear to assemble music for a film — that are highlighted the strongest on Policy. Throughout its brief, no-fuss run (eight tracks over 28 minutes), Butler spends most of this record channeling Arcade Fire's more feisty, post-punk driven moments (think "Month of May" or "Rebellion (Lies)"), but does so in a way that highlights how much Butler has contributed to the band's sonic makeup from record to record. From xylophone on Funeral to organ on The Suburbs, many of the little nuances that make or break any given record by the band, Butler has had a hand in.
So it makes sense that Policy sounds great. Whether he's channeling punkabilly on "Take My Side" or John Lennon's Imagine on "Sing to Me," Butler knows exactly when to add (or subtract) the right elements for musical catharsis. It's in the lyrical department that Butler is a little hit or miss. It's possibly due to how similar Butler sounds to his older brother, but when he busts out some of his clunkier lines on "What I Want" (e.g. "If you come and take my hand/ I will buy you a pony/ we can cook it for supper/ I know a great recipe for pony macaroni") they come across with a sincerity that makes the listener question if Butler is aiming for an avant garde feel, or if he just ran out of good words.
But when Butler's lyrical intentions align with his musical ambitions, he hammers out some solid (and deceptively simple) rock tunes. The bouncy, synth-fueled "Anna," the soaring "Finish What I Started," and the full-throttle, gospel-influenced "Witness" are all highlights, but Butler hits a surprising peak on the stripped-down "Sing to Me." As Butler croons, "sing to me/ cause I'm tired/ but I don't want to talk no more," he hits the emotional core that is so crucial to rock music, especially the anthemic, angst-driven catalog that Butler has crafted with Arcade Fire. In that moment, Will Butler truly steps into the foreground, showing what he has to offer as a songwriter and bandleader.
Similar Albums:


Mac DeMarco – Salad Days


Arcade Fire – Neon Bible


Julian Casablancas – Phrazes for the Young