10 Essential Dublin Albums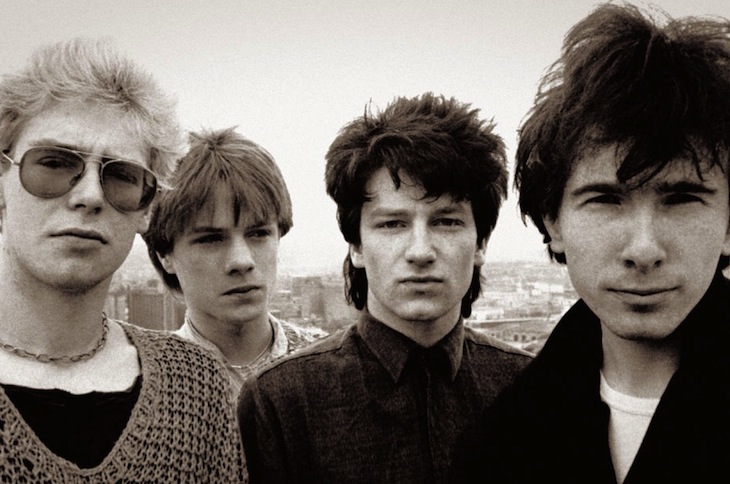 Welcome back to the Treble World Tour, a series of Top 10s covering albums that best represent certain locations—cities, states, territories, even entire nations. We consider representative releases on three levels: they were made by artists from a place, they contain music about or inspired by the place, and/or they were made in that place. The next stop on our musical journey is The Fair City — capital of Ireland, Dublin. We probably don't have to go into too much detail why this stop was next on our itinerary (even if it's a few days late), but it also seems like a city with a rich enough musical heritage that it seems odd that we hadn't actually taken on the task of assembling some of its best albums before. As a representative for Ireland's music on the whole, Dublin has been the source of many traditional Celtic folk acts to have launched over the years, but it's even better known for having spawned blockbuster rock bands like U2 and Thin Lizzy, not to mention being host to the famous Windmill Lane studios, which shows up time and again on this list — you'll see. Dublin might not seem immediately as prolific in terms of pop music exports as not-too-distant cities like Manchester and London (which was the home of at least one band here), but there's a certain character to albums recorded in or inspired by Dublin that make its music unique. You'll see — queue up and enjoy our 10 Essential Dublin Albums.
---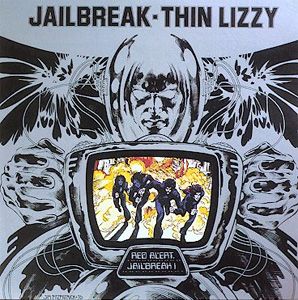 Thin Lizzy – Jailbreak
(1976; Mercury)
What Skynyrd was to the South and what Seger is to the Midwest, Thin Lizzy is to the entire Emerald Isle: the representative working-class, no-frills band of the '70s. Always playing from behind (or at least pretending to), singer and songwriter Phil Lynott and friends played hard rock with little room for complications and a very big heart behind their exceptionally reasonable stories and lives. Jailbreak is your standard celebration of the male archetype, casual brotherhood and a couple of unformed fantasies, but its power comes from how triumphantly Brian Robertson's guitar fit in with Lynott's quavering machismo. It's royally simple, and it was the only album of theirs to translate to American success. "The Boys Are Back In Town" is as great an arrival song as you can get, with tricky chords seeming to undercut lines like "If the boys want to fight, you better let 'em." The moments of vulnerability in "Running Back," "Romeo and the Lonely Girl" and the near-classic "Cowboy Song" are surprisingly innocent, and "Emerald" sends them out in molten fireballs of power. A few kids probably figured out who they wanted to be with Jailbreak, at least through their mid-twenties. For better or worse. – PP
---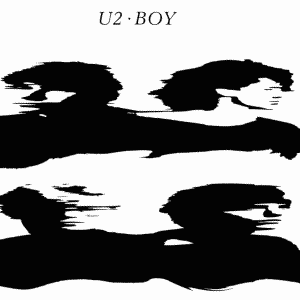 U2 – Boy
(1980; Island)
You don't compile a list of essential Dublin albums without U2. You just don't. And their debut album Boy is as essential a Dublin album it gets, recorded by a Dublin band, in a Dublin studio — the famed Windmill Lane, which makes a few more appearances on this list, naturally. Produced by Steve Lillywhite — whose use of glockenspiel on "I Will Follow" mirrored that of another early single he produced, Siouxsie and the Banshees' "Hong Kong Garden" — Boy is a post-punk classic, full of sinewy guitar work and powerful rhythms. It's a very different portrait of the band than the one that came to be more widely recognized later on, driven by the Edge's delay-heavy guitar work and more ballad-heavy songwriting. There are traces of what they would become — hints at Christianity, some light use of effects — but in the end this is a spunky post-punk record with a lot of sexual themes. I don't think I'm the only one who finds this version of the band most appealing. – JT
---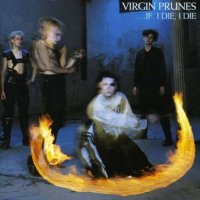 The Virgin Prunes – If I Die, I Die
(1982; Rough Trade)
Gothic rock/post-punk outfit The Virgin Prunes formed in Dublin in 1977, and quickly became the city's most provocative band. Fronted by the charismatic, theatrical singer Gavin Friday, the Prunes became known for their outlandish stage presence and tendency toward performance art, and explorations of sex and gender identity. And though they didn't exactly identify with the goth scene in the UK in the '80s, their 1982 album If I Die, I Die is certainly one of the best goth albums of all time, whether they called it that or not. Produced by Wire frontman Colin Newman, the album is taut, yet dark and brooding, jolting into a danceable stomp on highlights like "Pagan Love Song" while droning with ominous ambiance in the jaw-dropping "Theme For Thought." As it turns out, the band's members were actually good friends with Bono, though their approach was significantly less stoic. – JT
---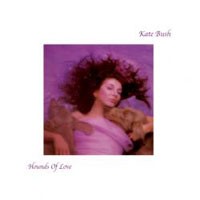 Kate Bush – Hounds of Love
(1985; EMI)
Recorded over the course of a year at Dublin's legendary Windmill Lane Studios (and partially in her farmhouse in Welling, England), Kate Bush took the production skills she picked up working on 1982's The Dreaming, and further focused her sound. Leaning on a deep list of personnel to thicken the boundary-pushing arrangements, providing everything from whistles and handclaps to a full string section, Bush layered traditional Irish instruments underneath a river of the best vocals she has ever given to a full album. Complicated in its structure, imagery, and ambition, the album bounces from progressive pop to traditional Irish folk, sometimes in the same song. Fully embracing experimentation, the album thematically splits, with the second side of it ("The Ninth Wave") telling the story of a person spending the night alone in water, at the mercy of their own imagination. Perhaps the way Bush has had us at the mercy of hers, for so many years. – HA
---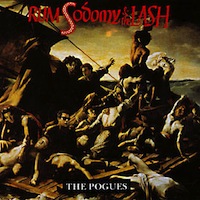 The Pogues – Rum, Sodomy & the Lash
(1985; Stiff)
Strictly speaking, the Rum, Sodomy & the Lash songs take place in locations ranging from Turkey to the American West, and the band formed on the then-scuzzy streets of Kings Cross, London. But saying that the Pogues aren't inherently Irish is absurdity akin to climate change denial. We Irish are complicated fuckers — defiant, maudlin, sardonic, bucking against the traditional Catholic straitjacket one moment only for it to be re-tightened seconds later. The Celtic folk-at-the-speed-of-punk The Pogues created perfectly represents this spirit, and frontman Shane MacGowan is its ideal avatar.
Of the two essential Pogues albums — this one and If I Should Fall from Grace with God — Rum, Sodomy & the Lash is probably most ideal for revelry. Songs like "The Sickbed of Cuchulainn" and "Sally MacLennane" rage harder acoustically than many bands can with heavy distortion, and slower numbers like "Navigator" offer much-needed contemplative breaks. Centering it is MacGowan, one of music's sui generis personalities. His melodies are graceful and his lyrical craft superlative, whether recounting puking in churches ("Cuchulainn"), musing about selling his ass to survive ("The Old Main Drag") or pledging true love on some of the finest romantic songs ever written ("A Pair of Brown Eyes," "Rainy Night in Soho"). – LG
---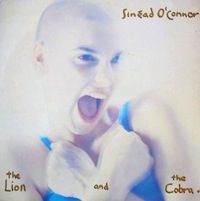 Sinead O'Connor – The Lion and the Cobra
(1987; Ensign)
Midway through the 1980s, the music industry took a flyer on a fiery teenager who was the best thing going about a knockabout Irish band called Ton Ton Macoute. By the age of 20, Sinead O'Connor was signed to London's Ensign Records, managed by an old U2 associate, writing for their guitarist The Edge, and pregnant by a session drummer. She was also already stubborn enough to publicly opine about her job (throwing both U2 and her producer under the bus) and her country (appearing to support Provisional Irish Republican Army violence). Whether it was faith in her abilities or just hands-off avoidance, Ensign let O'Connor produce her own debut. She proved herself adept with new UK college rock in songs like "Mandinka" and was fascinated with even newer hip-hop in "I Want Your (Hands on Me)." She also filled The Lion and the Cobra with old-school images, passions, and stereotyped fascinations with alcohol: Her early masterwork "Troy," for example, is a failed romantic remembrance that namechecks Dublin as well as dragons and phoenix. The album was a critical and chart-crashing hit, camouflaging O'Connor's metamorphosis into more than her industry could handle. – AB
---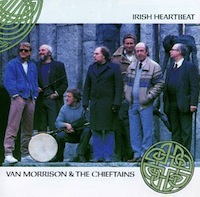 Van Morrison and the Chieftans – Irish Heartbeat
(1988; Mercury)
If there was ever an album that exudes the spirit of the Irish, it's this collaboration between two legendary institutions: Van Morrison and The Chieftains. Not only was the studio version of Irish Heartbeat recorded in Windmill Lane Studios in Dublin, but a live performance was also recorded on October 1987 in Balmoral Studio in Belfast (bringing north and south together, so to speak), and then broadcast on St. Patrick's Day in 1988. Though the album features two of Morrison's original works, ("Celtic Ray" and title track "Irish Heartbeat") the main thrust is the lilting and haunting Irish trads. Throughout, Morrison's provocative croon wings over the hauntingly spare instrumentation done by the Chieftains. The album meanders, jigs, and broods to beautiful effect. Listening to it will stir the heart, causing anyone to long for the Emerald Isle, as though it were their homeland as well. – NG
---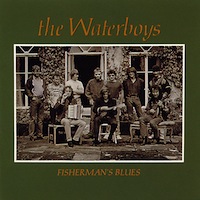 The Waterboys – Fisherman's Blues
(1988; Ensign)
The Waterboys previously made an appearance on the Treble World Tour, during a stop to visit 10 Essential Edinburgh Albums (and come to think of it, U2 showed up in Berlin, for that matter). But while The Waterboys made their home in Edinburgh for a fair amount of their career, they were a nomadic band at heart, and found themselves at Dublin's Windmill Lane studio between 1986 and 1988 for the recording of an album deeply rooted in Celtic folk tradition. A list of personnel numbering a hearty two-dozen lines the credits of the album, including The Abergavenny Male Voice Choir, and there's even a cover of Van Morrison's "Sweet Thing," just to add an extra Irish aspect to the recordings. But it's the title track that's become the most recognized and beloved track on the album, featured in both Good Will Hunting and Waking Ned Devine. Mike Scott's roving tendencies may have brought him to Dublin in the late '80s, but the strength of this album means a piece of The Waterboys will always belong there. – JT
---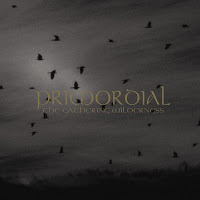 Primordial – The Gathering Wilderness
(2005; Metal Blade)
The most frequently recurring figures in folk-metal are Vikings, or sometimes drunken trolls, but Primordial — who formed in Skerries, in the county of Dublin — have taken heavy inspiration from Irish and Celtic history and mythology since their 1995 debut, Imrama. Picking a particular standout in their discography is no easy task; they're incredibly consistent when it comes to the quality of their records. Yet The Gathering Wilderness feels, by a hair, the most essential, as well as the most essentially Irish. Driven by their characteristically thunderous riffs and galloping rhythms, as well as vocalist Alan Averill's emotional yawp, The Gathering Wilderness is an album of powerful individual tracks, all of which combine to serve as one of the most devastating documents of Irish folklore in recent memory, from the Celtic-folk intro of the incredible opening track to the potato-famine-referencing highlight "The Coffin Ships." It's the rare metal album that opts for chills instead of bruises. – JT
---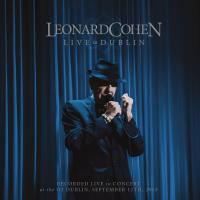 Leonard Cohen – Live In Dublin
(2014; Columbia)
One of the newest records on this list, but recorded by one of the world's more prolific and notable artists, Leonard Cohen's Live in Dublin is quite the artifact. Any fan of Cohen knows that his live records are a worthwhile staple among his discography; the man has an inimitable knack for hushing an audience with his powerful presence and talented backing bands. But for his show at Dublin's O2 Arena, the man out did himself. Across two sets and an eight-song encore, Cohen and his band reinterpret the best work of his career in the understated, folk-pop style Cohen exhibits on recent albums Old Ideas and Popular Problems. Close your eyes as Cohen and his band churns out stunning, soulful versions of "Bird on the Wire," "Everybody Knows," "Suzanne," "Hallelujah," the list goes on. Live in Dublin is more than a live-version review of Cohen's highlights; it's a strong contender for his best album. – ATB
You might also like: