Death Grips : Jenny Death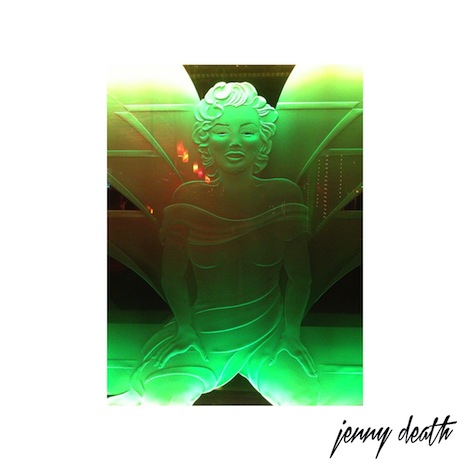 Sometime around the middle of last year, I told myself I was going to give up on trying to keep track of Death Grips. After a run of cancelled shows, a split from their label, and a handful of no-shows, they were becoming more of a spectacle —an outfit more concerned with antics than they were with putting out compelling and interesting music. Last year's niggas on the moon was a flat, disconnected effort that relied too heavily on samples, and Fashion Week, while an intriguing set of instrumentals, still left a craving for the more visceral Death Grips experience of just a few years before.
Enter Jenny Death, the second disc of the double album The Powers That B. In short, if you are looking for a reminder of why you once loved Death Grips, you will find it here. While it isn't as inventive and fresh as 2012's The Money Store (really, though…what is?), Jenny is a fierce and potent collection of songs that range from brutal and pulsing ("I Break Mirrors With My Face In the United States") to wild tirades ("Inanimate Sensation"). Stefan Burnett is the same angry and hungry MC he's always been, though his voice is somehow more clear on this album. While the sometimes unintelligible yelping is still present, there's also poignant clarity in his rhymes here, mostly spending this album tackling a world that becomes less and less socially engaged with each year. Sonically, there's still the familiar bombs of fuzz and dizzying percussion. "On GP" could almost be a feel-good rock stadium anthem before you realize that Burnett is speaking on suicide. What Death Grips sacrifice in more of the genre-bending excitement of their earlier work, they more than make up for with this album's diversity in sound. It requires a patience in listening that some of Grips' more hardcore fans may not be used to, but the payoff is more than worth it.
There are moments when the album dials itself down and leaves a bit to be desired. A lot of the sound stays in between the Death Grips signature sounds without touching the walls of them. For Death Grips, this may be a safe album. Which still means that it pushes boundaries that their peers still wouldn't touch.
What this album also does, after the we dig through the music, is present the world as Death Grips has always seen it: A sham, in some ways. A thing that we hold on to because we don't know anything else. It is a pessimistic approach, of course, but this is what they've always given us. It hasn't always just been blind aggression, as easy as it would be to believe that. If this is, indeed, the last album that Death Grips gives us, history may look back on it as lacking. But what this album delivers isn't an answer. It continues to push the question of "why?", and leaves the work up to us, the listeners. The record ends with "Death Grips 2.0", a gloomy electronic and detached instrumental that seems to be an inside joke about the music industry's relentless generic feel. And for a moment, you wonder if that's all this has been: A joke that we just got to be in on for the entirety of Death Grips' fun, loud ride.
Similar Albums:


clipping. – CLPPNG


Death Grips – The Money Store


Danny Brown – XXX