Shadow of the Horns: Psycho California recap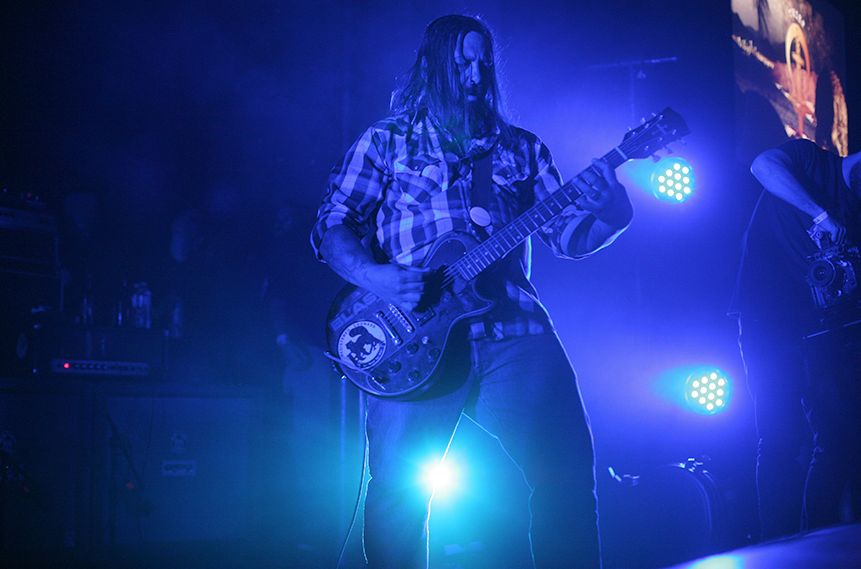 Orange County, California is simultaneously the best and worst place to hold a metal festival. Let's start with the worst: It's a colony of strip malls and business parks, conservative politics and 9 p.m. curfews. Aside from Disneyland, it's a quiet suburban area between Los Angeles and San Diego, and most of its cities roll up their sidewalks just after sundown. There are exceptions, of course, one of them being Santa Ana, which is where you'll find the Observatory, which quickly turned into a highly sought-after destination for touring bands. And thus became the venue for Psycho California, a three-day festival of sludge, doom and stoner rock bands.
So what makes Orange County the best place to hold a metal festival? Well, pretty much the same reasons. A conservative, button-down area needs a kick in the tuchus, and the relative lack of competition for those in need of some serious noise get the gift of an entire weekend of roaring riffs. It's a cathartic release in the home of Trinity Broadcasting and majority Republican representation. And sure, it's getting hipper ('sup Burger Records), but it's still a trip to see it get gnarly every now and then. Here's a breakdown of the best of the fest, categorically arranged. (And check out the rest of the photos here.)
Best stage banter: Eyehategod
Eyehategod present a pretty bleak picture on their classic albums like Take As Needed for Pain and Dopesick, and for that, we love them—nobody does ugly, punishing darkness like they do, and it's an underrated art form. The more I listen to their bluesy, dark clamor, the more I'm utterly captivated by it. But it might come as a surprise to those who know them only from their recordings that frontman Mike Williams is actually a pretty funny dude. Even before saying a word, he caught a projectile bra thrown at the stage, and held it up to guitarist Jimmy Bower, as if to see if it fit. He then asked for dimmer lights on stage: "We're very sensitive." I wasn't close enough to see if anyone was throwing anything else at the stage, but Williams later suggested "How 'bout you throw some money?…I think I heard a quarter." And before playing 1993 sludgefeast "Sister Fucker (Part 1)," Williams asked, naturally, "How many of you have fucked your sister?" That one was a crowd pleaser. The banter was really just the gravy on a hearty meal of wonderfully murky metal, the likes of which grooved harder than most sets of the weekend, thanks to the band's special New Orleans recipe. And they plucked an impressive set of selections from throughout their catalog, which reminds me: "This one is from our newest album…not that any of you give a fuck."
Best Krautrock jams: Sinister Haze
Richmond, Virginia's Sinister Haze haven't established themselves as strongly as hometown compatriots Windhand, but they've got plenty of heavy riffs and hypnotic grooves to go around. Hidden behind some impressive manes of hair, the trio hammered out a handful of lengthy, zoned-out heavy psych jams that leaned heavily on the krautrock inspiration of bands like Amon Duul and Ash Ra Tempel. They plugged in, turned up, and took us all on an acid-laced ride on the Autobahn.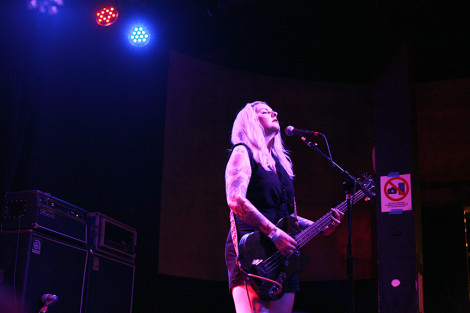 Best non-metal band: True Widow
Despite their affiliation with Relapse, True Widow isn't really a metal band in the strictest sense. They're pretty loud when they play live, and there's a heaviness that comes from a slow, murky aesthetic that they've cultivated. But to call their brand of dense, slow-moving shoegaze "metal" just doesn't feel quite right. And yet, the Dallas trio fit in nicely among the doomsayers at the three-day event, thanks to their own uniquely dark rock. With a set marked by highlights from 2013's Circumambulation, the group plugged in, turned up, and cast an impressive shadow rather than rain crushing doom upon their audience. Theirs is a subtle sound—it's more about a vibe than an impact. So it's to their credit that they rocked pretty damn hard while doing so. Here's a band that doesn't need to rattle ribcages to leave their mark—if my observation of the people around me is any indication, they had the whole room in a trance.
Best band in an overcrowded room: SubRosa
The Observatory is basically two venues in one building—there's the main room, and the adjacent Constellation Room, which usually holds its own, separate show. And for the first night of Psycho it did, pushing the second stage to a more open outdoor space. It was a pretty good system while it lasted, giving everyone plenty of space to see all of the bands printed on the lineup in smaller fonts. Second stages usually don't need nearly the space that the mainstage warrants, but who would turn down the extra room? On Saturday, stage two went back to the Constellation Room, and it got crowded quickly. So by the time Salt Lake City doom merchants SubRosa played, the crowd spilled out of the room well into the hallway outside, making for a less than ideal situation for those trying to maneuver through the venue, as well as those who simply got to the set a little late. But with the curtain pulled aside, outside onlookers like yours truly (I take my work seriously, but not to the point of trying to swim through an impenetrable wall of bodies) still were able to see and hear the awesome power of this stunning band. Performing a set of songs culled mostly from 2013's More Constant Than the Gods, SubRosa flooded the room and surrounding area with crushing low-end and ornate, gothic flourishes. It was heavy. It was beautiful. Next time, put them on the main stage!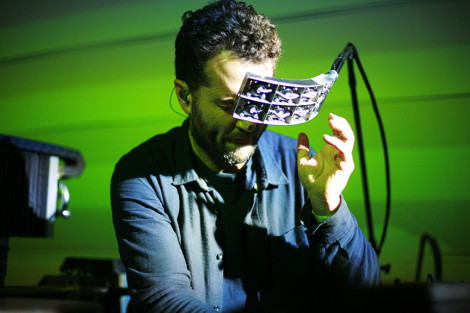 Hardest working performer: Author & Punisher
San Diego's Tristan Shone had a unique spot at the festival, playing interlude sets between performances on the mainstage. That put his number of sets around 24. And though he might have only been playing two songs at a time—or one, if it's a longer one—that still means he likely cycled through his entire catalog by the end of the weekend. I caught three of them, though part of me wishes I was able to see more, if only for the chance to hear him do his cover of Portishead's "Glory Box," which he's been known to do. (I can't confirm whether or not he added this to the setlists.) For just one man, though, Shone made an impressive industrial-metal ruckus, and kept on trucking for three straight days—and with a stylish hat, no less.
Best hits collection: Kylesa
Few of the bands playing the festival had anything you could really call a "hit." This is, after all, an underground metal event. Even so, it was hard not to feel like Savannah quintet Kylesa's highlight-laden set wasn't loaded with 'em. Comprising a long list of hand-picked favorites from Static Tensions, Spiral Shadow and Ultraviolet (plus Time Will Fuse Its Worth favorite "), their performance felt like a best-of collection loaded directly into the tape deck and blasting out the speakers. Hell, I would have been singing along to every word were I better at actually memorizing lyrics—which I'm not. But somewhere between "Don't Look Back" and "Unknown Awareness," I felt less like I was at a metal show and more like I was at a headlining stadium-rock show. And that pretty much ruled.
Best headliners that weren't: Pallbearer
On Saturday night, the actual headlining band was Sleep, but just a few hours earlier, the relatively younger Little Rock doom metal heavyweights Pallbearer rocked the main stage with a set of powerful epics from both 2012's Sorrow and Extinction and last year's Foundations of Burden. They sounded amazing—their booming, melodic dirges filled the entirety of the space in front of them, and vocalist Brett Campbell's singing was even more impressive in this capacity. In the context of the festival as a whole, Pallbearer might not have the legendary status or history, but they've most certainly got the chops. And based on the massive audience before them, the showmanship and songwriting to make them legends soon enough.
The Best metal tracks of May 2015
Vattnet Viskar – "Yearn"
Rhode Island black metal outfit Vattnet Viskar has never been all that straightforward in their approach to the sound—their 2013 album Sky Swallower blended post-rock atmosphere with blast beats in a way that was both elegant and visceral. And their upcoming album Settler seems to suggest that they're not done progressing, experimenting and transforming. "Yearn" is a prime example of the kind of innovative approach they're taking on. It's not even really a black metal song. I'm not sure it's entirely a metal song. It's more of a heavy shoegaze track, with screaming, and that's certainly something that's been done before. But Vattnet's take is a unique one. This is a tense, slow building beauty of a dirge, and it's got me excited for the next stage of this band's evolution.
[from
Settler
, out June 16;
Century Media
]
High on Fire – "The Black Plot"
I'll be the first to admit that there's not much about High on Fire's new single that's all that surprising. It's burly, meaty sludge metal with furious riffs, high-speed drumming, rock 'n' roll badassery and gut-punching ferocity. And that's exactly why it rules. I will, by no means, say that High on Fire shouldn't experiment, or adjust their aesthetic as they see fit. They mostly evolve in slow, careful moves, and a little often goes a long way. Still, there's a certain expectation of sheer destruction and power that we've all come to expect in a High on Fire song, and "The Black Plot" delivers in spades. If the rest of Luminiferous turns out to be slow, atmospheric doom metal dirges, that would be awesome. But for now, this is just the sludge rocker that I need.
[from
Luminiferous
, out June 23; eOne]
Mutoid Man – "Reptilian Soul"
Maybe I'm just not feeling much in the way of the kvlt stuff this month, but heavy rock 'n' roll seems to be where I'm at right now. Don't worry—next month I'll be on a different vibe most likely, but this new track by Mutoid Man is just hitting all the right notes, and pretty much as fast as humanly possible. The personnel behind the group should be enough to get your attention: Cave In frontman Steven Brodsky heads up the trio, which is backed by Converge drummer Ben Koller and bassist Nick Cageao. But instead of the progressive metal of Cave In or the blistering hardcore of Converge, Mutoid Man is a furious heavy rock 'n' roll band in the vein of Torche. "Reptilian Soul" is featured on the band's upcoming debut album Bleeder, and it's a real ripper of a song, riding a crest of technical riffs and dizzying rhythms. But it's also one of the catchiest tracks in heavy music I've heard this month, and there's a lot to be said for that. Here's a supergroup I'm more than ready to get behind.
[from
Bleeder
, out June 30;
Sargent House
]
Lucifer – "Izrael"
So much of the focus on metal in the '10s (and before that, the '00s) has more to do with "extreme" metal than anything resembling the traditional, old-school styles of metal that got us here in the first place. (Well, most of us anyway, and if I'm being perfectly honest, Helmet and Soundgarden got me here, but I'm not going to get into that right now.) Yet one of the best new metal bands of 2015 isn't very extreme at all. Lucifer, helmed by ex-The Oath vocalist Johanna Sadonis and featuring Cathedral guitarist Garry Jennings, have a melodic albeit riff-heavy sound that echoes the eerie occult-rock vibes of the late '60s and early '70s, only through a much more sophisticated amplification system. "Izrael" is the first single from Lucifer I, and it's incredible. It's a bit more ethereal and nuanced than any other track you'll hear on this list this month (well, save for the next one, sort of), and it's also one of the catchiest in its own haunted-house-party way. The Oath might have come and gone too quickly, but Lucifer rises up from that band's ashes with something irresistibly dark and commanding.
[from
Lucifer I
, out June 16;
Rise Above
]
Chelsea Wolfe – "Iron Moon"
I'm fully prepared to take some heat for including Chelsea Wolfe in this best metal tracks roundup, since Wolfe isn't really a metal artist. Not that it bothers me, much. She's used doom aesthetics to her advantage in the past (see: Apokalypsis' "Pale on Pale"), and there's a strong case that Wolfe is metal in spirit, if not always in sound. Everything she does feels heavy, but "Iron Moon"—which I discussed a few weeks ago in a longer Endless Playlist writeup—is the first song of hers that can really stand toe-to-toe with a lot of contemporary doom metal. It's heavy, it's beefy, and it's deafening. It's also utterly gorgeous, and that's another thing that Wolfe does so brilliantly: Ethereal beauty. We'll find out in the months ahead if Abyss is, on the whole, as heavy as this first track, but it's a hell of a way to introduce her new album.
[from
Abyss
, out Aug. 7;
Sargent House
]
Piece by piece
Recommended May metal albums:
Coliseum's Anxiety's Kiss: Louisville's Coliseum has been moving away from the sludgy hardcore that defined their early releases for a while now, and their first release for Deathwish is their least metal album to date, though that aspect was mostly shaken off with 2013's Sister Faith. So, this might be an odd place to include the record, but I'll say this much: It's still heavy, and it's still damn good. Coliseum are mostly sticking to a post-punk sound, beefed up by their hefty aesthetic, and it suits them nicely.
Faith No More's Sol Invictus: Since the beginning—or at least since Mike Patton joined their ranks—Faith No More has been a band for whom outside rules mattered little. They had a genuine smash hit (two if you count the not-as-famous "Midlife Crisis"), and seemed to get progressively weirder over time. And a band that willing to screw with the formula is always welcome back, no matter how long the hiatus. Sol Invictus is their first new album in 17 years, and it's both entirely in character and totally different from past efforts. It's strange, it's catchy, it's all over the place. It's Faith No More.
Prurient's Frozen Niagara Falls: Another not-really metal album—on a metal label (Profound Lore)—this 93-minute double album from Dominick Fernow is every bit as extreme and as devastating as anything you'll find in the metal world this month. Fernow has recorded his share of metal records under the name Ash Pool (and goth-rock with Cold Cave, and techno/ambient as Vatican Shadow), but Prurient is where he really shines, blending dark ambient with noise, power electronics and primal screams. This album is curiously beautiful, however, closer to recent work by Ben Frost or The Haxan Cloak in its elegant bleakness. Highly recommended for abstract-minded metalheads.
Tau Cross' Tau Cross: This intercontinental quartet is sort of a supergroup. The band comprises members of Amebix, Voivod, Misery and War/Plague, but they build on their hardcore/thrash roots to create something that's less about reclaiming past glories and more about making some new ones. It's a hard-rocking, hook heavy album that isn't afraid to have a little fun between the verses about dark visions and finding hope in a broken system. You can sing along to these crust anthems.
Valkyrie's Shadows: Pete Adams started a band with his brother Jake long before he joined Baroness, though that band, Valkyrie, had been put on hold for a while as Baroness rose to prominence over the last five years or so. Likewise, Jake Adams is a full-time teacher, which keeps him from being able to tour as much. All the same, they've made a hell of a family reunion on their Relapse debut, which is packed with more meaty guitar riffs than most bands know what to do with. Dig solos and rock 'n' fucking roll? Spin this immediately.
*
Rest in peace, Terry Jones of legendary British doom metal band Pagan Altar. He was a dramatic and powerful presence in his music, and his band helped define a cult metal genre, and very likely influenced a great deal of bands mentioned in this very column. Let's raise our horns to a true titan, and a legend of metal.
You might also like: