Prurient : Frozen Niagara Falls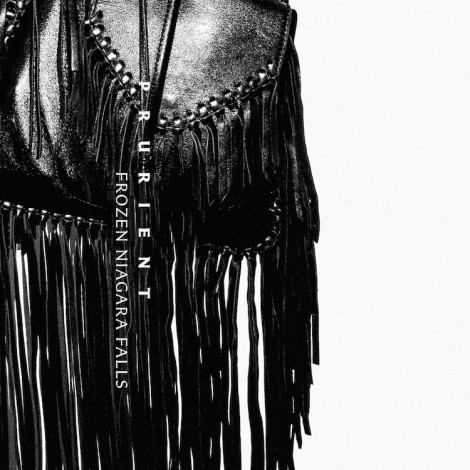 Back in January 2014, Dominick Fernow, aka Prurient, played a confrontational, searingly loud set of 30 minutes at Brooklyn's Saint Vitus, before dropping the microphone and disappearing into the stunned crowd. He almost literally vanished into thin air. People were left wondering what the fuck had just happened. Even though the eclectic noise artist was nowhere to be found mere minutes after the show, he had left a lasting impression. And for those not wearing earplugs, maybe permanent hearing loss.
That Brooklyn show took place during the early creation stages of Frozen Niagara Falls, Prurient's 92-minute opus that reached completion on Valentine's Day of this year. The abrasive, mysterious album is cold and full of darkness. The liner notes state that Frozen Niagara Falls was recorded "in the spirit of homelessness" in New York City, and that we should "listen at night while snow falls silently under street lights." Well, a May 12 release date is going to make that suggested listening process difficult, but sinking under the covers in the dark with a pair of quality headphones should do just fine. That character of homelessness is felt most strongly as Frozen Niagara Falls comes to a close. The deep, amazing sounds of an acoustic guitar on the 11-minute "Christ Among The Broken Glass" gives way to Fernow as he whispers the lyrics, which read like a report on NYC's lost souls in the dead of winter: "You can find Christ, feeding the poor, with what little he has left;" "Frosted spoons of baby food, pushed into mouths, lips purple with addiction;" "He's scraping together whatever he can, snow ground under his fingernails, cobbling together syllables;" and "Whose turn is it with the flashlight, down in the hole tonight?" The field recording of a reversing garbage truck puts the listener on the scene, like an episode of Law & Order, as detectives Briscoe and Logan search for clues in the shadows of an alleyway.
Prurient's noise artistry is so overbearing that his poetry runs the risk of being overlooked. Fernow's long, thorny discography of about 150 releases goes back 18 years; making it through half of that would be a challenge. Prurient's mixture of savage noise, cruel feedback, gloomy electronica, scrupulous sampling, and relaxing ambience can take some getting used to, and it's all here on Frozen Niagara Falls. But if these noise-scapes ever become too exhausting, we can look closer at Fernow's poetry to try and understand his intentions. His raw screams can be scary, but Prurient's music is meant to be personal and somewhat cringe-worthy. The first five tracks of Frozen Niagara Falls can be heard as nightmare on tape—dentist drill noises; a creepy, Deepthroat-like voice; vicious drums alongside vicious yelling; power electronic squeals; echoing whispers; cosmic synthesizers; and high-pitched whistling. These proceedings are insane, but also melodic in a weird way. Listening to "Dragonflies To Sew You Up" really closely, a "Boys of Summer" vibe is buried under the unrelenting snare hits that sound like a face getting smacked repeatedly. "Are you rotting in there? / Kitchens are murderous places," Fernow barks. "I promise I will only fuck prostitutes." Now, the definition of "prurient" is having or encouraging an excessive interest in sexual matters. Prurient's music has had some sexual aggression attached to it before, and goes deeper into that context here. It's primal stuff.
After the gust of intensity of the first 29 minutes, "Jester In Agony" is welcoming as an ambient instrumental. Sleigh bells rattle, and an interesting drum break drops in as well. But the harsh noises and terror come back—sheets of fuzz, crackling fire, chomping feedback, smolder, tangled guitar strings, mumbling, sparks, distorted chains, and what seems like a laser fight through a vacuum ("Frozen Niagara Falls (Portion Two)"). But the 10-minute "Greenpoint" is without all that chaos, except for some slithering feedback. It starts with some rusty acoustic strings before the electronics emerge, and then the track falls into Fernow's spoken word about an old friend who wanted to scatter his mother's ashes into the East River. But Fernow says that the East River isn't romantic anymore—that's where people go to kill themselves.
Prurient sounds mysterious because he is mysterious. He's the man standing in the cold with no jacket, or the man screaming at the stars. We could spend time with Frozen Niagara Falls like we spend time with enticing novels or peculiar shows. It's Fernow's dark, physical world, and we can either float in it or be alienated by it. Frozen Niagara Falls may scatter your brain, and may seem like a hailstorm, but it is love and death—two experiences that everyone can relate to. So, if you choose to fall into Prurient's sinister art, he will not be there when you awake. For he is a disappearing act that rolls through, wipes the slate clean, and moves on to his next mind-altering project.
Similar Albums:


Pharmakon – Bestial Burden


The Haxan Cloak – Excavation


Ben Frost – A U R O R A