10 Essential Music TV shows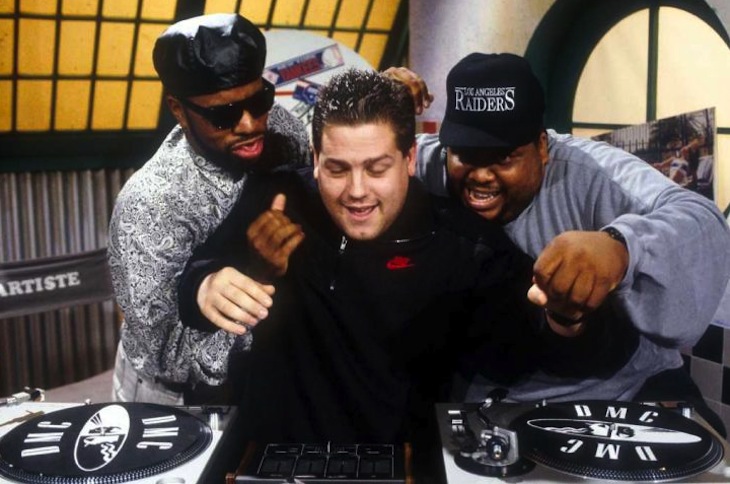 Next summer, you should expect many pixels lit and trees killed in the name of acknowledging MTV's 35th anniversary. But let's not kid ourselves: the erstwhile Music Television years ago abandoned its namesake concept. There was certainly a time it was on or at least near the cutting edge, but even then—and since then—that was a mantle borne and shared by plenty of other programming on other networks. Some of the seeds of net-narcissism, reality TV, and entertainment news were sown in syndicated music-based shows like Dance Party USA, Star Search, and America's Top 40. Fan service hit Dick Clark's microphone and soundstage long before Total Request Live, and in turn long before Instagram. Concert exclusives from big tours and festivals have moved to streaming media, prior to repackaging for Palladia or Qello.
Still, this has been a particularly busy and bittersweet period for music presented on the small screen. Longtime havens for slick comedy, social commentary, and forward-thinking music booking, Saturday Night Live just passed its 40-year mark while The Late Show with David Letterman wrapped its host's three-decade career. In December BET shut down 106 & Park, TV's longest-running hip-hop show, while the much-lauded Austin City Limits enters its fifth decade really starting to feel like both an institution and a brand. With a spate of viral video discoveries on our hands (everything from long-lost New Wave Theater to someone smartly fitting Soul Train footage to Daft Punk's "Get Lucky") and especially with Letterman immediately in our rearview, we're looking at 10 TV series that stumped hard to put—and keep—music on television.
American Bandstand (ABC/Syndication, 1952-1989)

It's easy to look back on Philly's American Bandstand and roll your eyes at its over the top, somewhat sugar-coated nature. But, when you break it down, most of the music-centric shows on this list wouldn't exist without Bandstand. A show where audience members listen to and rate recorded music? Live lip-syncing by nationally recognized artists? Dancing teenagers? For all intents and purposes, Dick Clark was the original American VJ. So, yeah, even though it's not entirely my bag, I can yield that American Bandstand forever changed the popular-music landscape. Just don't expect "it's got a good beat and you can dance to it" to make it to the final draft of any of my reviews. – ATB
Saturday Night Live (NBC, 1975-present)

For forty years Saturday Night Live has been a weekly beacon of variety entertainment, a finger on the pulse of American pop culture. That's always been just as true for the art of music as it was for comedy. For starters, The Saturday Night Live Band has always kicked ass, and SNL has even launched a number of successful singles recently. And sure, the program has gone through its share of ups and downs, but the show's commitment to spreading good musical performances into living rooms far and wide has existed since episode one, when Billy Preston and Janis Ian lit up the audience with their respective acts. It's been hard to keep count of the number of iconic musical guest performances since. We at Treble have our favorites, but it's safe to say that, on some nights, the music portion of the show is what kept us tuning in. After all, the allure of SNL has always been its raw, live feel and that's certainly just as true of the music as it is of the cast's most iconic sketches and characters. – ATB
Night Flight (USA and syndication; 1981–1996)
Spearheaded by a catch-as-catch-can producer and entrepreneur named Stuart Shapiro, and hosted most famously by Pat Prescott (now a Los Angeles radio personality), this early bit of original programming for the USA cable network beat MTV to air by two months. More importantly, for many years' worth of Friday-Saturday overnights, it suggested MTV could be beaten at its own game. Night Flight was a wild amalgam of music videos (even ones MTV would eventually censor or ban), interviews, and concert performances, as well as independent films and series, lost TV serials, comedy segments, cult movies, and underground cartoons. Shows or portions of them often needed themes to help organize four hours of broadcast time, so an evening's music viewing might include a multi-source profile on Kate Bush, Frank Zappa or The Residents; a string of videos with computer graphics; a primer on industrial music; or documentaries with The Clash or Yes. In the process, you might also have been introduced to The Church of the Subgenius, early animation by The Brothers Quay, or The Rocky Horror Picture Show. It was a crazy enough concept/result that even people who were around to watch it sometimes wonder if Night Flight was really just a dream. – AB
120 Minutes (MTV, 1986-2003)

Considering how left-field and avant garde some of the selections were on an early incarnation of MTV, the development of a show like 120 Minutes—a late-night two-hour show (hence the name) that focused on underground alternative music—was probably an inevitability in the 1980s. Launched in 1986, it became a cult-favorite show, compiling videos for songs by college-radio staples like New Order, The Replacements, The Pixies and The Jesus and Mary Chain. But even more exciting than the prospect of seeing promotional clips by bands who basically didn't exist on daytime MTV was actually seeing them in the studio, chatting with Dave Kendall (or Lewis Largent or Matt Pinfield) and performing live. And when bands showed up to play, they often skipped over the singles—not that these were mainstream bands to begin with. Sunny Day Real Estate performing "In Circles"? Shudder to Think playing "Earthquakes Come Home"? Jeff Buckley playing "So Real"?! Yeah, these all happened—in addition to some high profile performances from the likes of Radiohead, Oasis, Björk and countless other alternative rock A-listers. I got a little flak from the group for admitting that I recorded a half-decade's worth of episodes on VHS in the '90s, but I regret nothing. Except for forgetting I had them, and not replacing my VCR after it broke. – JT
Yo! MTV Raps (MTV, 1988-1995)
Somewhere in the basement of my childhood home is a box tucked in a corner, filled with dozens of VHS tapes. The tradition, when I was almost too young to appreciate it, was to record every episode of Yo! MTV Raps. In the era before YouTube, when you wanted to see your favorite music video, you just had to tune in to one of the many music video shows, and pray that the thing came on. Often times, it wouldn't. My oldest brother figured out the way to cheat the system was to record every episode of Yo! MTV Raps, so that we could watch and re-watch videos whenever we wanted to. Beyond that, Yo! MTV Raps served as true entertainment. Ed Lover and Doctor Dre (not to be confused with Dr. Dre) were so energetic and engaging, and Fab Five Freddy was so respected in hip-hop circles, it was the truest hip-hop show ever. Artists were comfortable there, unlike spaces today, where you see artists shift and cringe at an interviewer's questions. Rappers bought their best work there because they knew it would get respected. The landscape of music videos is so different now, a show like this would never thrive. It was a brief and glorious golden era. I remember the final show, when all of those rappers came through to close it out with an epic and emotional freestyle session. It was heartbreaking, even though I was too young to fully understand the weight of it. That's the only VHS not in the box. I still keep that one with me. – HA
MTV Unplugged (MTV, 1989-present)
People tend to think about the good MTV Unplugged episodes—LL Cool J, Nirvana, Clapton. But when I think of Unplugged, I always think of the disasters, or at least the less-than-great outings. Because I imagine those moments to be what a show like Unplugged was created for. When you push forward this idea of stripping down artists to their barest elements, you're going to have some massive hits, and some painful misses. With that in mind, I love the Lauryn Hill Unplugged. I know it isn't great, and I'd even say it is truly uncomfortable to listen to in spots. But it is also incredibly honest. You get to hear her breaking apart, looking for the pieces, and trying to put herself back together again, sometimes within the same song. That's the truest value of what MTV Unplugged gave us. It threw artists out into the water without a life vest, and let them fight their way back to shore. Of course, many of them are also excellent. Jay-Z blazing through a fantastic set with The Roots, Dashboard Confessional essentially leading a two hour sing-along session. But the true testament of what makes Unplugged great is hearing Lauryn Hill's voice, cracking and giving out, but still fighting.- HA
Later… with Jools Holland (BBC Two; 1992–present)
Imagine if, instead of David Letterman, bandleader Paul Shaffer hosted The Late Show. Then imagine his guestlist every night was the same mix as Dave's—respected veterans, buzzing up-and-comers, interesting rookies—yet consisted only of musicians playing live. A version of this reality exists in England, and as Dave inherited a grand American talk-show tradition from the likes of Steve Allen and Johnny Carson, Later… with Jools Holland continues a European trend of musical variety that began with their incredibly diverse pop charts and shows like The Old Grey Whistle Test. When Holland isn't touring with his own big band or earning royalties from his first one (Squeeze), he and his cameras spend 30 to 60 minutes zooming around a soundstage and audience. There's not much to that concept, but what sets Later… apart from the rest of the programs on this list is the amount of talent on that stage in a single episode. October 21, 2014, for example, featured U2, Sam Smith, Interpol, Zola Jesus, and Dave and Phil Alvin of old L.A. garage band The Blasters. That's not a TV show; that's a freaking festival stage. – AB
VH1 Storytellers (VH1, 1996-2015)

Storytellers only airs sporadically at this point, and the most recent example of it is, uh, an Ed Sheeran episode from January. And to be entirely honest, plenty of those who appeared on it in its late '90s/early to mid-2000s heyday I find just as fucking insufferable. Garth Brooks, multiple iterations Dave Matthews, Melissa Etheridge, Rod Stewart, Bon Jovi, Steely Dan…gross. But at its best, it let you see well-known artists explaining the backgrounds of their greatest songs. The Bruce Springsteen one in particular (naturally) almost serves as a performative step-by-step window into his songwriting process.
For some artists, it was an opportunity to try on new guises, like when Jay-Z showed off the full-band setup he'd use for tours going forward, around the time of American Gangster (still an underrated album, IMO). And the Kanye West one episode is a truly arresting document of his musical evolution in process, showing off the first glimpses of the angry, heartbroken, monologuing, controversy-drawing genius he's known as today. The last good one was probably Taylor Swift in 2012. However. if the Sheeran one is proof that Storytellers is coming back at all, it'll be interesting to see who tries it this time. – LG
Behind the Music (VH1, 1997-present)
Behind the Music is a bit different than the other shows on this list in that it doesn't feature live performances, and it also serves to shed light on the darker, seamier side of the lives of musicians and the industry. A documentary-style show with a good mix of entertainment, history and some sensationalism for good measure, Behind the Music became an instantly addictive account of what goes on when the cameras and microphones are off, for better or for worse. Most episodes were redemption stories in the end, but it was the brutal honesty that sold the show: TLC discussing their bankruptcy, The Go-Gos doing a lot of coke, MC Hammer going broke, Fleetwood Mac's intra-band soap opera, and Motley Crüe's near-death experiences. And let's not forget the notable quotables; C.C. Deville of Poison saying "It was the house of whores, and then it became the house of horrors." Gold. – JT
Late Night with Jimmy Fallon (NBC, 2009-2014)

It's sometimes easy to clown on Jimmy Fallon, but his musical interests are unassailable. When it was first announced that alternative hip-hop stalwarts The Roots took the house-band gig on Late Night with Jimmy Fallon, people reacted incredulously, but soon enough the tone of those reactions turned to HOLY SHIT. They were essential to its success, lending their crack musicianship to performances by various musical guests and serving the backbone of sketches like "Slow Jam the News." Or consider the "kids' instruments" performances, where the boundless creativity of ?uestlove & Co. allowed pop stars like Carly Rae Jepsen, Robin Thicke and Mariah Carey to sound fresh and intriguing despite playing songs we'd heard a million times. Or the ongoing "History of Rap" series performed by Fallon and Justin Timberlake, which while undeniably funny served as a true homage to the genre by two dudes who really loved it.
Watching Fallon, you also knew you were in for a treat due to the variety of musicians who performed. Acts that wouldn't fly with Letterman or Jay Leno—certainly not then; they've grown more eclectic in response to Fallon—were commonplace. CHVRCHES, The Afghan Whigs, Odd Future, Frank Ocean, Grimes and A$AP Rocky all debuted on American TV on this show. Reunions of long-dormant bands like Jawbox (!) and Refused (!!!) became A Thing. Even when a juggernaut established artist would come on, as with Springsteen Week, the presence of The Roots and other artists covering Boss songs kept it interesting. And while Fallon took his band along to The Tonight Show, the guest list has definitely become a bit less interesting since he left his original late-night perch. – LG
You might also like: