Jason Isbell : Something More Than Free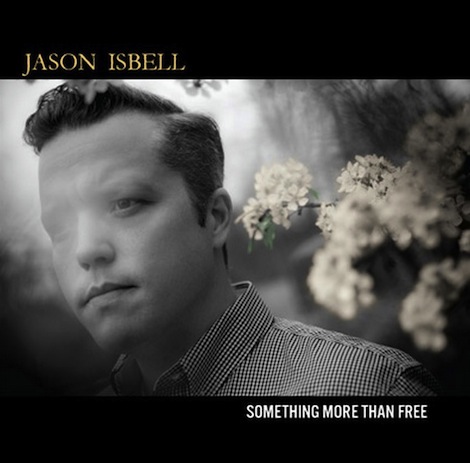 Jason Isbell's 2013 artistic breakthrough Southeastern was the product of realization and the Alabaman's own shift to chemical sobriety. As can be expected from anyone surveying ashes recessed from the cliff, there was something of a body count, a consideration of narrowly escaped dismay and tough-won compassion. It was as strong a piece of Americana as the 21st century's seen, a work that puzzled over the sanctity of lives drained or robbed of felicity.
In related news, Isbell witnesses "a couple in the corner of the bar" in "Flagship," the third song on his new release Something More Than Free: they've "traveled life and clearly traveled far/He's got nothin' left to learn about his heart/They're sittin' there a thousand miles apart… Baby, let's not ever get that way." True to that directive, the former Drive-By Trucker's fifth solo album is more a consideration of how things work in daily practice instead of situations forced by terminality. Isbell's more interested in lives that shift less perilously, at least on the surface.
Not terribly surprisingly, the new focus inches Isbell and his band a step or two closer to the everypeople described in contemporary country, the ones defined by toil five days a week and who let it all out on the weekend. But Isbell, predictably and thankfully, goes a little deeper than the spring breakers and beer sponsors currently being offered by suburban Nashville. He's thankful just to have work in the opening track "If It Takes a Lifetime," happy to "fight the urge to live inside my telephone." The rousing "24 Frames" disguises itself as a how-to manual on how to navigate emotional obligations, far trickier than the limits of simple instructions allow ("This is how you make yourself closer to your brother"). "You thought God was an architect, now you know/He's something like a pipebomb ready to blow," Isbell sings, recalling the utter point of Southeastern as he does without going over the more difficult scenes.
Existential summaries of simple lives persist on Something More Than Free, and Isbell neither finds God nor destruction through them. "The Life You Chose," "Flagship" and the title track prefer to zero in on the reality of the situations, which aren't necessarily as dramatic. But Isbell doesn't cheat his way out either; he often comes up with perfectly concise lines that say a lot more than their sum total, like "Guess I'm doing what I'm on this earth to do," or "I'll cancel all the plans we ever made." Modest as they might seem, they're part of the heart of great country songwriting.
There are still moments of creative seismology though: minor trepidation and impending events that Isbell knows will have to find their filter. "How to Forget" is a stunning repudiation of an old flame he's trying to pry out of a promising new relationship: "Now I'm dreaming up these creatures from the deep," he says in both boyish wonder and squinting exhaustion. "Teach me how to unlove." The real heartbreaker is "Children of Children," an amazing sketch told in flashback ("sepia and saddle horses"). Considering his mother's very young age when the singer arrived on earth, Isbell strikes an emotional blow to the memory: "All the years I took from her just by being born." Jesus, how does one react to that statement? Isbell saves it from cheap immolation with shattering empathy.
The characters in "Speed Trap Town" and "Hudson Commodore" are both looking for escape: the former from a family whose sins are happily etched in stone, the latter a woman from a an independent but productive life that nevertheless had "defeated her desire." And in the final song "To a Band I Loved" (allegedly about the just-broken-up Texas band Centro-Matic) Isbell broods on the solitariness of artists who keep plugging along, "hanging out when it's past time to go." They serve as spurs in Isbell's narrative; they're mere hints that the characters might find salvation in their curiosity of what's beyond their own walls.
In its own way Something More Than Free finds minor splendor in the ambivalence that catches fire between work stints, that's reinforced by even the laziest of daydreams. If Isbell's implying that such stillness is the more common, maybe less melodramatic component of our lives, he's very persuasive in suggesting the minor dramas can be just as revealing, and maybe even more rewarding in the end—which feels just a little further away than it used to.
Similar Albums:


Ryan Adams – Ashes & Fire


Josh Ritter – The Historical Conquests of Josh Ritter


The Lone Bellow – Then Came the Morning
Paul Pearson
Paul Pearson is a writer, journalist, and interviewer who has written for Treble since 2013. His music writing has also appeared in The Seattle Times, The Stranger, The Olympian, and MSN Music.