Blue Note: 25 Essential Albums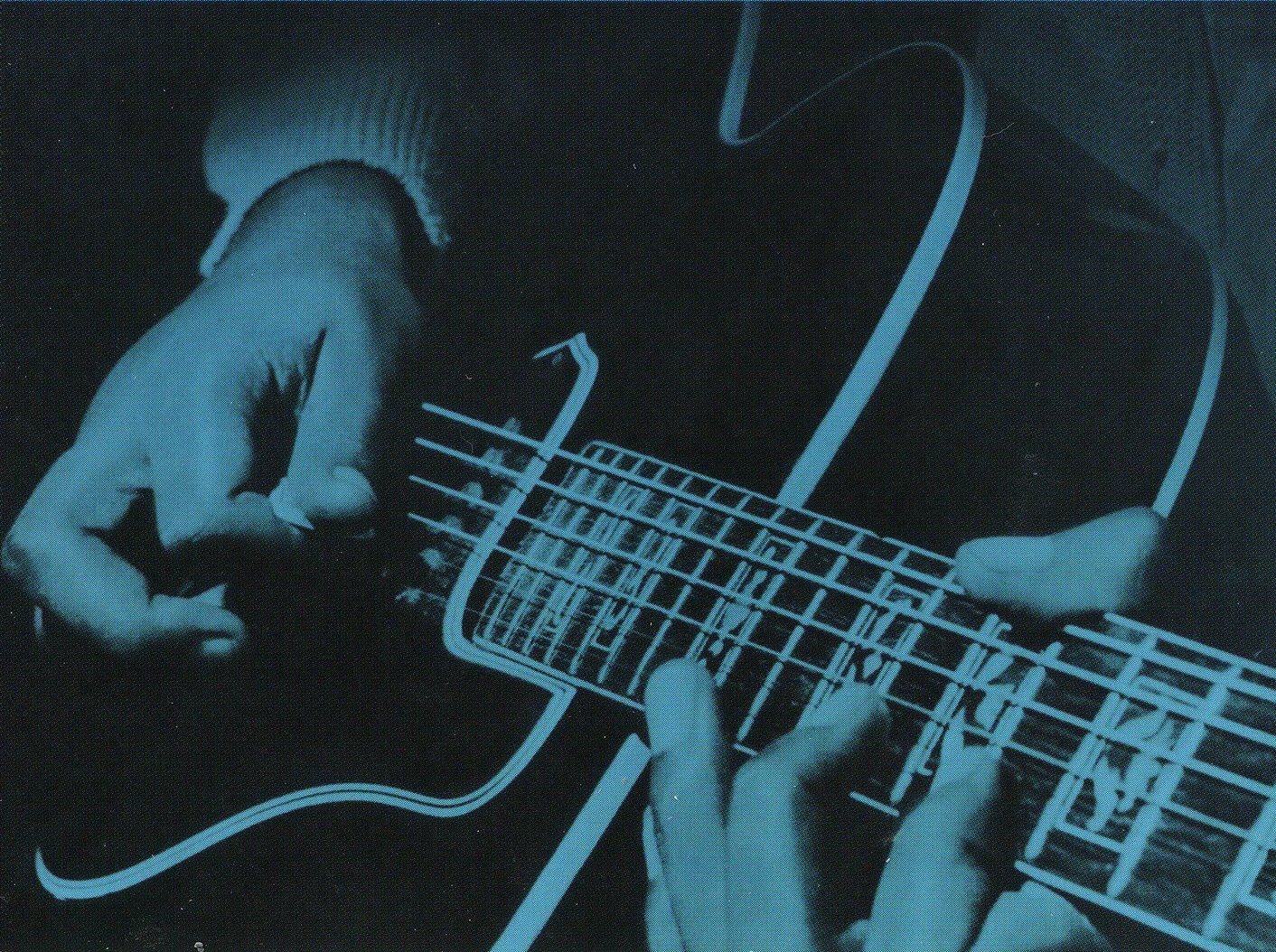 In the great discussion of the history of jazz, a handful of notable record labels will inevitably come up — Verve, Impulse, Atlantic, Columbia, and to a lesser extent, CTI and Riverside. But there's one label that's essentially synonymous with jazz: Blue Note. Founded in 1939 by Alfred Lion and Max Margulis, Blue Note began as an imprint that specialized in pressing swing and boogie woogie records, and later began to build a reputation for releasing bold new sounds in jazz from hard bop to post-bop, and avant-garde and free jazz. (And let's give a hand to the incredible album art by Reid Miles.) It went through numerous phases, first releasing 78 RPM records, then expanding into cohesive full-lengths during the jazz Renaissance in the 1950s and '60s. In the '70s it still held its own, but went dormant in 1979 after some label restructuring occurred under the EMI umbrella. It relaunched in 1985 with both legacy acts and new performers on its roster, and since, it's expanded to include soul, hip-hop, pop and electronic acts alongside a roster of jazz performers.
On its 75th anniversary—for which the label has launched a new vinyl reissue initiative (!)—Treble is honoring the legendary label by selecting a list of 25 Blue Note essential albums. We could have made it a much longer list, of course. If you need to find 75 of the greatest Blue Note records, it's not that hard to find 'em. But we simplified this just a little. So take a trip back through jazz history with us as we drop the needle on our picks for the 25 best Blue Note albums.
Words by Jeff Terich (JT), Adam Blyweiss (AB), and A.T. Bossenger (ATB)
Cool Struttin'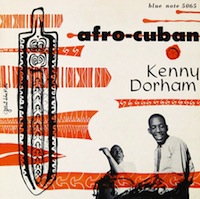 Kenny Dorham – Afro Cuban
(1955)
Trumpeter Kenny Dorham made an impressive enough debut with 1954's Kenny Dorham Quintet, but with his take on Afro-Cuban jazz, titled simply Afro-Cuban, he solidified his place in jazz's hall of fame. It's a rousing and lively set, both of its time (Latin jazz having gotten big in the '50s thanks to standards like Dizzy Gillespie's "Manteca") and unquestionably timeless. Dorham's eight-piece combo — which includes the likes of fellow Blue Note alums pianist Horace Silver, drummer Art Blakey and saxophonist Hank Mobley (!) — has a big-band feel, and the arrangements burst with energy and verve. It's a consistent and melodic set, the contents of which span from romantic balladry ("Lotus Flower") to percussion heavy Latin jam sessions ("Minor's Holiday"). Looking for a place to start with Afro-Cuban jazz? Pick up the one that's actually called Afro-Cuban. – JT
Listen: Spotify
---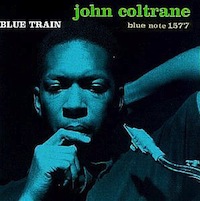 John Coltrane – Blue Train
(1958)
For being such a scion of jazz, it seems a little weird that this is 'Trane's only Blue Note album guided by his own hand from start to finish. Yet in honoring a verbal agreement with label founder Alfred Lion he ended up doing the right thing for Blue Note's reputation, for his own legacy, and for jazz history. There aren't too many albums with a flow that feels as natural as breathing; you know you have one here when, say, Paul Chambers' surprise bow pulls on his bass lead into Kenny Drew's piano line, then to ensemble work, and finally to Coltrane's own leadership on the way out of "Moment's Notice." Drummer Philly Joe Jones, trumpeter Lee Morgan, and Curtis Fuller on trombone give songs like "Locomotion" an undeniable pulse, almost as if Coltrane doesn't need to be there except to fill out sheet music and watch these boys shine on their own. And yet here he is, center stage on the title cut and fleshing out "Lazy Bird," making hard bop sound easy and raising blues up to the level of joy. – AB
Listen/Buy: Spotify | Turntable Lab (vinyl)
---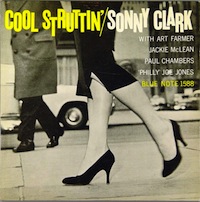 Sonny Clark – Cool Struttin'
(1958)
Lift those gams! If you don't know Sonny Clark's classic album Cool Struttin', you almost certainly know the cover, which depicts a pair of shapely legs, "struttin'" on the sidewalk. It's not exactly a true Vinyl Vixen cover — too little straight-up kitsch, and too much urban cool for that. But it's a strong enough indication that the album you're about to hear is stylish and sleek. Right on the cusp between hard bop and cool jazz, Cool Struttin' lives up to its name, never hitting so hard that the players ever sound like they're breaking a sweat. And yet, there's a lot more personality and character here than on a lot of the cool jazz records that came out before it. It swings and it grooves. It's bluesy and it's soulful. Cool Struttin' is one nifty number. – JT
Listen/Buy: Spotify | Merchbar (vinyl)
---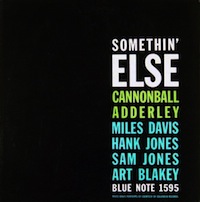 Cannonball Adderley – Somethin' Else
(1958)
Somethin' else, indeed: Despite the alto sax man's name at the top of the marquee this is a Miles Davis album by proxy, which is kind of a miracle since not only is this is one of the last albums to list Davis as a sideman, but it's part of a surprising short history he had with Blue Note. Adderley was a sidekick on either side of this release—part of Miles' sextet formed in 1957, and heard on his stone classic Columbia album Kind of Blue in 1959—and it sometimes even feels as such on this album, where Davis' solos and duets are prominent and early. But make no mistake, Adderley's quintet take this music out for leisurely strolls, not quite caring which man is actually in charge. Their version of Cole Porter's "Love for Sale" has a bit of unlikely pep, understated even in the drums of the normally dramatic Art Blakey, and the titular blues number manages to wander off in intriguing directions. It's the pensive "Dancing in the Dark," though, that drives home just what kind of secret weapon jazz had in Julian "Cannonball" Adderley. – AB
Listen/Buy: Spotify | Merchbar (vinyl)
---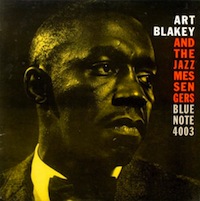 Art Blakey & The Jazz Messengers – Moanin'
(1959)
There are few well-informed drummers who wouldn't honor Art Blakey as a patron saint of sorts. His rhythm was spot on, his energy was at full volume, and his technique was engaging, creative and invigoratingly playful. On top of all that, he's one of the earliest drummers to take lead of a band (of any genre) from behind a trap set. Blakey and his band, The Jazz Messengers, brought us dynamic hard bop jazz for a 30-year run of rotating members. But one of their strongest cuts was Blue Note's own Moanin. Originally dubbed a self-titled album, the record quickly took the name of its popular leading track, and for good reason. It's a bluesy, soulful romp with a hard bop edge, full of aggressive horn leads, as well as satisfying, top-notch solos by Blakey himself. The other four arrangements follow suit, giving the listener a steady dose of blues-tinged jams. If you want rhythm-heavy jazz, it doesn't get much better than this. – ATB
Listen/Buy: Spotify | Merchbar (vinyl)
---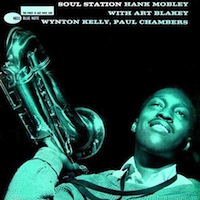 Hank Mobley – Soul Station
(1960)
Hop aboard the Blue Train and it's just a short ride on down to Soul Station. A testament to the prolific nature of jazz musicians of the 1950s and '60s, Soul Station is saxophonist Hank Mobley's 14th Blue Note recording since 1955 (!) and a pretty strong case for his best (with honorable mentions going to Roll Call and No Room For Squares). A brief sideman for Miles Davis, Mobley more than proved his strengths as a leader during the 1960s, and a great deal of that comes from his sheer listenability. Soul Station primarily finds Mobley & Co. sticking with a laid-back mood, leaning more on the mellower side of hard bop — not that a tendency toward the chill was ever a problem in jazz. Sandwiched between two standards, Mobley delivers four originals, the best of the bunch being "Dig Dis" and the title track, which showcase just how much soul this record carries. A hard-bop essential. – JT
Listen/Buy: Spotify | Merchbar (vinyl)
---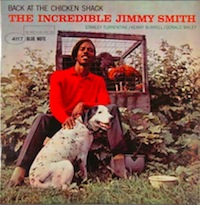 Jimmy Smith – Back at the Chicken Shack
(1963)
It's called soul-jazz for a reason: It grooves and shakes with all the rich sounds of blues and gospel, but arranged to the sound of jazz. And few players in the early '60s could make a jazz record sound as soulful as Jimmy Smith does. Younger generations most likely know Smith from his track "Root Down (And Get It)", which was famously sampled on the Beastie Boys' Ill Communication. But Smith had a prolific and consistent career that hit an early peak with Back at the Chicken Shack — a four-track collection of feel-good, laid-back soul-jazz that enlivens the limbs and soothes the soul. And for a set with two songs that extend well beyond 12 minutes, it's one of the most accessible records on this list, maintaining the improvisational approach of jazz without abandoning a melodic approachability. It'll leave you feeling as good as it sounds. – JT
Listen/Buy: Spotify | Merchbar (vinyl)
Midnight Blue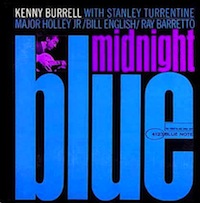 Kenny Burrell – Midnight Blue
(1963)
On Midnight Blue, Kenny Burrell's guitar arrangements swell with blues energy while maintaining a cool jazz atmosphere. Effectively, he's the Chet Atkins of jazz. And, with double bass, tenor sax, drums and conga supporting each distinctive piece, it sure is a smooth set of tunes. Some critics venture to call Burrell's music 'jazzy blues', but from where we're sitting Midnight Blue's expansive compositions and tendency toward improvisation make it a jazz classic. – ATB
Listen/Buy: Spotify | Merchbar (vinyl)
---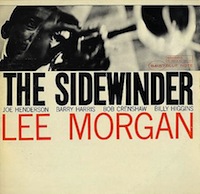 Lee Morgan – The Sidewinder
(1964)
If you want a definitive example of early soul-jazz, this is it. The bluesy arrangements on Lee Morgan's The Sidewinder took on the heart of 1960s soul sounds and encapsulated them in a hard bop feel. The title track even gets quite a bit of funk on. The Sidewinder is important in an altogether different perspective too, since it helped launch the popularity of Lee Morgan and Blue Note's soulful jazz. While the label originally issued only 4,000 copies, the pop chart success of "The Sidewinder" helped to blast the record into overwhelming popularly. When you spin this disc, you're not just getting a beautiful dose of jazz greatness, you're hearing a piece of musical history. – ATB
Listen/Buy: Spotify | Merchbar (vinyl)
---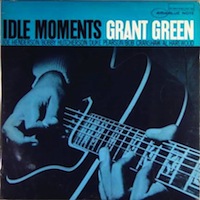 Grant Green – Idle Moments
(1965)
Guitarist Grant Green covered a lot of ground in his two-decade career, taking on Latin jazz (The Latin Bit), soul jazz (the incredibly titled His Majesty King Funk), and even a Blaxploitation soundtrack in 1972 (The Final Comedown). But even more than just about any other artist on this list, Green was masterful at creating a sultry, late-night mood with his fluid licks and easy-going melodies. Dropping the needle on the opening title track of Idle Moments is like stepping into a dark club with luxurious booths, stiff Old Fashioneds, and a house band that can really cook, even at low tempos. And, of course, that same combo cooks even hotter on the uptempo tracks, like "Jean de Fleur." Still, Idle Moments leans a bit heavy on ballads, and for good reason — Green's selections here are heavy on mood, the art of which seemed to fall out of favor with the rise of free jazz and fusion. But the atmosphere on Idle Moments is really what sets it apart from its peers. That and Green's buttery-smooth guitar playing — one of the sweetest sounds to these ears. – JT
Listen/Buy: Spotify | Merchbar (vinyl)
---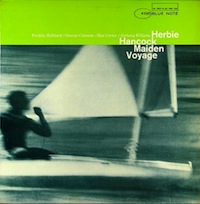 Herbie Hancock – Maiden Voyage
(1965)
Aside from Miles Davis, Herbie Hancock has the most expansive catalog of any jazz bandleader. From classic bebop and hard bop, to modal jazz, to his wild endeavors into jazz-fusion and synthesizer-based R&B, Hancock's done it all — showcasing supreme craftsmanship and creativity through his entire career. Hancock's fifth studio album, Maiden Voyage was recorded in his mid-20s, but it shows the same artistry and talent as his later work, if without the experimental blemishes he'd later be known for. A hard bop album with modal inflections, the record is a wild ride, with legends like Freddie Hubbard, George Coleman, Ron Carter and Tony Williams rounding off Hancock's beautiful piano compositions with a satisfying robustness. – ATB
Listen: Spotify
---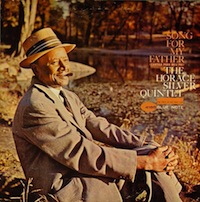 Horace Silver – Song for My Father
(1965)
A set that could very easily be in the running for Greatest Blue Note Recording of All Time (see also: Blue Train, Something Else and Out to Lunch!), Song For My Father takes pianist Horace Silver's fascination with sounds from across the globe (Brazil, India and The Caribbean in particular here) and married them to a sophisticated and captivating hard-bop style. So, where many of his contemporaries borrowed from bossa nova or Eastern influences with a wink and more than a little kitsch, Silver treated them to a refined and bluesy approach that set his apart in a class of their own. The album's ambience makes it an intriguing listen for those either well immersed in the sounds of jazz or those who are just scratching the surface — a song like "Lonely Woman" needs no particular set of Cliff's Notes to be as enchanting as it is. Nor does the title track, one of the most distinctive and breathtaking jazz songs ever written. – JT
Listen: Spotify
---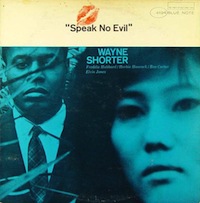 Wayne Shorter – Speak No Evil
(1966)
Last year, saxophonist Wayne Shorter came back home to Blue Note with the release of Without a Net, his first since 1970. This is significant for a few reasons, the first being that after more than 50 years as a professional jazz artist, he's still releasing music — and good music at that. Second of all, Blue Note is the label that backed Shorter's best albums, including 1965's Juju, 1967's Adam's Apple, and strongest of all, Speak No Evil, released between those two stellar outings. From its cover, it's hard not to pick up on a sense of mystery and intrigue, which carries through to its impossibly cool compositions, all of which are Shorter originals. The title track is smoky and laid back, "Wild Flower" gentle and exotic, and "Dance Cadaverous" a sparse and slinky highlight. Shorter's performances are impassioned and alive, but the arrangements themselves maintain a sense of cool that never breaks. Blue Note president Don Was often cites this as one of his favorites, and it's easy to see why: Speak No Evil is a masterpiece. – JT
Listen/Buy: Spotify | Merchbar (vinyl)
Destination… Out!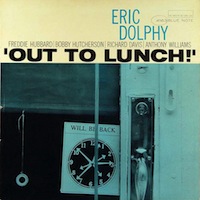 Eric Dolphy – Out to Lunch!
(1964)
So it's called Out to Lunch! You know — out, way out, outside the lines, off its rocker, not of any earthly pattern that we know of. Eric Dolphy's landmark 1964 album didn't just set the standard for avant garde jazz, it expanded the parameters and chipped away significantly at its boundaries. In essence, it divided jazz into two eras — that which came before Out to Lunch! and that which came after. You could certainly make the argument that Ornette Coleman had already made great strides into some truly bizarre jazz fuckery by this time, but if Dolphy was following anyone's example — and it's pretty difficult to say he was — it wasn't necessary Coleman's. Just listen to how weirdly intense "Hat and Beard" is — Richard Davis bows his bass like horror movie strings, Tony Williams kicks his bass drum like he has a grudge against it, Bobby Hutcherson smacks his vibes to the point that they sound bruised, and Dolphy himself does things with a bass clarinet that just plain don't sound possible. This isn't free jazz as we know it — there's entirely too much swing for that to be the case. But it's definitely unbound by rules or expectations. Genius makes its own rules. – JT
Listen/Buy: Spotify | Merchbar (vinyl)
---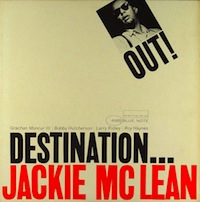 Jackie McLean – Destination Out!
(1964)
Listening to "Love and Hate," the first track on Jackie McLean's 1964 album Destination Out!, you almost get the impression that it's an ambient record. It's so moody and hushed, weird in its own pleasantly tense way. A lot of that has to do with vibraphonist Bobby Hutcherson (one of a few recurring MVPs on this entire list), whose instrument lends the track a ghostly quality that pushes it outside the familiar realms of jazz and into some vaguely familiar, yet still far-off place. In other words: Out! Indeed, McLean & Co. take the listener outside of more comfortable and expected surroundings, so much so that this isn't even really post-bop, more like post-punk-bop. But Destination Out! warms up as it goes on, right on up to closing track "Riff Raff," a melodic, deeply grooving cap on an infectiously weird, and accessibly innovative jazz standout. – JT
Listen/Buy: Spotify | Merchbar (vinyl)
---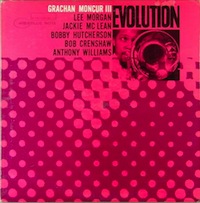 Grachan Moncur III – Evolution
(1964)
Look up any of the artists on this list on WhoSampled, and you'll pretty much find that Blue Note has been a deep well for hip-hop sample flips. And the progressive tendencies of the original artists will almost certainly dictate the vibe of the artist that's sampling them. For instance, Digable Planets plucked from Bobbi Humphrey on their funky, '70s-leaning Blowout Comb. Madlib has cut and spliced Herbie Hancock into some of his work as alter ego Quasimoto. And the far weirder and more abstract sounds of trombonist Grachan Moncur III have been pulled apart and reconstructed by Shabazz Palaces on 2011's Black Up. On Evolution, Moncur didn't play jazz so much as any of us know it. It's very rarely performed with blues progressions or in any kind of -bop style. It's somewhere between ambient, free jazz, modern classical and a film score. It's music with a dark and heavy sense of mood, but moves slowly and with grace. A lot of that can be attributed to the chilling vibraphone of Bobby Hutcherson, but some of that is just the compositions themselves, which creep and crawl, rather than strut. And sinister and alien as much of it sounds, it's also uniformly captivating and quite gorgeous. In today's vernacular, this is some next level shit. – JT
Listen/Buy: Spotify | Turntable Lab (vinyl)
---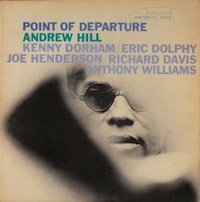 Andrew Hill – Point of Departure
(1965)
The seven years Andrew Hill spent on Blue Note represent perhaps the seven most significant years of the innovative pianist's career, beginning with his post-bop approach on 1964's Black Fire, percussion heavy free-jazz on 1967's Compulsion, and eventual experiments with choral sounds on 1970's Lift Every Voice. But Point of Departure is where he hits the sweet spot, diving right into the sounds of the avant garde, still hewing toward a melodic approach, but one rife with experimentation and complexities. The personnel alone — Eric Dolphy, Tony Williams, Kenny Dorham and Joe Henderson — would be enough to make this at least a noteworthy recording, but not only is each player on their game, they've got some incredible material to work with, thanks to Hill himself, who composed all five pieces. The 12-minute opener "Refuge" is the real show-stopper, navigating a channel between post-bop's cool and free jazz weirdness, whereas "New Monastery"'s instruments seemingly amble over each other in a slow foot race toward the finish line. It's jazz with the elegance and refinement of modern classical, but with the unstoppable swing of blues, and an altogether intangible quality that sets it apart from even the strangest of jazz's avant garde. – JT
Listen/Buy: Spotify | Turntable Lab (vinyl)
---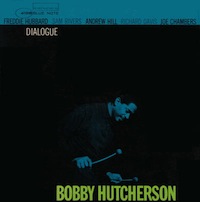 Bobby Hutcherson – Dialogue
(1965)
The complex counter-melodies and polyrhythms on Bobby Hutcherson's Dialogue can be disorienting upon first listen. But repeat listens lead to appreciation for Hutcherson's experimental take on the hard bop dynamic. The mesmerizing rhythms parallel the jazzy funk of Afrobeat, and Hutcherson's vibraphone accents round off each composition with a mesmerizing shine. It's not a stretch to site works like Dialogue as predecessors to later experimental acts like Sigur Rós or even Boredoms. The album's ability to reference hard bop while breaking so many technical 'rules' of the genre leads to a blissful sort of chaos in particular moments, especially in tracks like "Les Noirs Marchant," which features a variety of moody breakdowns and dissolves. As such, the energy and dynamic on this record are truly timeless and influential. – ATB
Listen: Spotify
---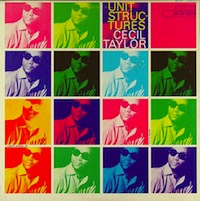 Cecil Taylor – Unit Structures
(1966)
Free jazz is tough on a first-timer. It can and often does sound like an endless string of random notes — a foreign text for which there is no Rosetta Stone. Only that's not really true, not exactly. The "free" in free jazz does indeed denote free improvisation, and in some of the genre's most out recordings (like Peter Brotzmann's Machine Gun), attempting to anticipate where the musicians are going is almost futile. So Cecil Taylor would surely have to be a wise guy to be calling a free jazz album Unit Structures, right? Not exactly; Unit Structures is best looked at as half 20th Century classical music and half free jazz. When Taylor and his ensemble start to cook, they really go all out. But there are quieter, avant garde sounds at play, like on "Enter Evening," or the sinister creep of "Tales (8 Wisps)." Unit Structures is neither contained within structures nor entirely free. It walks a thin, extremely volatile line. – JT
Listen: Spotify
---
Shades of Blue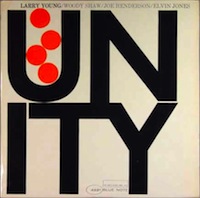 Larry Young – Unity
(1966)
Blue Note has had a few notable organists on its roster, namely Jimmy Smith and Larry Young, but each of the two musicians had an entirely different musical approach. Where Smith specialized in a blues-heavy style of soul jazz, Young took a more modal approach like that of many of his Blue Note contemporaries. The funny thing about that is while, from a pure theory standpoint, Young's style is entirely different, there's something about Hammond that just sounds soulful, no matter its application. Young, born Khalid Yasin Abdul Aziz, leads an all-star combo on Unity, that includes trumpeter Woody Shaw, saxophonist Joe Henderson and drummer Elvin Jones, through a series of groovers, half of which were composed by Shaw. The best of the bunch is closing track "Beyond All Limits," which turns the most complicated harmonic progression into the most thrilling listen of the bunch. – JT
Listen/Buy: Spotify | Turntable Lab (vinyl)
---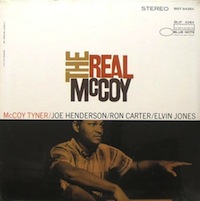 McCoy Tyner – The Real McCoy
(1967)
The great thing about having the name McCoy Tyner is how well it lends itself to puns. And appropriately enough, The Real McCoy, Tyner's sixth album, is indeed the real deal. It's reasonably straightforward in approach, pianist Tyner guiding a four-piece combo that also includes saxphonist Joe Henderson, drummer Elvin Jones and bassist Ron Carter. But given the sheer heat and dynamic performances to be found on the album, it's anything but straightforward. Henderson in particular steals the show on a good portion of the album, delivering one hell of an eye-popping solo on "Passion Dance." But it's less about one individual soloist than how the combo works as a unit, crafting a cooler atmosphere on "Contemplation," or adding exclamation points to the end of every escalating chord sequence on "Four by Five." If you're looking for the jams, The Real McCoy's got 'em. – JT
Listen/Buy: Spotify | Merchbar (vinyl)
---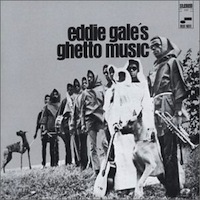 Eddie Gale – Eddie Gale's Ghetto Music
(1968)
While most Blue Note releases mixed modern jazz with bluesy and soulful influences, Eddie Gale's Ghetto Music was a more expansive endeavor — heavily blending vocal and instrumental norms of '60s pop with the Blue Note jazz feel. Much like Robert Glasper's recent experiment, Black Radio, Ghetto Music took the sound of pop radio at the time and brought in jazz roots for a well-rounded and seamless mash-up sound. Gale's trumpet, as well as the other instrumentals here, are top-notch, but the focal point here is often the vocal choruses or spoken-word announcements from the featured vocalists. Through these inserts, Ghetto Music takes on a 'street music' feel that sets it apart from most other jazz at the time, but without losing its distinct Blue Note sound. – ATB
Listen: Spotify
---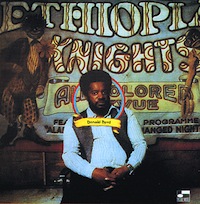 Donald Byrd – Ethiopian Knights
(1971)
If there's one word to summarize Donald Byrd's career, it's undoubtedly "eclectic." The trumpet player recorded his share of straight-ahead hard-bop, but he branched out pretty far from that central sound, adding vocal choir experiments on the groundbreaking A New Perspective, dabbling in soul jazz in the late '60s, zoning out with space-age fusion sounds in the mid '70s, and carving out a seriously funky groove on Ethiopian Knights. The name, admittedly, is a little misleading — there's scarcely any trace of the Ethio-jazz sounds of musicians like Mulatu Astatke. Instead, it's a dense fusion record a la Miles Davis' Bitches Brew, but funkier, catchier, and just fun to listen to all around. It contains only three compositions: 15-minute-plus bookends "The Emperor" and "The Little Rasti," and the shorter "Jamie" sandwiched in between. While Miles was off on another, nearly untouchable plane, Byrd took influence from the likes of Sly Stone and James Brown and made something infectiously funky. The album's just under 40 minutes, but the groove never stops. – JT
Listen/Buy: Spotify | Merchbar (vinyl)
---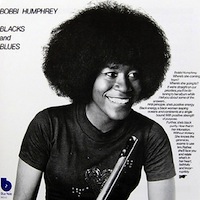 Bobbi Humphrey – Blacks and Blues
(1973)
It's not entirely accurate to say flautist Bobbi Humphrey plays jazz and just leave it at that. In fact, by the very nature of playing the flute, she's already coloring a bit outside the lines, but add in some smooth-soul vocals, catchy melodies and a whole lotta funk, and what Blacks and Blues adds up to is a funk-soul classic. It's probably no surprise that hip-hop acts ranging from DJ Jazzy Jeff and the Fresh Prince to Digable Planets (who pulled off not one but two flips) have sampled tracks from Blacks and Blues, because Humphrey brings a feel-good, summertime BBQ vibe that simply doesn't come standard on, say, a free jazz record. The grooves are deep, the vibes are chill, and Humphrey herself? She pretty much wails. – JT
Listen/Buy: Spotify | Merchbar (vinyl)
---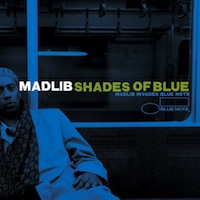 Madlib – Shades of Blue
(2003)
Blue Note releases have been visited regularly for rap samples, but the label itself didn't join in on hip-hop until London's Us3 delivered Hand on the Torch in 1993. However, despite it being Blue Note's first platinum album on the strength of pop crossover smash "Cantaloop (Flip Fantasia)," nobody wants to admit that (a.) the rest of the album is pretty goddamn weak and (b.) none of it might have happened had Us3 founder Geoff Wilkinson not been hauled in to Blue Note for an uncleared sample a year prior. It would take another decade for the label to dip their toe back in this water, when master mixer Madlib was invited to peruse and muck with their entire catalog. He ended up recasting his 2001 illusion of leading a jazz ensemble in the form of Yesterday's New Quartet—where in reality he played all instruments and manipulated all samples himself—in order to recontextualize work from label greats including Horace Silver, Bobby Hutcherson, Donald Byrd and more. Other jazz imprints Verve and Impulse undertook similar remix projects; none displayed the same laserlike genre focus or consistent quality. – AB
Listen/Buy: Spotify | Merchbar (vinyl)
---
Support our Site—Subscribe to Our Patreon: Become one of our monthly patrons and help support an independent media resource while gaining access to exclusive content, shirts, playlists, mixtapes and more.