Against Me! : 23 Live Sex Acts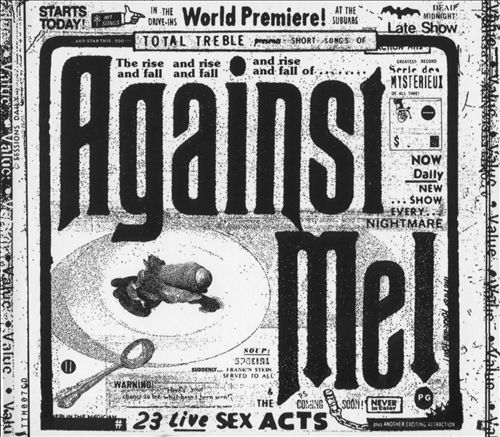 If we're being honest, most of us probably have mixed feelings about live rock albums. By the time an artist is well known enough to record and distribute a concert record, chances are that their live show's focus is centered around creating an experience that's faithful to the original recordings. There are exceptions—Bruce Springsteen and Fela Kuti's live records both capture an energy that just isn't replicable in the studio, for instance. But even then, it's always hard to determine if even the best live albums are worth listening to if one isn't already won over by the artist or band's ethos and repertoire.
The rare exception to this might be in a case like Johnny Cash's At Folsom Prison, a record that crystallized the country singer's bold attempt to revitalize his fading career. That effort turned out to be successful, but the sense of risk is palpable on that record, so much so that it continues to be one of the most revered LPs out of Cash's entire catalog. So perhaps the secret ingredient to an ideal live record isn't so much in the setlist or location (not that any of that doesn't matter), but the historical context. And that's not necessarily something an artist or label can plan for.
For Against Me!, the historical significance of their second live record, 23 Live Sex Acts, was probably somewhat apparent from the get-go. Recorded on the band's 2014 tour supporting Transgender Dysphoria Blues, the sessions for this LP capture a newly re-formed band after Laura Jane Grace's coming out as a trans woman caused relationships with both bandmates and some fans to become strained. After all, for all of its counterculture preaching, the punk rock world can be drastically conservative when it comes to gender and sexuality. (So it probably goes without saying that a record about gender dysphoria wasn't unanimously adored by the scene as a whole.) In that light, 23 Live Sex Acts becomes a documentation of Grace's first true tour since coming out. Throughout the record her joy is audible as she powers through more than two dozen songs at full throttle, stopping only to thank the crowd for being so incredible or to ask a club manager why an audience member was kicked out. ("Hey fucking asshole! If he leaves, you have to get up here and play the guitar.")
At 23 tracks, Live Sex Acts is much more than a live version of Transgender Dysphoria Blues. It boasts six noteworthy performances of standout tracks from that record, but the truly rewarding takes in this set come when Grace & Co. breathe new life to old standards, stretching all the way back to the band's 2002 debut, Against Me! Is Reinventing Axl Rose. On one hand, each track is transformed and enhanced by the way Grace and guitarist James Bowman have grown as performers, as well as energetic basswork by Inge Johansson (ex-Refused) and the powerhouse drumming of Atom Willard (ex-Rocket from the Crypt). But the most transformative moments come from hearing Grace's lyrics in a new context, especially those that she wrote directly prior to coming out. In many cases, tangible fear and worry become painted with a proud boldness as Grace revisits these thoughts with any false sense of self removed from the picture.
The most striking case of this lyrical renewal comes in the form of 2005's "Pretty Girls (The Mover)", a song which Grace had previously revised in order to hide thematic elements related to her gender dysphoria. But here, performed in its intended form, it's a thousand times more powerful. It's the kind of history that feels important enough to record and the sort of moment that 23 Live Sex Acts seems focused on capturing. Whether or not it's impact will reach beyond Against Me! fans is a question only time can answer but, from this point of view, the prospects look hopeful.
Similar Albums:


Against Me! – Transgender Dysphoria Blues

Rocket From the Crypt – R.I.P.


Mission of Burma – The Horrible Truth About Mission of Burma