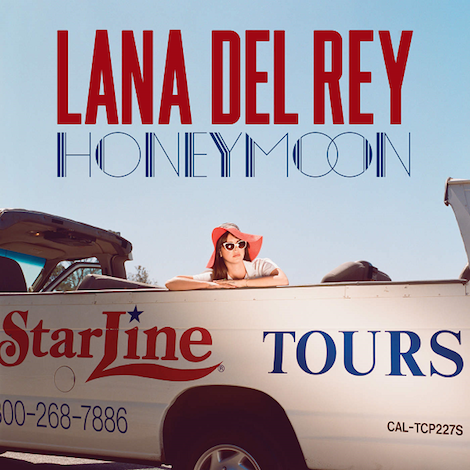 Lana Del Rey has settled into what seems like a comfortable niche in the pop culture universe. I don't think she ever had designs on the thrones occupied by the Katy Perrys, Beyonces and Rihannas, and if that was the case at one time it certainly isn't now. Her sound and aesthetic presentation and thematic concerns are what they are, not likely to change. Even irrespective of the various controversies attending her identity and whether she was or wasn't "manufactured," many people have a love-her-or-hate-her viewpoint about Lana, and attempting to examine her work from a middle-ground perspective can be difficult.
Honeymoon, her third album (the all-but-forgotten Lizzy Grant record notwithstanding), may be the easiest of her releases to listen to objectively. There are few if any #problematic lyrics a la her Crystals-indebted "He hit me and it felt like a kiss" line from the title track of Ultraviolence, and no deliberate, meta provocations like "Fucked My Way Up to the Top" or "National Anthem." She doesn't have anything to prove here. I also think even the most dedicated thinkpiece peddlers are weary of parsing whether she is or isn't feminist or whether she's a genuine retro aficionado or a musical encapsulation of the posturing Urban Outfitters/Free People capital-V Vintage aesthetic. As always, what's left to look at is the music.
The record's opener and title track sets the tone for nearly everything to follow. "Honeymoon" carries a sumptuous orchestral pop arrangement, languid pace and forlorn vocal through six minutes—it's kind of gorgeous and also a little bit boring. While the remaining songs certainly don't sound exactly the same, they rarely deviate from that template in terms of length, sound, pace and tone. The result is a record of torch songs that, more so than any previous Lana Del Rey work, sounds like it could've been released in the late '60s/early '70s era it's evoking. There's also little sense of adventurousness or risk, and it's hard to pick standout tracks when they're so similar. (Lead single "High by the Beach" and her closing cover of "Don't Let Me Be Misunderstood" stray furthest outside this blueprint. "High" is by far the weakest track on the album, while "Misunderstood" is an acceptable but anticlimactic ending.)
To its credit, Honeymoon has a cohesion that both Born To Die and Ultraviolence lacked. The former was a complete mess and stylistic hodgepodge, with well-done singles that were so thoroughly superior to the clearly rushed, weak album tracks. The latter, while excellent in points ("Cruel World" and "West Coast" were some of my favorite songs of 2014) is a bit hamstrung by the jarring difference between the rock songs (what I could call "Fleetwood Mac noir") and the ballads. The highs on Ultraviolence, though, make it Lana Del Rey's best album overall, and despite the unified sound of Honeymoon it never reaches those heights.
I'm surprised someone hasn't made a Lana Del Rey song-lyric generator (or maybe they have, I was too lazy to search), because her lyrics are what they always have been. Unrequited love, drug references, ennui, sex, crime, signifiers of sumptuous living—they're all here on Honeymoon. Attempting to cull deep meaning from them is a fool's errand, as is having any sort of agita about What They Mean in 2015. They don't mean much of anything, and that's fine. They are an atmospheric element, like the occasional intrusions of skittering Atlanta trap drum-machine patterns or the noirish slow-picked guitar sound she favors in her band's arrangements, or, for that matter, Lana's voice, the limitations of which are well-documented and not stretched here. This is probably the best and most confident her vocals have sounded on record.
Honeymoon isn't a "good" album by any easy standard of measurement. But it's not bad at all, and even if it's not as risky as Ultraviolence it's certainly an interesting one. In defiance of what I said earlier about it being difficult to pick standouts, I'll say that "Freak," "Terrence Loves You," "Religion" and "God Knows I Tried" stand among her best work. As a whole, Honeymoon has already stayed with me much longer than I expected it to—a simultaneously bright and dark, suitably slow-burning sonic meditation ideal for the last days of summer.
Similar Albums:


Florence and the Machine – How Big How Blue How Beautiful


Lykke Li – I Never Learn


Scarlett Johansson – Anywhere I Lay My Head