Sturgill Simpson announces new album, A Sailor's Guide to Earth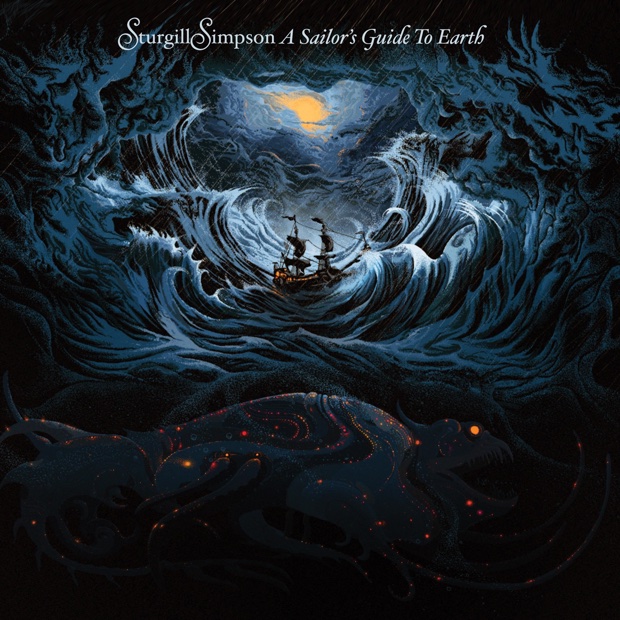 Sturgill Simpson has announced a follow-up to his critically acclaimed 2014 album, Metamodern Sounds in Country Music. It's titled A Sailor's Guide to Earth and it's being released on April 15 via Atlantic. The album includes a cover of Nirvana's "In Bloom," and features Simpson's touring band in addition to Dave Roe on bass, Dan Dugmore on steel guitar, Dougie Wilkinson on bagpipes, Garo Yellin and Arthur Cook on cello, Jonathan Dinklage and Whitney LaGrange on violin, and special guests the Dap-Kings. Check out the tracklist below, along with a stream of "Brace for Impact (Live a Little)".
Simpson discusses the album in a press release:
I really questioned whether I wanted to spend however many more years on this bus, not being there and seeing all that was happening. That's where this record came from, just processing all that guilt and homesickness. I had to figure out a way to put that into music, so I decided to write the whole record from the perspective of a sailor going to sea and not knowing if he's ever coming home.

I remembered an old letter that I read, written by my Grandfather Ora to my grandmother when he was in the Army. He was in the South Pacific during World War II, and he thought he was going to die. So he wrote a goodbye letter to her and their newborn son. He finally made it home five years later.
Sturgill Simpson A Sailor's Guide to Earth tracklist:
1 Welcome to Earth (Pollywog)
2 Breakers Roar
3 Keep It Between the Lines
4 Sea Stories
5 In Bloom
6 Brace for Impact (Live a Little)
7 All Around You
8 Oh Sarah
9 Call to Arms