Russian Circles announce new album, Guidance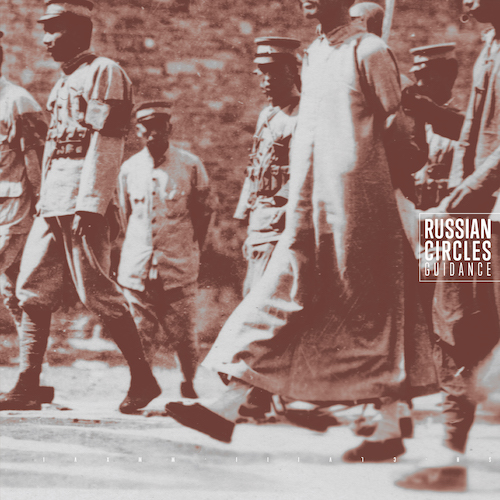 Metal trio Russian Circles are returning this year with a set of new music. On August 5, the band will release Guidance, via Sargent House. It's their sixth album, and was recorded at GodCity Studios in Salem, Mass. with Kurt Ballou (Converge). They're also touring behind the album this summer and fall. Check out their tour dates below, along with the album's tracklist and teaser video.
Guidance follows 2013's Memorial.
Russian Circles Guidance tracklist:
1. Asa
2. Vorel
3. Mota
4. Afrika
5. Overboard
6. Calla
7. Lisboa
Russian Circles tour:
6/16 Vancouver, BC – Levitation Vancouver
6/18 Salt Lake City, UT – Crucial Fest
8/26 Madison, WI – High Noon Saloon (C)
8/27 Minneapolis, MN – Cedar Cultural Center (C)
8/29 Missoula, MT – Palace Lounge (C)
8/30 Seattle, WA – Neumos (C)
8/31 Portland, OR – Doug Fir Lounge (C)
9/2 San Francisco, CA – Great American Music Hall (C)
9/3 Los Angeles, CA – The Teragram Ballroom (C)
9/5 Phoenix, AZ – Crescent Ballroom (C)
9/6 Albuquerque, NM – Launchpad (C)
9/7 Englewood, CO – The Gothic Theatre (C)
9/8 Kansas City, MO – The Riot Room (C)
9/9 Chicago, IL – Metro (C)
9/25 Detroit, MI – El Club (H)
9/26 Toronto, ON – Lee's Palace (H)
9/28 Cambridge, MA – The Sinclair (H)
9/29 Philadelphia, PA – Union Transfer (H)
9/30 Brooklyn, NY – Warsaw (H)
10/1 Washington, DC – Rock & Roll Hotel (H)
10/2 Durham, NC – Motorco Music Hall (H)
10/4 Atlanta, GA – Aisle 5 (H)
10/5 Birmingham, AL – Saturn (H)
10/6 Baton Rouge, LA – Spanish Moon (H)
10/7 Houston, TX – Warehouse Live Studio (H)
10/8 Austin, TX – Barracuda (H)
10/9 Dallas, TX – RBC (H)
(C) = with Cloakroom
(H) = with Helms Alee