Baroness show off their live energy on "Try to Disappear" video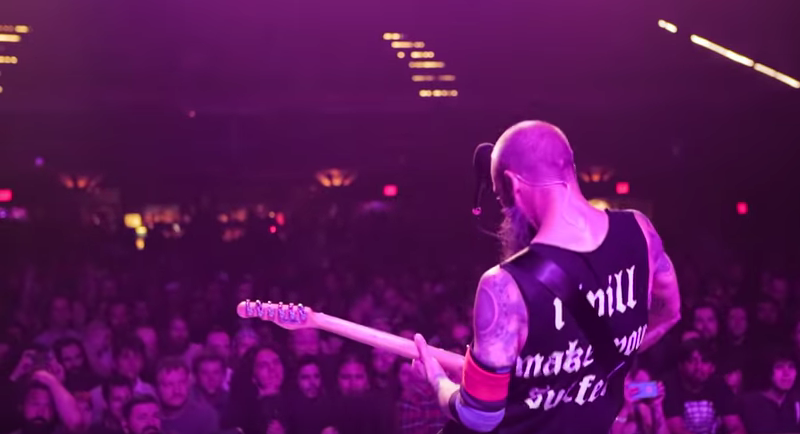 Baroness have just released another new video from their outstanding fourth album, Purple. The clip is for the hard-rocking highlight (aren't they all?) "Try to Disappear," which comprises footage from their recent tour behind the album. They've also got more shows lined up to support Purple, and if you haven't seen them yet, you are missing out. Check out the new video below, which just premiered via Juxtapoz, and their upcoming tour dates.
Baroness tour dates:
8/31 Tucson, AZ – The Rock (P)
9/2 Dallas, TX – Granada Theatre (P)
9/3 Memphis, TN – New Daisy Theatre (P)
9/4 Baton Rouge, LA – The Varsity Theatre (P)
9/6 Orlando, FL – The Social (P)
9/7 Tampa, FL – State Theater (P)
9/9 Charleston, SC – The Music Farm (P)
9/10 Raleigh, NC – Hopscotch Music Festival
9/17 Chester, PA – Monster Energy Rock Allegiance Festival
9/23 Corpus Christi, TX – The Pavilion at Concrete Street (P)
9/24 San Antonio, TX – Paper Tiger (P)
9/25 Houston, TX – Houston Open Air
10/22 Sacramento, CA – Aftershock Festival
11/6 McDade, TX – Sound on Sound Festival
12/5 Auckland, New Zealand – Studio
12/7 Sydney, Australia – The Metro
12/8 Brisbane, Australia – The Triffid
12/9 St. Kilda, Australia – The Prince Bandroom
12/10 Meredith, Australia – Meredith Music Festival
12/12 Adelaide, Australia – The Gov
12/13 Perth, Australia – Capitol
(P) = with Pallbearer
Baroness' Purple is on our list of the Best Albums of 2016 So Far (even if it technically came out just as 2015 was ending).