In 1992, the grunge explosion earned Helmet a million-dollar contract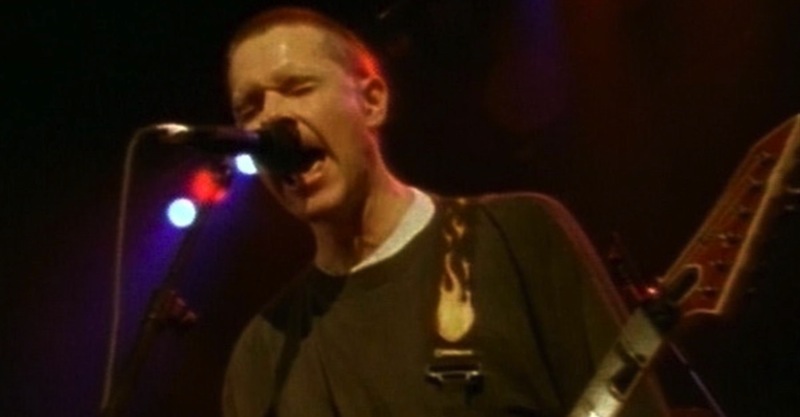 Left of the Dial, Top of the Charts is a new column that will explore the history of alternative rock radio hits as measured by the Billboard alternative chart, starting in November 1991, when "Smells Like Teen Spirit" hit number one. Every other week will take a snapshot of the chart of one week in a particular year, to measure how we got from 10,000 Maniacs to Twentyonepilots in 25 years.
Say it's the early '90s and you work for a major label. Nirvana has just become the biggest thing in America, and you can't help but think, "We gotta get one of those." Chances are, if you did work for a major label sometime between 1991 and 1994, you did say that, or at least think it. In the aftermath of Nevermind, the floodgates opened and every band with a Big Muff pedal got a contract. The first half of the decade was like a marathon episode of Oprah's Favorite Things and the audience solely comprised slackers in flannels: "You get a contract! And YOU get a contract!" Shudder to Think got a major label contract. Archers of Loaf got a major label contract. Girls Against Boys, later on, got a major label contract.
But Helmet, boy did they get a major label contract. When the band signed to Interscope before releasing their 1992 album Meantime, it came with a lot of zeroes attached. Indeed, Helmet—a band who in hindsight has proven to be a career cult act rather than proven hitmakers—earned a few million dollars out of the deal, and it's hard to imagine that sort of thing happening without Nirvana breaking the seal. Suddenly every major label signee was like a mule with a spinning wheel: Who knows how they got it, and danged if they knew how to use it. Helmet, at least, sold a lot of copies of Meantime, to date their best album and a pretty much perfect record, despite being a strange fit, format-wise. Kind of metal, kind of noise rock, arguably "grunge" by some standard, it blurred lines via chunky power chord riffs and a handful of great hooks. And as a result, "Unsung" ended up on the alt-rock charts peaking at number 29 in October of 1992.
That's still fairly notable for the time, when the song received pretty ample airplay, even though it feels like a disappointing peak for a band that got a plumb contract from Interscope (not that they couldn't afford it—labels have long had cocaine budgets off the books). The landscape in 1992 was much different than many of us probably remember it. Thanks to the explosion of grunge and the runaway success of Seattle bands such as Nirvana, Pearl Jam and Hole, when we think about "alternative," it usually means distortion pedals, power chords, apathy and angst. It means snotty twentysomethings in ripped jeans and flannels. It means shouting about how despite all of our rage, we're still just rats in cages, maaaaan.
But I'm getting ahead of myself. In 1992, it more or less meant, ahem, "college rock." You know, subdued and sophisticated melodic rock played by artists who appealed to bespectacled grad students in coffeehouses. It's a stereotype, but not a terribly offensive one. I'm not sure anyone who attended Wesleyan in the early '90s is going to slap my cheek with a leather glove and demand satisfaction because I assumed they were listening to 10,000 Maniacs. They probably were (and some jam bands, most likely), or at the very least, their campus radio station was playing 10,000 Maniacs—as were most alternative-oriented stations in America. In fact, "These Are Days" still feels like a part of the zeitgeist, if only because it was so successful at the time. It did reach number one, though on the week of October 10, 1992, it sat comfortably at number seven. Number one, however, is a more curious piece of this time capsule: Suzanne Vega's "Blood Makes Noise," a boho pop chant with some pseudo-industrial machine-clang percussion that predicted Beck by a couple years. That one hasn't been in heavy rotation since, and it probably has more to do with the songs that were nipping at its heels.
But then again, it's around this time that we see the increasing frequency of big, burly, fuzzy angst anthems taking over. Pearl Jam's "Jeremy" was enjoying a comedown after a peak at number five, and Screaming Trees, whose own history predates Nirvana's, nonetheless managed to make mainstream inroads with their hit "Nearly Lost You," at number 12. And Screaming Trees aren't alone in being a veteran act who caught a second wind when the majors caught a whiff of "Teen Spirit." Twin Cities heroes Soul Asylum debuted on the chart with "Somebody to Shove," a song that had more than enough angst to go around, while fellow Minnesota hero Bob Mould took a post-Hüsker Dü encore with Sugar, whose "Helpless" hit number six, and ranks as one of the best songs he ever wrote. Faith No More, meanwhile, hit big well before Nirvana with "Epic," so to see "A Small Victory" here doesn't imply a direct correlation. After all, Faith No More is a much weirder band in every conceivable way than Nirvana. But at the very least, people wanted big guitars and Faith No More had them.
That all of these artists are competing for attention on the same chart—Vega vs. Faith No More, 10,000 Maniacs vs. Soul Asylum—shows, more than anything, the process of transition in the industry and audience at the time. As cognitive dissonance goes, it'll get much weirder—just you wait. But the old vets are still the ones commanding most of the top spots. R.E.M.'s "Drive" surely seemed like a weird choice for a first single from Automatic for the People. The song that got so big everyone got sick of it turned out to be "Everybody Hurts," but "Drive" is, arguably, the best song on the album (let's fight) so its spot at number three here isn't unearned. Same for "Digging in the Dirt," the funkily psychedelic Peter Gabriel song that almost suggests a hint of industrial. Almost. And Morrissey has back to back hits with "Glamorous Glue" and "Tomorrow at numbers 15 and 16, respectively. I honestly don't remember the last time I heard either of those songs on the radio, but whether or not Clear Channel has forgotten those songs, legions of Moz fans surely haven't.
But 24 years is plenty of time to forget about songs on the charts. You might remember House of Love's "You Don't Understand," a groovy jangle pop anthem that sounds both tied to an era yet weirdly fresh today. It's less likely you remember Moodswings, who apparently hit number nine with "Spiritual High," a dubby electronic pop track with vocals from Chrissy Hynde. In hindsight, it seems like what probably was the latest in a series of songs that followed in the footsteps of "Tom's Diner" (featuring vocals from this week's number one artist), which itself sort of carried the torch for "Pump Up the Volume." And you definitely remember The B-52's, but do you remember "Tell It Like It T-I-Is"? I have trouble accessing this one in the memory bank, though I definitely remember the album, Good Stuff. And "T-I-Is" is basically "Love Shack, again, we guess." It's no "Rock Lobster," I'll tell you that.
One band that I sure remember being a big deal in fall of 1992, and you probably do too, is Nine Inch Nails. And in the next 23 of these, they'll be coming up a lot. But few moments as a 10-year-old stand out in my memory quite like seeing the video for "Wish" on MTV after school. In daylight hours. Probably between En Vogue and Tom Cochrane's "Life is a Highway" (and I wanna riiiide it all night long). "Wish" and by extension the Broken EP represented to my just-shy-of-hormonal-chaos brain the future of rock music—and that proved essentially true. Nine Inch Nails were the most dangerous band to hit the mainstream (for a while, at least) and all that anger and venom ensured that my parents really didn't like the idea of me buying a copy of that tape. Still, "Wish" was a big deal. So where'd it land on this particular week? Nowhere. Not even on the chart. What does, however, is "Happiness in Slavery." Now, that one's a head scratcher. I have trouble imagining a major alt station playing a song whose main hook is "SLAVE SCREAMS!" I have trouble with a song whose video features a fully nude man being tortured by machines somehow turning into a hit. It gets weirder: This song, overall, did better than "Wish" on the charts, after the latter finally did make it there. It makes you wonder just how depraved commercial radio really was 24 years ago, or for that matter, whether they also got to take some IOUs from the Big Five's cocaine budget. Then again, that same depravity earned Reznor a massive industrial disco hit two years later. Ah, those were the days.