Pop Life: Lady Gaga's earnest comeback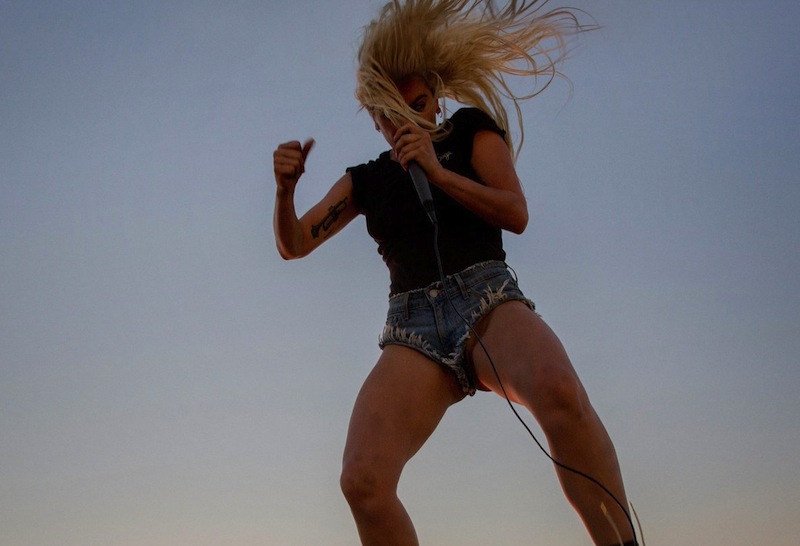 Many artists make their best music when they're reeling from failed romances—or, failing that, if they can easily summon and explore darknesses of the past regardless of their immediate feelings. It's why Blood on the Tracks stands out as an epochal Bob Dylan album despite being surrounded by uneven albums like New Morning that only diehard fans extoll the virtues of (do not even consider @-ing me), or why Joni Mitchell had a long and storied career but Blue will always be her best-loved album. Lady Gaga is in no way an exception to this rule. She's certainly made great upbeat songs; "The Edge of Glory," for example, is about as perfect as pop music gets in the 2010s and that's about the thrill of an illicit sexual assignation. But they don't cut deep the way "Speechless" does, or like the wounded desperation at the core of "Paparazzi" and "Bad Romance" do.
(Before proceeding further: I TOTALLY FUCKING CALLED new Lady Gaga music in my last column, without any knowledge that the "Perfect Illusion" single would be announced the next day. Call it a hunch, guess, whatever—I remember seeing something on Twitter about Gaga breaking up with her longtime main man Taylor Kinney some months ago and immediately thought, "The album she gets out of this could be goddamn amazing." Total asshole, I know.)
I've always found Ms. Germanotta's entire aesthetic incredibly endearing, even when the resultant music has, of late, offered somewhat diminishing returns. She's just so fucking earnest, and, more often than not, a complete cornball. (This also applies to Drake, IMO, but if you say that on Twitter dot com numerous people get mad, because the Court of Online has officially proclaimed that liking Drake is Uncool and potentially Problematic, so we'll save that discussion for another time.) Lady Gaga really and truly wants to make music that will be loved by the entire universe, promote body, sex and (if applicable) queer positivity, successfully blend glam rock, synthpop and Tin Pan Alley song structures, and…well, it'd take a while to list all the things Gaga wants to do in her songs. The ones I noted are among the most important.
Let me give a more concrete example: 2013's ARTPOP was a fucking mess of an album, bouncing too freely between disparate sounds. Its best song, by far, is a duet with an utterly repulsive alleged (he typed frustratedly, to avoid a libel lawsuit) pederast, and the layers and optics surrounding that would require a dissertation to fully parse. Most of its tracks, like "Applause" and "Venus," were simply forgettable—well-executed but formless pop, far below her standards. But damn did she go all in on selling the supposed ethos behind that record. Between the Koons painting cover and Gaga's constant explanations of purpose ("Listen…it's art and pop…together…you know?"), she might've appeared aloof and pretentious, but I think she honestly believed playing the part of the MoMa-roaming mystic was the best way to communicate the point of ARTPOP. The critical ambivalence and low (for her) sales it generated drove her to an aesthetic 180. When she resurfaced, it was as the gown-wearing chanteuse of Cheek to Cheek, a pleasant but entirely risk-free standards collaboration with Tony Bennett. I don't doubt that she 100 percent felt like doing a white-people-jazz album with Tony fucking Bennett, but releasing it barely a year after ARTPOP was no accident. She wanted to get the washed-up duets album out of her system three decades ahead of schedule, and her vocal chops are accomplished enough to handle jazz standards in her sleep.
Lady Gaga is a tryhard because she genuinely believes in what she's doing and takes it very seriously (perhaps too seriously), not because she's overcompensating for a lack of talent or purpose. In baseball terms, she's a True Outcome hitter: She swings hard every fucking time and either misses the ball by a mile or knocks its leather off and sends it out of the stadium. (Or occasionally walks, the corollary of that being decent-but-nothing-special songs like "Aura" or "Government Hooker").
Which brings us to "Perfect Illusion." There's exactly one arguable misstep in this song, and that's the abruptness of its key change right before the two-minute mark. It's not a bad move, per se, I'm just not convinced that it works yet. Otherwise, "Perfect Illusion" is Lady Gaga's best song since her 2010-2011 peak of The Fame Monster and Born This Way, exploring similar ideas of emotional masochism and heartbreak.
For a woman who had Clarence Clemons play on her record to get the proper E Street mojo, Gaga bears Bruce Springsteen's influence on this song more than anything she's ever done, right down to the phrasing and tone on the first-verse vocals: "Tryin' to get control, pressure's takin' its toll." You can imagine "Perfect Illusion" as an outtake from Tunnel of Love (not a blatant breakup album, but research the circumstances surrounding it sometime) that Springsteen gave Gaga his blessing to modernize. I wouldn't be surprised if the album that this single headlines ends up being Gaga's Tunnel of Love in its emotional temperament, or perhaps her Blood on the Tracks, and yes, I just indirectly compared Lady Gaga to Dylan and no, you still can't @ me. Musically, "Perfect Illusion" is her sweet spot, a confectionary fusion of European synth pulse, glam-rock guitar and her ever-theatrical voice. I can't tell you how refreshing it is for a high-profile pop song like this to ignore the sounds populating most of the Top 40 and be crafted to its singer's aesthetic and artistic strengths. It's possible that nothing else on the forthcoming record sounds like this, of course, but I hope not.
If the benchmark for a Major Pop Album in 2016 is "equal to or better than LEMONADE," well, I highly doubt any Lady Gaga album will meet that. Only a handful of albums this year in any genre do (Coloring Book, Islah, Blackstar, HOPELESSNESS, The Life of Pablo, Blond and MY WOMAN are a few of them, in case you were wondering). But if "Perfect Illusion" is any indication, it's entirely possible that Ms. Germanotta's fifth studio album is a work that finally lives up to the full breadth and width of her talents. And that'd be just fine with me and millions of other people, I'm guessing.