Treble Roundtable: Keepin' the Faith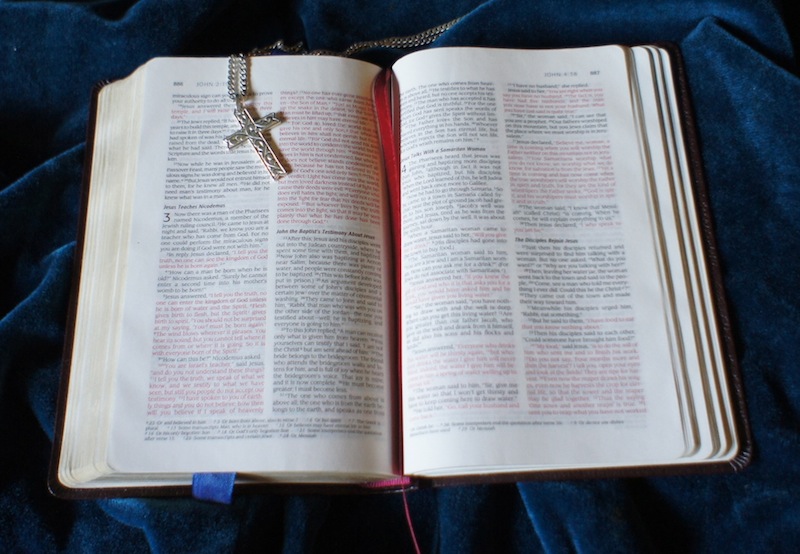 Welcome back to the roundtable, in which Treble's writers engage in a casual discussion on music, pop culture and our relation to both. Got a question for us? Feel free to send it over to [email protected] with the subject "Roundtable topic."
This week's topic: Treble is a secular website. We don't generally cover much music of a religious nature, though we have observed how frequently the Bible is referenced in popular music. But seeing as how Easter is just a couple days away, we thought we'd take this somewhere more spiritual. So while we contemplate our place in the universe, we're looking at the music that asks the bigger questions: What faith-based music has resonated with you?
Adam Blyweiss: With Passover and Christendom's holiest weekend falling so close to each other this year, allow me to go all interfaith on you. As a Jew I find my favorite prayerful music to be the Mourners' Kaddish, its Aramaic text recited wholly or in part multiple times throughout synagogue services. While recited in memory of the dead, death itself is not mentioned. Instead, it translates as a reaffirmation of faith in God, a greater power to serve as solace even in mourners' darkest times. The title is off-putting, which suggests why it's not all that well known in pop culture: Ofra Haza's performed it, Allen Ginsberg was inspired by it, and Paul Heyman recently butchered it on WWE Raw, but beyond that not much. Still, I find chanting its staccato syllables or singing its best-known melody strangely beautiful and comforting. More recognizable at least in certain circles is Wolfgang Amadeus Mozart's "Laudate Dominum," the fifth movement in a six-part sacred work from 1780. It's a choral and orchestral arrangement of the Latin text of Psalm 117 (the shortest in the Bible), expressing mutual love between God and all people. It features a soprano solo that's been banged out by operatic greats like Cecelia Bartoli and Kiri te Kanawa, but I grew to love it through performing it in a chorus behind current German star soprano Robin Johannsen. You have no idea how dearly I wish audio or video of that existed somewhere.
Liam Green: I have, of late, found a new connection to the Catholic faith of my youth. It was my choice, and came after considerable deliberation. In any event, the beauty of certain religious music helped sway my opinion. More than almost anything, the discovery of The Staples Singers anthology Faith and Grace: A Family Journey aided the strength of my conversion (or return, depending on how you look at it). Chance the Rapper's superlative album Coloring Book also played a large part. If you cannot be moved if only by proxy by the choral intro to "How Great," I question your ability to feel. But while I know that the objective of these records is to express a certain belief, their ultimate message of goodwill is universal and should resonate with all humans, whether they worship Christ, G-d or Allah. Only through unity will we survive.
Jeff Terich: Despite being raised as a Catholic, I'm not a religious person, and essentially an Atheist (I'm not totally discounting the idea of there being something greater, but I'm not counting on it). That being said, I can absolutely see the beauty and profundity in music made by an artist of faith, particularly when expressed with passion and conviction. I love David Eugene Edwards' songwriting in 16 Horsepower, which is extremely dark and maybe not terribly hopeful for humanity, and I've certainly found hymn-based material by Johnny Cash and Sufjan Stevens somewhat moving. But I don't think there's any spiritual music that resonates with me as strongly as John Coltrane's A Love Supreme. In the final few years of his life, Coltrane spent much of his time pursuing music of a spiritual nature, communing with God via free-jazz in Ascension and delivering a melody-heavy mass of breathtaking proportions on this particular piece of avant garde jazz majesty. Aside from a chanting of the album's title in "Acknowledgement," it's entirely instrumental, so it's not as if anything's expressed so explicitly. But the feeling is intense. When Coltrane hits specific notes, it's like he's screaming to the heavens. And given just how discordant and exclamatory those notes are, you have to think that, if God is real, those notes didn't go unheard.
Chad Gorn: When I first saw Fiddler on the Roof as a child, my dad turned to me and said "this is the story of your life." And it is: It's the story of how my ancestors fled Russia and came to America. But beyond that, the story of how religion has evolved, and how much people are willing to accept and how far they are willing to bend intrigues and inspires me. It equates religion with tradition; faith is taken for granted, and tradition is the package in which religion is wrapped. To challenge a tradition (like a wife being matched to a husband, or who can dance with whom at a wedding) is to challenge the fabric of religion, which threatens the entire village. My, how far we have come… or have we?
Wil Lewellyn: As a kid I thought it was cool that Motley Crue had everything adorned with pentagrams and were shouting at the Devil, and Ozzy sang about Crowley. As my interest in the occult deepened, my taste in music grew darker so Mercyful Fate's 1984 album, Don't Break the Oath album had the biggest impact at that point in time. The song "The Oath" even with all its theatrics pulls from left-hand path rituals, namely those in Anton Lavey's "Satanic Bible" serve as the window dressing for aggressive humanism with more of a Darwinian twist.
The album that to this day hits a strong chord for me in a faith-based perspective is Dissection's Reinkaos. On this album, Jon Nodveidt's lyrics are pulled directly from the texts of the Misanthropic Luciferian Order. He was so passionate about his beliefs he was willing to take his own life to transcend this "false" physical plane and seek absorption into the darkness. While my own personal beliefs vary a few degrees here in there from the M.L.O, I am certainly inspired at the thought of anti-cosmic dragon plunging us into an aeon of darkness. Those anthems bring joy to my soul.