Guest Playlist: Bleach Everything's Graham Scala soundtracks a global revolution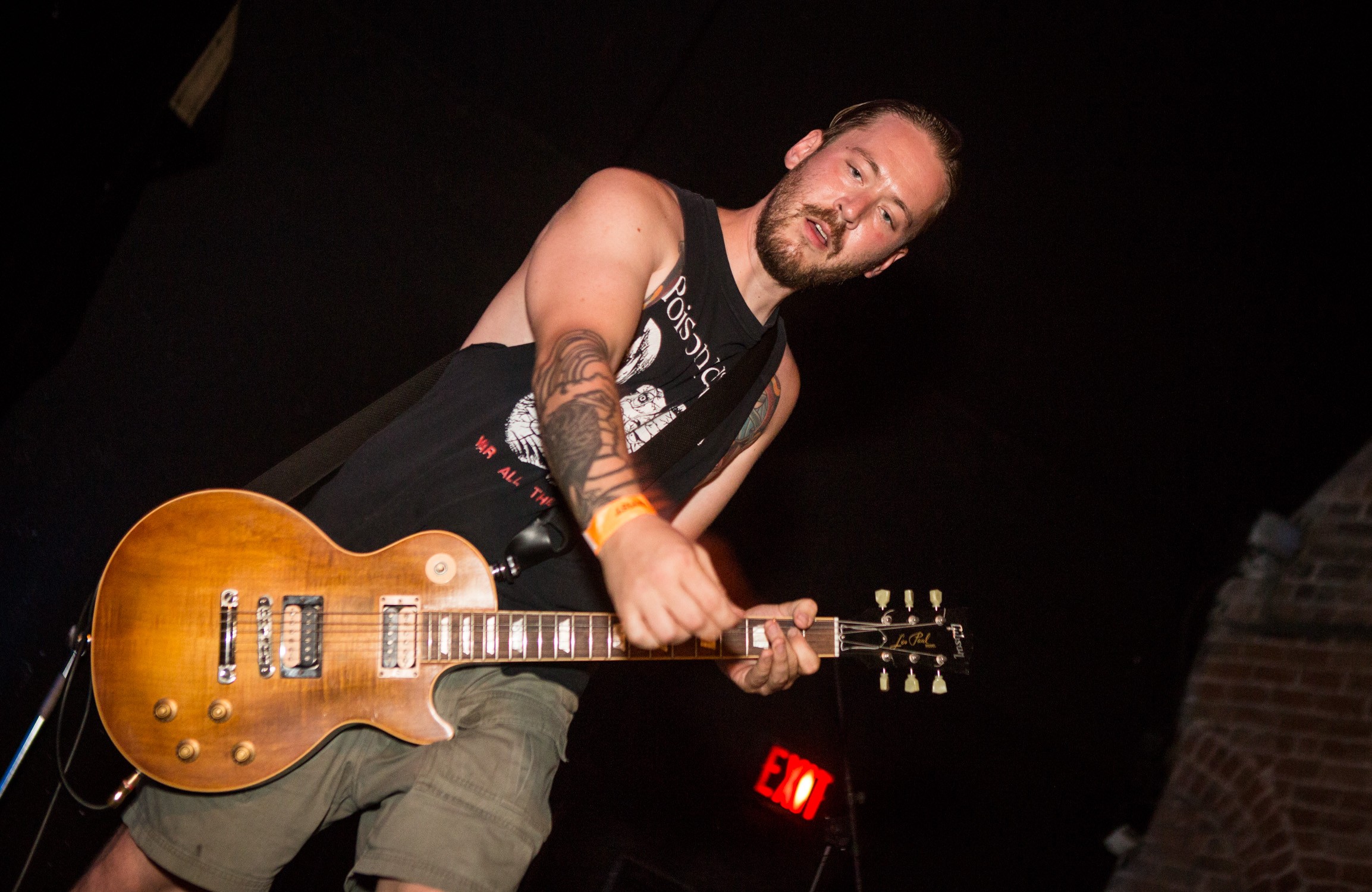 Richmond, Virginia hardcore outfit Bleach Everything has made an impact in the last couple years with a handful of releases featuring short, powerful and intense bursts of punk rock—as should be expected from any hardcore band worth their salt. As they get ready to release a new full-length this year, the band's Graham Scala has made us a Guest Playlist of revolutionary global music ranging from the Brazilian post-punk of Rakta to the industrial apocalypse-soul of Algiers and the Tuareg Prince tribute from Mdou Moctar. It's a trip around the world through many different sounds and perspectives. Listen to it below, and read Scala's lengthy, thoughtful reflections on the songs he chose.
---
"We believe that an individual must endeavor to assume the universalism inherent in the human condition." ―Frantz Fanon
As somebody who plays in a hardcore punk band, sound and fury come easy. Signifying something, however, is trickier, especially for those of us in the sort of band trying to make music that stays engaged with the world (as the absolute best in this particular genre always have). Because ultimately—cliché though it may be at this point—we live in an increasingly interconnected world, one where ideas and aesthetics gain freer rein even as our borders and our ideologies ossify. And the least revolutionary, least engaging thing any artist can possibly do is to hole up in their comfortable worldview and sit safely within aesthetic confines. I can't say for certain the extent to which any of the following artists directly impact the music that I've written but I've always wanted the things I create to fit into a more macrocosmic artistic spectrum. I may or may not have succeeded to the extent I want, but I do feel that engagement with the world at large has helped my music become fiercer and more expansive and artists like the following help bring my focus into a broader view.
Much as these blow-by-blow analyses can be didactic and maybe a tad stifling to the spirit of the thing, these are the sounds of the present turning into the future rather than clinging to the past. Though not the hackneyed "world music" at which it's so easy to roll one's eyes, it's truly music of the world, music of real spirit and connectedness, music of vibrancy, of life, and of pushing past borders be they geographical, cultural, or spiritual. These are battle hymns for spiritual warfare.
Despite decades of dismissive attitudes from jazz purists—more often than not assessments colored by no small amount of misogyny—Alice Coltrane created something possessing a gravity unlike anyone else before or since, something earthy but ethereal, mystical yet grounded, expansively psychedelic yet focused and directional. It grievously understates the power of her later work to suggest it's some sort of palette cleanser for the rest of this mix, but the hypnotic quality of "Om Rama" takes the listener to a centered and deeply spiritual place, a place where bits of familiar elements intermingle into something strange and disconcertingly beautiful. Drawing from elements of fairly disparate traditions it is able to embrace modernity and futurism to such an extent that it sounds as if it floats outside of time itself.
Anohni's album—wherein a transgender torch singer, a Kanye West collaborator, and a weirdo ambient musician all threw in their lot together—reimagined dance music as a molotov cocktail, something as caustic as it is catchy, something punker than most current punks. Emma Goldman famously decried any revolution she couldn't dance to; Anohni makes music that suggests the same about the apocalypse.
Emel Mathlouthi made an album so potent the government of her Tunisian homeland banned her music from airplay and, while the music itself is restrained, its subtlety acts as a countermanding force to the sort of post-Arab Spring authoritarianism that filled regional power vacuums she so terrified. Downtempo but never downbeat, hers is a quiet fire (to borrow a Roberta Flack phrase), the slow burn of an oppressed people's patience running dry, the sizzle as a spark on a long fuse nears the powder keg.
Post-punk seems to be the easiest descriptor for a band like Brazil's Rakta, but their emphasis lies more with the first half of that genre tag, in particular as an adjective implying distance. Because Rakta's music seems distant from even the closest signifiers, a swirling mix of discordant sound that dances gleefully around the periphery of familiar styles without ever committing wholly to any one. Like the No New York compilation by way of some psychotropic pagan ritual, their music fragments the familiar and reconstitutes it into a darkly kaleidoscopic whole.
Whereas a great many musicians, especially in the electronic realm, attempt to sound futuristic, Gaika sounds like he came out of a fucking time machine sent from some place in the not-too-distant future that we might do well to preempt. Grime and dancehall filter through a William Gibson/J.G. Ballard dystopian lens, contorting into a vision of an urban environment as menacing as it is vivacious. It's the sound of thrown rock taking out a security camera, of awakening in the dead of night not knowing if the sound outside your window that chased sleep away was a car backfiring or a gunshot, of seeing the same police car circle your block three times in twenty minutes. Unsettled and unsettling, it suggests a darkness as something in which to hide rather than something to fear.
Ethiopian Records might possibly be one of the most generic names an artist from that country could utilize, but this particular producer's music is anything but. Ghosts of vocal melodies and disembodied piano snippets fill the interstices of rhythmic impulses that alternately fragment and reconstitute, never quite resting in a comfortable stasis. Cross-cultural analogues are tricky, but E.R incorporates his country's music in much the same way Flying Lotus does with jazz or Kode9 with rave culture—leaving enough intact to elicit some feeling of familiarity, while deconstructing larger amounts of it to disconcerting effect. The music Ethiopia produced in the years between military dictatorships fifty years ago might be better recognized outside that country today than ever before (and anyone who's unfamiliar would do well to listen to as many of the Ethiopiques albums as possible), but Ethiopian Records demonstrates an unwillingness to dwell in the past.
To describe Elza Soares' voice as rough might be seen as something of an understatement, but she came by her timbre honestly. Growing up in a rough Rio De Janeiro favela, she came to prominence on a Brazilian television talent show in the 1950s in which a judge condescendingly mocked her appearance and mannerisms by asking her the planet from which she came. Her response—simply the phrase "Planet hunger"—set the tone for the rest of her career. She survived poverty, abusive marriages, discrimination, exile, the death of a child, and a fade into decades-long obscurity from which she returned in the late 1990s. And while a great many octogenarian musicians might be content to simply ride out their remaining years recycling the same work that brought them attention in the first place, in 2015 Soares released the genre-defying A Mulher Do Fim Do Mundo (A Woman At The End Of The World). True to the defiant spirit of its title, the album's music matches her caustic voice, imbuing so-called samba suja ("dirty samba") with scratchy post-punk and electronic touches into a bawdy (the album's fifth song "Pra Fuder" translates roughly as "To Fuck") rough-and-tumble whole. Celebratory but tough, the album acts as the perfect soundtrack to dancing on the graves of the critics and abusers one outlives and of wearing marginalization as a badge of pride.
Much has been made in recent years of Tuareg desert blues artists like Tinariwen, but few from that milieu match the fiery flamboyance of Mdou Moctar. While the remake of Purple Rain in which Moctar stars (the title of which translates roughly to "Rain The Color of Blue With a Little Red In It," as Tamashek lacks a word for "purple") might seem like some campy cross-cultural homage, the densely psychedelic intensity of his guitar playing lays to rest any idea that the film or the accompanying soundtrack is some sort of joke. The whole genre of Tuareg guitar music has produced some consistently fascinating work—a unique style amongst a disenfranchised nomadic group who has found themselves at odds (often violently) with the countries in which they move about—but Moctar has consistently demonstrated that he is one of the most unabashed badasses the style has yet produced.
Having an Israeli band named after the Islamist holy warriors who would largely like to see their country cease to exist might be one of the most deliberately provocative things a band like Mujahideen could do, but their music does a good job matching the antagonistic nature of their aesthetic with an equally confrontational batch of songs. A rare band that can trade in relentless repetition without being boring (a la Lungfish), their music combines throbbing industrial-tinged electronics with hypnotic vocal incantations into something both cryptic and directly aggressive (their debut EP featured lyrics by Ian Mackaye AND William Blake if that helps illustrate their conceptual duality).
It's tempting to write something glib about how Acid Arab might be the soundtrack to Donald Trump's worst nightmares, but in all reality their gleeful pan-Arabic electronic soundscapes fly in the face of dour fundamentalism of any sort (one could picture Daesh hating it every bit as much as a Western xenophobe). Nothing on their album sounds like some forced fusion, but rather a celebration of commonality, of the ties that bind far-flung nations and cultures so often willfully misunderstood and misrepresented by Western preconception and propaganda.
Critics have had a hard time with Algiers, smothering their music with hyphenated labels (gospel and post-punk being the two I've seen the most of) but at its heart, despite its atonalities and discordances, what the band does is closest in spirit to 60s soul music, in that it can digest the zeitgeist of its times and a wide pool of available influences and re-channel both into something politically inflammatory and emotionally resonant. Like James Baldwin or Nina Simone, their status as American ex-pats allows a sense of distance that hones their critical gaze at the power relations of the country from which they originated.
It may be a given that any project involving Tony Allen—best known for his work as Fela Kuti's drummer (and therefore one of the spiritual progenitors of the sort of confrontational cultural melange highlighted in this list)—is going to be a worthwhile listen, but his work with the Afro-Haitian Experimental Orchestra seems especially appropriate to this mix as its infusion of Haitian rhythms and chants with the militant pulse of Afrobeat, then overlaid with dreamy, cosmic guitar and synth elements (which might seem out of place to some, but I'm a sucker for krautrock-ish outer space shit so I can't complain) embraces the African diaspora in the Caribbean without seeming like some forced or didactic mix.
In a world where aesthetics are easy to cherry-pick with little regard to the history and culture behind them, Slow Machete is a perfect example of how to utilize elements of a culture's artistic and cultural vocabulary without resorting to full-blown appropriation. The project began when Pittsburgh native Joe Shaffer started combining field recordings he made during aid trips to Haiti with his own electronic soundscapes. During subsequent trips, he began incorporating more and more local musicians and singers into a cohesive whole, albums from which the proceeds are donated back to the communities in which he worked and lived. But the presence of Haitian musicians never seems like some superficial window dressing, just as the humanitarian element never comes off as some sort of condescending charity work. Slow Machete albums are the sound of genuine human engagement born of real human fellowship, of a desire to connect and empower, of recontextualizing the denizens of one of the Western hemisphere's poorest nations as survivors rather than victims.
We live in amazing and terrible times in which innovations and atrocities half a world away are accessible to a great many of us nearly instantly. The average denizen of a developed nation likely takes in more images and ideas in a day than their great-grandparents might've experienced in a lifetime. So despite cultural and political forces that seek—as top-down forces always have—to divide and to isolate humanity on the largest of scales, we live in a world in which true isolationism becomes less possible by the day. Despite cultural chauvinism, those for whom walls and fences are the answer might as well be trying to divert a river by jamming a stick into its silt. As producers and consumers of art, we make a conscious decision to either fight that river's flow or float atop its current. Given the ease with which these developments can be accessed, we do ourselves and their creators a great disservice by letting it slip by. The future isn't static and those who cling to the comfortable won't long be remembered.
---
Listen to Bleach Everything's most recent split EP with Infamous Gehenna, Heavy Metal Suicide, below. The band is planning to release a new full-length LP via Magic Bullet later this year.