Greatest Hits: A playlist of the best Front 242 songs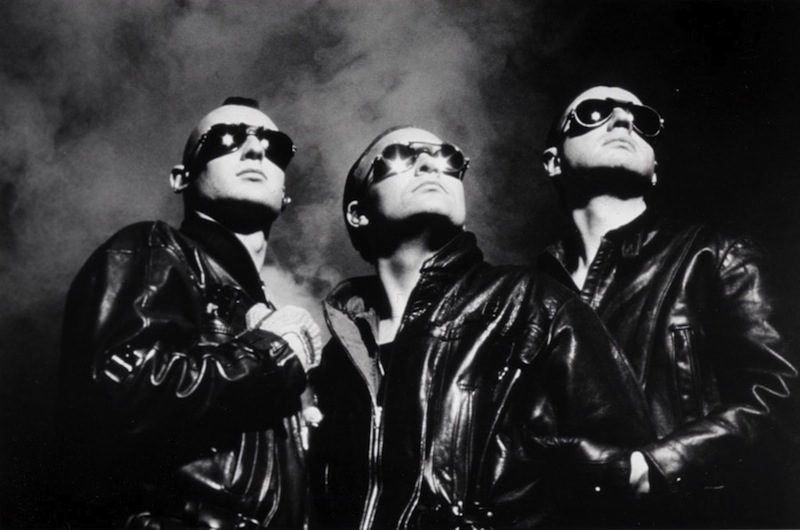 It's an open secret that we at Treble like us a little bit of the industrial music. We've covered some of its essential singles and albums. We've recognized its periodic incursions into hip-hop. We acknowledged its mainstreaming in the 1990s, and enjoy its resurgence through modern acts such as Uniform, Arca and Andy Stott. I personally have made no bones about my admiration for KMFDM's Hell Yeah album this year, a poster child for an electronic body music (EBM) revivalist movement if one ever cropped up. With this in mind, we take a moment to survey the career and sounds of another group of EBM legends, Front 242.
Despite industrial music having deep roots in England and Germany, one of the deepest was planted by these native sons from Belgium. Front 242's core of Jean-Luc De Meyer, Daniel Bressanutti, Patrick Codenys and Richard 23 (né Jonckheere) came together to make and sing exclusively synthesized music. They followed Kraftwerk and DAF in using the phrase "electronic body music" to describe their work, a collection of desperate vocals and themes, scraping and pounding percussion and depressing synth tones. This was dancefloor material in its most serious iteration, far angrier and morbid than, say, Depeche Mode.
While Front 242's catalog includes a number of live albums, remix collections, and video compilations surveying their career, no proper greatest-hits LP exists. Our suggestions here coincide with the 35th anniversary of the release of their debut album, Geography, on the Himalaya label. It was reissued five years later when they joined the Wax Trax! roster, the home of arguably their most important recordings. They signed to Sony/Epic in the early 1990s for more updated reissues and new output, a business arrangement that saw quickly diminishing returns marked by mishandled marketing, creative differences and a revolving door of new personnel. So ours is not a pure "greatest hits" CD (with a bonus!), but one that also looks at the early singles that built their skills and good entry points for later, more challenging releases.
Since we're dealing with music built from data and concerned with order and disorder, our main 72-minute, 17-song tracklist functions rather well arranged alphabetically. To kick things off we alternate two gated vocal mixes ("7Rain," from 2003's Still and Raw EP for Metropolis, and the 99 Kowalski-fronted "Animal – Gate" from 05:22:09:12 Off for Epic 10 years prior) with pieces of 242's skillful plunderphonics. "Agressiva Due" and single cut "Funkahdafi" helped define industrial's use of sound bites of police, politicians, soldiers, religious figures and pop culture to critique the foibles and folly of them all. They're transformed into wobbly melody in "Neurobashing" and genre-famous mockery of televangelism in "Welcome to Paradise," which closes the proper album in grand fashion. No sex until marriage!
The back half of this collection features a string of music made after Front 242 left Wax Trax!. There's a two-track sequence ("Together," "Triple X Girlfriend") from 2003's Pulse LP for the Metropolis label, showcasing Front 242's more contemplative, ballad-like efforts. Their Epic releases are best represented with the dense and fuzzy "Religion," the weirdly optimistic "Rhythm of Time" (used in the 1992 film Single White Female), and "Skin Fur Coat." This is a rare enjoyable moment from the 05:22:09:12 Off album—their second 1993 release after 06:21:03:11 Up Evil—where 242 made connections to actual techno and the brainy extensions of it that would eventually become big beat. We offer more evidence of this style in a suggested "bonus track" for download, a separate CD, or its own vinyl side: the first five tracks from Pulse strung together into a single 12:34 suite, "Seq666."
The rest of the compilation features rhythms, riffs, samples, and De Meyer's vocals from prized 12-inch releases and the band's highly-regarded Wax Trax! albums, including Front by Front and Official Version. "Never Stop," "Masterhit" and "U-Men" split the difference between martial chants and crashing, metallic instrumentals. We also include some of Front 242's songwriting highlights such as "No Shuffle" and "Quite Unusual," showing the band adept at thematic scene-setting regarding love and war, respectively. And we can't talk about what makes this group great without acknowledging "Headhunter," their creative apex equating the world of work with predators and prey, delivered against a backdrop of faux strings and machine-gunned drums and synths. Covering troubled synth-funk, sociopolitical strife, deep and dark relationships, and spaced-out atmospherics, Front 242's best moments cast the band as prescient in their trust of musical systems and distrust of most others.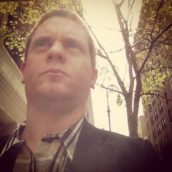 Adam Blyweiss
Adam Blyweiss is associate editor of Treble. A graphic designer and design teacher by trade, Adam has written about music since his 1990s college days and been published at MXDWN and e|i magazine. Based in Philadelphia, Adam has also DJ'd for terrestrial and streaming radio from WXPN and WKDU.