R.I.P. legendary rock producer Chris Tsangarides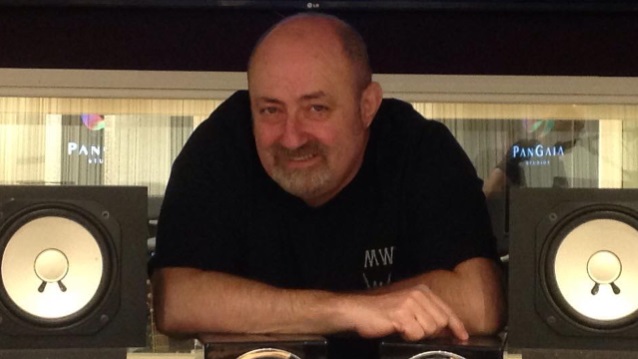 British rock producer Chris Tsangarides has died. He was 61 years old. Tsangarides, whose list of credits is incredibly long and includes many influential heavy metal bands of the '80s, took ill at the beginning of the year and was battling pneumonia before he died of heart failure.
Tsangarides studied at the Royal Academy of Music and began his career as an apprentice at Morgan Studios in London. He worked as an engineer on the legendary Judas Priest album Sad Wings of Destiny, and later worked on new wave records such as Japan's Obscure Alternatives. Tsangarides became an in-house producer for Morgan after it was sold to Zomba Management, and from there ended up producing a long list of rock and metal records, including Thin Lizzy's final album, Thunder and Lightning, Anvil's Metal on Metal and Judas Priest's Painkiller.  He also recorded post-punk bands including Lords of the New Church and Killing Joke, and remixed the single version of Depeche Mode's "Never Let Me Down Again."
Tsangarides' other credits include music by Exodus, Overkill, Concrete Blonde, King Diamond, Bruce Dickinson, Black Sabbath, The Tragically Hip, Concrete Blonde, Tom Jones, Ozzy Osbourne, Therapy? and Comsat Angels.
We are saddened to hear of the passing of our friend Chris Tsangarides – his contributions to our metal and so many others will forever remain – Love and condolences to his family

— Judas Priest (@judaspriest) January 8, 2018
Sad to hear of Chris Tsangarides passing away. He worked on the Sabotage album, a thoroughly lovely bloke. R.I.P. Chris.

— Geezer Butler (@geezerbutler) January 7, 2018
Overkill are saddened to hear about the death of Chris Tsangarides.
We were fortunate to have worked with him. A great guy with amazing talent, and humor and smile to match. Thoughts go out to his family and friends. RIP Chris

— OVERKILL (@OverkillBand) January 7, 2018
I'm so saddened to hear of the passing of the Producer Chris Tsangarides – he has been a part of my life since the 70 when he worked as tape operator on the Sabbath album Sabotage and he's worked with me on lots of other albums and stuff. He'll be sadly missed. RIP my friend. pic.twitter.com/GPWTEilPSe

— Tony Iommi (@tonyiommi) January 7, 2018