6 Essential New Metal Albums for a Summer of Chaos

Shane Gardner
I'm a big proponent of cranking up metal during the summer. Truthfully, I'm a big proponent of cranking up metal year-round—why would I be writing a monthly column and highlighting six great new releases a month (plus wading through a bunch of other releases) if I didn't honestly believe that metal—at its best—is worth keeping on constant rotation.
It's just that this year, it seems I'm not the only one who seems to think so. Stranger Things, Netflix series and musical tastemaker of 2022, recently featured Metallica's "Master of Puppets" in an episode (no spoilers, I want to see who the Demogorgon ate on my own) and now copies of Metallica's 1986 album no doubt will be flying off the shelves. And streams of the song and album are soaring (though for a band as popular as Metallica is, I imagine they already had to be pretty high?).
I've got my own summer metal recommendations for you, but they're not all so pop-culture aligned or accessible, instead often leaning toward metal's most abrasive sounds. I'm calling it the Summer of Chaos, and I welcome you to join me with these six great new releases.
---
Knoll – Metempiric
Memphis deathgrinders Knoll only just last year released their debut album, Interstice, a monstrously heavy grindcore gauntlet that showcased the depths of their aural mayhem—which only grows deeper, heavier and more menacing on Metempiric. The group's second album is as chaotic and murky as the evil marionette show happening on its cover art, a swirling vortex of dissonance and vitriol, dripping with the kind of bile that powers a band like Full of Hell while carrying the heft of a group like Primitive Man, sped up a dozen or two times (also, while we're on the subject, it was PM's Ethan McCarthy who designed the art). There's caveman death metal chug, there's intricate superhuman fretwork, there's even trumpet. It's the closest thing to grace on this acid feast and it still sounds like doom on this marvelous armageddon deathrace of an album. (Self-released)
---
Sunrise Patriot Motion – Black Fellflower Stream
I feel the need to credit Bandcamp Daily's resident metal expert Brad Sanders on tipping me off to Sunrise Patriot Motion, a new project from two members of Yellow Eyes that is, in fact, more goth-rock than black metal. And to drive that point home, their debut album Black Fellflower Stream features contributions from Bambara drummer Blaze Bateh, which only bolsters the post-punk cred. But I'm still calling this a goth metal album rather than pure vintage goth—it's heavier, nastier, growlier, the blood dripping from its jaws a result of a primal hunger rather than romanticized vampirism. It feels aligned with last year's debut from Unto Others but with a bit more grit and a bit less glam, music bellowed from the depths of the underworld, but wearing a great pair of shades and a leather jacket. (Self-released)
---
Doldrum – The Knocking, Or the Story of the Sound That Preceded Their Disappearance
Denver's been a hotbed of great new metal for some time, having incubated a number of the best metal bands in the past decade, including Primitive Man, Khemmis and Wayfarer. You can add Doldrum to that list, with their outstanding new album The Knocking…, an impeccably written black metal album that features a continuous storyline throughout, incorporating elements of horror, dark folklore and mystery. It's at once accessible and labyrinthine, pairing progressive, Krallice-like compositions of knotty riffs and shifting rhythms with a mastery of melody that a lot of black metal bands simply ignore. It's further evidence that my sometimes lament about the relative staleness of black metal lately might be unfounded, and I'm absolutely thrilled to be wrong about that. One of the best black metal albums I've heard this year, or in the past couple years for that matter. (Katafalque)
---
BEKOR QILISH – Throes of Death from the Dreamed Nihilism
I'm extremely thrilled that the venerable, frequently avant garde-leaning I, Voidhanger Records is back to its usual scheduled of releasing a shit ton of records, because friends, I can't get enough of what they have to offer. And the weirder, the better. (See: Esoctrilihum, Neptunian Maximalism.) BEKOR QILISH is one such band, an Italian artist (Andrea Bruzzone) who pairs raging black metal with space-age synths and moody, post-hardcore textures that feel at once alien and genuinely fascinating. The weirdness is enough to warrant repeat listens, especially for those whose idea of fun is attempting to untangle the complicated threads of a truly out-there set of art metal. But it doesn't take a full-scale excavation to find the appeal of this cosmic journey, particularly on a track like "Ocean of Malice," where prog synths blaze skyward against a relentless burst of triggered beats and machete riffs. This isn't an album you can solve on the first listen, and that's all the more reason to keep it spinning. (I, Voidhanger)
---
Yatra – Born Into Chaos
Baby headbangers who are just now being indoctrinated into the progressive thrash riffs of Master of Puppets would probably appreciate a band like Yatra—I mean, I've got lots of grays in my beard and I love the hell out of their new album, so I have little to base this on other than the fact that something that slaps this hard should be pretty easy to get into, no matter your heavy metal expertise level. Born Into Chaos is death metal and not thrash, I should note, but there's an immediacy to their hook-laden riffs and relentless gallop that speaks to just how much classic thrash metal courses through their veins and drives much of what they do. The opening riff alone in "Death Cantation" should be enough to convince a listener of their ability to deliver a listening experience that revels in hedonistic destruction. I don't know about you, but I'm certainly having a hell of a lot of fun listening to it. (Prosthetic)
---
Candy – Heaven Is Here
Hopefully this one hasn't worn out its welcome yet, given that it's been an Album of the Week and featured on our list of the Best Albums of 2022 So Far. But look: Heaven Is Here rips. It's just relentless. Absolute industrialized hardcore chaos that captures the hellscape of our times better than most albums I know, and with a few weirdly erotic diversions at that. Which probably doesn't sound like a compliment, but the catharsis level is off the charts. I'm sure I'm not alone here in saying that most of us probably need a release valve for what feels like an unusually dangerous time (though, I suppose in the U.S., when isn't it a dangerous time) and Candy provide that in spades. Cleanse your soul through one-minute bursts of metalcore antagonism, extended noise exercises and strangely alluring yet expectedly menacing electro-industrial stomp. To call it an ass-kicker doesn't come close to doing it justice. (Relapse)
---
Support our Site—Subscribe to Our Patreon: Become one of our monthly patrons and help support an independent media resource while gaining access to exclusive content, shirts, playlists, mixtapes and more.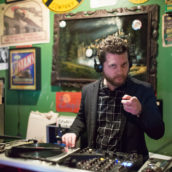 Jeff Terich
Jeff Terich is the founder and editor of Treble. He's been writing about music for 20 years and has been published at American Songwriter, Bandcamp Daily, Reverb, Spin, Stereogum, uDiscoverMusic, VinylMePlease and some others that he's forgetting right now. He's still not tired of it.