The Soft Pink Truth : Why Do the Heathen Rage?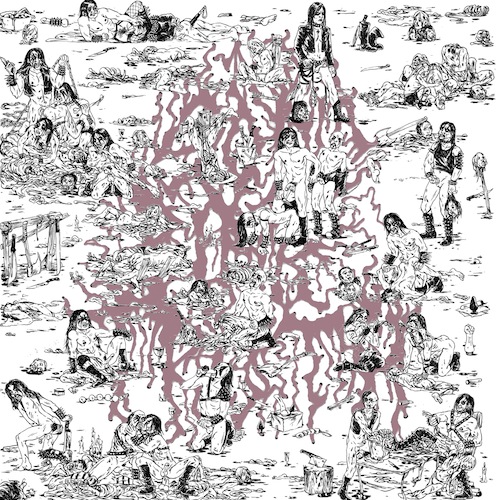 Buy at iTunes | Buy at Insound (vinyl)
Drew Daniel's body of work exists to challenge anyone who chooses to engage with it. As half of electronic duo Matmos, he combines the pleasant with the provocative, experimenting with disturbing and sometimes harsh sounds such as those on 2001's medical-instrument symphony A Chance to Cut is a Chance to Cure, or putting a spotlight on gay icons as they did with 2006's The Rose Has Teeth in the Mouth of the Beast. One of his biggest influences is Throbbing Gristle, whom he's written extensively, including a 33 1/3 entry on 20 Jazz Funk Greats. And as the sole producer behind The Soft Pink Truth, he uses house music as a method for both paying homage and picking apart the politics of the genres that inform his work, such as he did with 2004's punk-covers set Do You Want New Wave or Do You Want the Soft Pink Truth?
But Daniel never seems to do anything seemingly for the sole purpose of provocation. There is certainly an element of that, but he's also a thoughtful and cerebral examiner of his subjects, the latest of which is black metal. Daniel's complicated relationship and fandom of black metal goes back a long time; his thumbs-up photo in a Burzum shirt in front of an actual church burned by Varg Vikernes has become something of a cult meme at this point. He also has another shirt that reads "Fuck Varg's Politics" in pink embroidery, however, and has openly discussed his reservations with black metal's hateful, violent past while being a fan of the music. I think we've all been there — I discussed my repulsion at Leviathan's Jef Whitehead's behavior in a recent roundtable — but Daniel takes it a step further. On Why Do the Heathen Rage?, Daniel lines up some of the canonical black metal classics from bands like Mayhem, Darkthrone and Sarcofago, then then transforms them into shimmering, pulsing dancefloor bangers.
One of the key factors in The Soft Pink Truth's music is an element of accessibility that transcends the inside-baseball nature of the niche material Daniel has recontextualized. So it's not at all necessary to be well steeped in the culture or music of black metal to enjoy the sounds on Why Do the Heathen Rage? In fact, as a dance record, it provides a steady stream of hooks and rhythms that nestle into your comfort zone in a way that might open up some feelings you didn't know you had. The Bambaataa-style rework of Mayhem's "Buried By Time and Dust" is perfectly appropriate for twerking, while Hellhammer's "Maniac" stitches together downtempo cool with jungle breaks and menacing vocals. First single "Black Metal" (Venom) thumps with gnarly, bassy industrial-gabber intensity, taking "lay down your soul to the gods rock 'n' roll" from a rebellious cry into an ominous robotic chant. And Sarcofago's "Ready to Fuck" features Jenn Wasner of Wye Oak playing disco diva on the album's catchiest track — which eventually turns into a chorus of orgasmic moans to rival Donna Summer's sultriest moment.
It's inevitable that a lot of metal fans will take issue with Why Do The Heathen Rage?, if not for putting cult-favorite metal songs into a radically different context, then definitely for the explicit (and hilarious) cover art depicting a gay orgy of men in corpse paint. And really, how more on the nose can you get about the insularity and ironically conservative nature of black metal communities than depicting a bunch of vikings jerking each other off? But Daniel isn't here to antagonize metal fans — after all, he is one, himself. But his music has also heavily involved gay politics, and by opening the album with a Radical Faery poem read by himself and Antony Hegarty ("Guide us to destroy the machinery that alienates us"), Why Do the Heathen Rage? acts not just as an experimental reading of black metal, but as a reclamation of it. Daniel is performing black metal on his own terms, and filtering it through his own mirror-ball vision. He turns difficult art into pop-art, with his own provocative spin, and though it's bound to convert a few curious listeners, it's just as likely to piss more than a few people off. If that's not kvlt, I don't know what is.
Similar Albums:


Altar of Plagues – Teethed Glory and Injury


Matmos – The Rose Has Teeth in the Mouth of the Beast


Herbert – Scale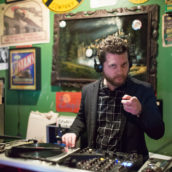 Jeff Terich
Jeff Terich is the founder and editor of Treble. He's been writing about music for 20 years and has been published at American Songwriter, Bandcamp Daily, Reverb, Spin, Stereogum, uDiscoverMusic, VinylMePlease and some others that he's forgetting right now. He's still not tired of it.