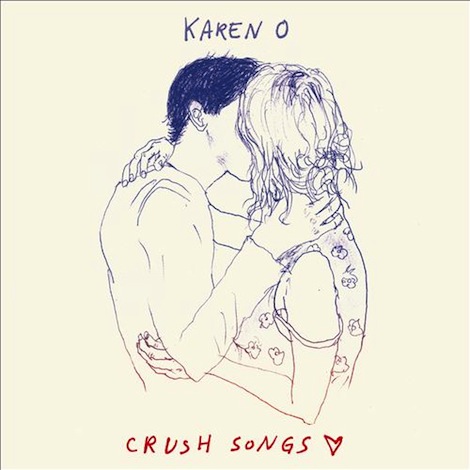 Karen O is nothing if not unpredictable. As lead vocalist for the Yeah Yeah Yeahs — a band that delivers songs with deliberate throat-punches as well as having written some of the best love songs ever, she uses her voice like a whip — backed by musical arrangements as loud and thunderous as ten thousand horses. On her first solo album, Crush Songs, she strips away the landscape of the big instrumentation featured on her group productions and gives us songs about being unfulfilled and lonely in a lo-fi, half-finished demo-tape kind of way.
After the initial disappointment that Karen O didn't run out and kick the hell out of something grandiose and big, something to rival what she does as her band's frontman wears off, the stripped down, bare bones of Karen O's compositions on Crush Songs are artful and beautiful in their starkness. Take "Visits" for example: A few chords here and there, backed by a looping percussive sound, Karen's raw, rough-edged voice trots along, riffing on the inability to communicate in a way that keeps a lover near. The structure is interesting and compelling with how the vocals are mapped out, but overall the song is so empty that the focal point is Karen O's unrefined voice. It's likable as one of the few catchy, upbeat tracks on Crush Songs despite thematically being a downer. But I can't help wondering about its unrealized potential. Could it have been better or more interesting as a stadium-big power number? Whatever else it could have been, "Visits" remains a song that sticks in your brain, looping endlessly on repeat.
"Day Go By" bounds along at a surprising, ear-catching pace, a simple marriage of guitar and vocals, the song itself is full of potential and promise and all the good things one recognizes in a song that ends up kicking ass. "I really need my fix / cuz your gun is so sick / I know, that I'm burning for you, burning for you," Karen caws in her scratchy, velcro-rough voice, and while in type it looks bland, the pacing makes it hooky and interesting. At the end of the day, though, it's yet another example of how the album ends up feeling slightly unrealized.
In fact, on the following track, "Body," Karen seems to be taunting us with the possibility of more. Again, we're given enough to have our appetites whetted, to desire the full experience, to be struck with rhyme and story to the point of wanting to know what the hell this could be—there are ethereal accents on some of the guitar chords and otherworldly moments of percussion (I'm pretty sure that's someone's mouth making horse-trotting sounds), little hints of possibility. That's the point, you bastard, you're thinking. That's it. That's why the album is called Crush Songs. Because a crush is unfulfilled. It's a hint of what might happen, but it never happens.
There are some excellent tracks on Crush Songs. Beautiful and fascinating and short—not one tips the clock over the three-minute mark—which just adds another dimension to their undone-ness. It's clear that Crush Songs is an avant garde statement, a purposeful attempt to draw back the gloss and sheen of costly productions and the padding of a full-blown rock album. Unlike a demo recording done by an unknown artist, whose intent is to go out courting record labels where production costs limit bands to garages and basements with four track recordings, Karen O's solo album is a purposeful attempt to sound naked and undone. For fans of the Yeah Yeah Yeahs and Karen O, the question is: When will we prefer listening to these bare-bones ruminations on what might have been rather than say, the fully realized glittery and numbing beauty of songs like "Hysteric" or "Maps" and the balls to the wall rock of "Skeleton Key"?
Similar Albums:


Cat Power – You Are Free


Imaad Wasif – Imaad Wasif


Sharon Van Etten – Are We There