Adrianne Lenker : songs/instrumentals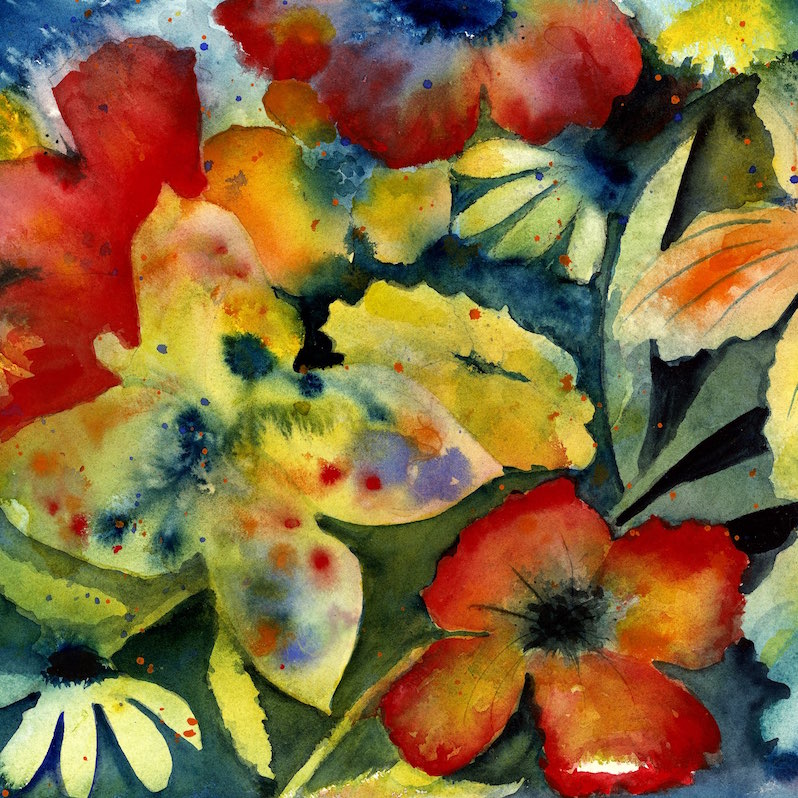 Adrianne Lenker's new record, songs, is, at least partially, about goodbyes, the kind of fleeting junctures that aren't final in the moment but only in retrospect. The grandmother in "two reverse" left too soon, as the narrator pleads, "is it a crime to say I still need you?" In "come," a mother asks her daughter to go on a metaphorical walk to a tree where the mother will die. The titular "zombie girl" isn't gone, but her mind is "vacant as a closed-down fair."
These figures, some long disappeared and others about to depart, haunt Lenker's already haunted music. The Big Thief singer, lyricist, and guitarist's last record, the often excellent abysskiss, seemed to conjure a fog whenever as soon as needle hit wax, piano chords plodding towards solemnity. But songs is brighter, or at least more at peace with these natural processes. Take "ingydar" and its chorus: "everything eats and is eaten." So it is. The subject matter, personal histories and boxes of family photos, is familiar for Lenker, but she's telling it all with extraordinary visual detail, the kind of stuff that flies by like signs on the highway despite managing to paint museum-worthy detail in a few words. Listen to the first verse of "anything," wordy as hell but somehow, the way Lenker tells it, as comforting as a friend telling a great story: "staring down the barrel of the hot sun, shining with the sheen of a shotgun, Carol has a little if we need some, Joa has a ride if we wanna come." A new technique she employs on songs is the use of repetition, like in "half return" when she says "the lawn is dead" three times like a record skipping, or the "focus"/"kiss" homonym back and forth she plays with on "heavy focus." In these lines, and others, such as the "I wanna kiss kiss your eyes again" chorus in "anything," are the briefest moments to get completely lost in. The record is full of them. 
Songs comes with a sister record, instrumentals, which is composed of stitched together guitar improvisations and field recordings, taking uncertain forms in two long tracks. The A-side, "music for indigo," is full of lovely motifs, reminiscent as much of Keith Jarrett as Grouper's Ruins, another work of acoustic ambient music capturing negative space as much as actual notes. The greatest joys of the record are listening to the massive subtleties, captured expertly by producer Philip Weinrobe, blowing up the pluck of a string or a hand sliding down the neck into IMAX fare. It's music production as macro lens, giving us the opportunity to sink into a moment of creative freedom with the duo. "mostly chimes" is the aptly titled B-side, field recordings of the cabin and the architecture itself. It's lovely if inessential stuff.
This heavy focus on process and environment is what elevates Big Thief from a good band to great one, and it's especially present in these twin albums. The recordings build a log cabin around the listener, quite the feat for a collection of quiet folk songs; somehow, this is achieved by the mic set-up, the final product of three weeks of careful fiddling, proof of Lenker's attention to detail, bordering on the absurd. Sound, that very abstract thing all musicians are working with, comes seemingly naturally to Lenker, who, by injecting Americana with the careful studio sensibilities of a '70s prog band, has married production to a genre most known for songcraft (oh yeah, and she has plenty of that too).
The atmosphere on songs and instrumentals is overwhelming. The rain on the windows, or Lenker talking between takes, these things ground us. But it's this aural closeness we have to the instruments themselves that places us directly inside her guitar, looking out. We can smell the firewood and cedar, taste the mildew and yellowed paperbacks, feel the handmade quilts and thick rugs that must populate this Western Massachusetts cabin. I haven't heard a record (never mind two) this heavy with place since Jessica Pratt's Quiet Signs, and even then, they're in a league of their own. The only obvious fault is the sudden jolt that ends the final track of songs, "my angel." I so desperately want to soak in this record for just a few seconds longer, but maybe that's just the ephemeral quality of Lenker's music: as soon as it enters our lives, it leaves.
---
Label: 4AD
Year: 2020
Buy this album at Turntable Lab
---
Similar Albums: