Album of the Week Mix: 2010, Vol. 4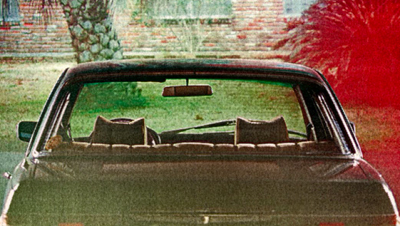 Our previous installment of the Album of the Week Mix crammed about as many indie heavy hitters into one hour-long (give or take) playlist as you could possibly fit. This time, however, there's a bit more balance between the heavyweights and the underdogs, the headliners and the more low-key acts. Most importantly, we've come across a wide variety of really good albums in recent weeks, from Ariel Pink's psychedelic new wave and Robyn's sassy dance pop to Big Boi's unstoppable return, a Finnish group whose name we have trouble pronouncing and, oh, some group called Arcade Fire. You might have heard about them. So watch, download, stream and enjoy!
Robyn – "Dancing on My Own"
from Body Talk Pt. 1
What We Said: "Dancing On My Own" is one of her most sublime fusions of style with feeling, unleashing tear-jerking laments such as "I'm in the corner, watching you kiss her" and "I'm giving my all, but I'm not the girl you're taking home" over a bassy, Moroder-style disco jam.
Blitzen Trapper – "Destroyer of the Void"
from Destroyer of the Void
What We Said: The opening track on BT's new album, Destroyer of the Void, is its most adventurous, most expansive, and most engaging. That's not to say the rest of the album is chopped liver, those songs are stellar, but the lead title track is a monster.
The Roots – "Radio Daze"
from How I Got Over
What We Said: The Roots can lay down a groove like no other, offering a bit more of a hedonistic contrast to otherwise sobering truths and with a more eclectic palate than ever.
Ariel Pink's Haunted Graffiti – "Revolution's a Lie"
from Before Today
What We Said: To some the record's juxtaposition of old and new may initially seem slightly gimmicky, but repeated listens testify to the strength of the songs and the way that the production touches provide them with an impenetrable mysteriousness the best of them an air of timelessness.
Foals – "Miami"
from Total Life Forever
What We Said: "Miami" is a stadium-filling dance-punk standard, like the Gap Band mashed up with Bloc Party.
Big Boi – "Shutterbugg"
from Sir Lucious Left Foot: The Son of Chico Dusty
What We Said: The Scott Storch-produced "Shutterbugg," however, is a considerably weirder but nonetheless magnificent burst of digital funk.
Blondes – "Spanish Fly"
from Touched EP
What We Said: Blondes' introduction to the internet masses came with "Spanish Fly," a floating mélange of dreamy textures, joyous chords, and ethereally looped voices ebbing and flowing over a rolling, horizon-bound bassline.
Secret Cities – "Pink Cities"
from Pink Graffiti
What We Said: Beginning with the anthemic yet enigmatic "Pink City," I was sold on the reverb-drenched vocals, Beach Boys melodies and Gokey's alternately cryptic and on point repetition of "we had a lot to say."
The Books – "I Am Who I Am"
from The Way Out
What We Said: "I Am Who I Am" is dense and dissonant enough to stand alongside the earliest and best work of Skinny Puppy.
Mahjongg – "L.A. Beat"
from The Long Shadow of the Paper Tiger
What We Said: Album closer "L.A. Beat" seems to best encapsulate the unique, infectious dance-art that Mahjongg cooks up. It's all bassy throb and funk guitar, and a moment of melodic clarity from a band that seeks as much to disorient the listener as entertain.
Menomena – "Oh Pretty Boy, You're Such a Big Boy"
from Mines
What We Said: Menomena's creativity is just as wild and as unbounded as on their previous efforts. And, more importantly, the Portland trio maintains their commitment to fusing together a magnificent whole.
Oneohtrix Point Never – "Returnal"
from Returnal
What We Said: The title track (is) a web of arpeggios haunted by Lopatin's heavily treated vocals. The result is suggestive of Karin Dreijer's work, both with The Knife and as Fever Ray, ghosted and enthralling.
Arcade Fire – "The Suburbs"
from The Suburbs
What We Said: The song's most poignant line arrives in the chorus as Butler croons, "Sometimes I can't believe it/ I'm movin' past the feelin'," suggesting that even after wringing out two albums' worth of emotions, the grieving period eventually ends, and some semblance of normalcy takes place.
Nina Nastasia – "This Familiar Way"
from Outlaster
What We Said: "This Familiar Way," much like the opener, begins with little more than Nastasia's own voice and gentle strums, but its bare-bones verse soon erupts into a powerful tango.
Kemialliset Ystävät – "Kivikasan Rauhassa"
from Ullakkopalo
What We Said: "Kivikasan Rauhassa" finds Anderzén ushering in a descending minor key melody from the outset of the track, with distortion obscuring its ghostly, Finnish-sung vocals.
Tame Impala – "Solitude Is Bliss"
from Innerspeaker
What We Said: "Solitude Is Bliss" is a rock anthem in the making, driven by massive riffs and Kevin Parker's infectious refrain, "You will never come close to how I feel," sounding simultaneously commanding and distant.
Perfume Genius – "Learning"
from Learning
What We Said: The opening title track is composed of a straightforward four-chord hook, but before long, little touches like Hadreas' double-tracked vocal harmonies and additional piano riffs make the song twinkle with the delicateness of winter's first snowflakes.
Best Coast – "Our Deal"
from Crazy For You
What We Said: I have become especially fond of the songs on which Bethany Cosentino's voice takes a Patsy Cline turn, as on the hollowed out, twang-implied, "Our Deal," a song that could exist in another time save for Cosentino's complaint that her errant lover has made off with not only her money, but also her beloved weed.