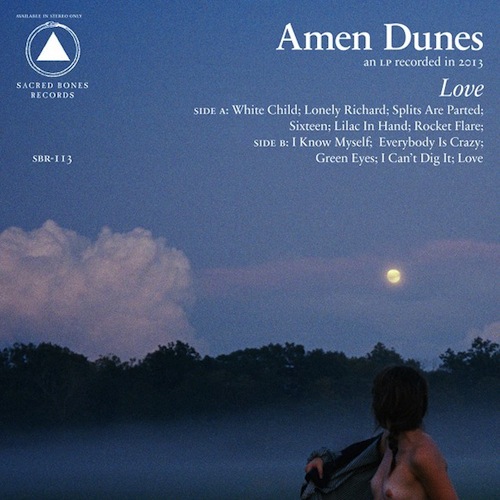 I'm sitting on a plane, flying home. I haven't been home in six days. I got sick while away and the prospect of sleeping my own bed is extremely exciting. This is where I came to Amen Dunes for the first time.
Every month, writers for Treble receive a list of upcoming releases for review. I don't have a lot of time to devote to music writing, so these lists often pass me by. This past month I took a different tack. Instead of picking something that piqued my interest, I asked by partner to choose an album for me to review. An avid music listener, he ended up choosing something that I had no relationship to: Amen Dunes.
This brings us here: on a plane, a two-hour delayed flight home, tiny individual TVs flickering. I am admittedly not the best person to be reviewing Love, Amen Dunes' newest album. I have never listened to their previous works. I hurriedly opened tabs about Damon McMahon using filched Emirates Air wifi as a crash course in Amen Dunes. But maybe naively coming to this music is what's best. There's no weight of expectation. There's something freeing about that.
Love begins epically with "White Child," a driving and soaring song that echoes with McMahon's voice — if there was ever an appropriate song to listen to while soaring 30,000 feet above the air, this was it. Followed by "Lonely Richard," I felt taken on a journey. Propelled forward with loping motion, there is something expensive to these initial songs. Rolling tympani drums, pounding pianos and steady guitars, both "While Child" and "Lonely Richard" don't have much in the way of chord or tempo variation, but they feel large and full of movement. They felt bigger than me, than McMahon even.
The cover of the album features a topless woman looking back at a fog-enshrined forest. While in the foreground, she is dwarfed by the landscape behind her. This seems an appropriate image to me. Listening to Love, I get the sense that Damon McMahon is trying to capture feelings and experiences that are expansive, just behind one's shoulder. There's a lot of uncertainly and obscured meanings in these songs. While in first person, McMahon flirts with the concrete, only to stop short, circle back and contradict. If I were prone to liking my lyrics straightforward, I'd be out of luck here. Even so, these songs work best in the abstract, when I can settle in and feel encased and just sort of let go.
My crash course in Amen Dunes brought up many references to Syd Barrett, conjuring images of the wandering troubadour, hiding away crafting psychedelic folk songs. While I don't think that this image is necessarily inaccurate — this might be better applied to Amen Dunes' past albums — I found it just a little off in the case of Love. There is a lot to listen to on Love. A lot of instruments and collaborators, including members of Iceage and Godspeed You! Black Emperor. So Love doesn't feel so much solitary as it feels encompassing. It feels open and ambitious. While moments of the lone singer-songwriter show themselves, such as in "I Know Myself" and "Everybody is Crazy," they also seem to reach beyond the individual, a community of songs, searching together. There's an ambition here that isn't moving toward excess but rather, feels like the natural progression of McMahon as a musician. He sounds sure-footed and excited. There's a sense of discovery in Love that's palpable. It feels as if McMahon and his collaborators are exploring new avenues within themselves and for someone coming to this music for the first time, it's invigorating and it's refreshing.
Similar Albums:


Woods – With Light and Love


Crystal Stilts – Nature Noir


Eternal Tapestry – Beyond the 4th Door