Band of Horses : Everything All the Time
There's a certain style of music primarily being produced in the Pacific Northwest that's characterized by soaring guitar-pop anthems, a slight psychedelic sheen, warm melodies and an endearing sense of quirkiness that permeates throughout the more serious moments. This style doesn't have a name, as far as I know, but some might be inclined to call it "the Phil Ek sound." Bands like Modest Mouse, 764-Hero, The Shins and, of course, Built to Spill, are the best known purveyors of this style, most notably because they have all worked with famed Northwest producer, Phil Ek. This isn't to say that Ek dictates these bands' respective sounds, nor does it mean each of these bands necessarily sound the same. It does, however, mean that the bands Ek chooses to work with share a common thread, that being a heroic, but eccentric sense of pop songwriting that always comes out sounding gorgeous, even when it's at its most unconventional.
It comes as no shock that one of Ek's latest production credits is on Everything All the Time, the debut by Seattle quartet (at the time, apparently now they're a quintet) Band of Horses. Founded by Ben Bridwell and Matt Brooke of Carissa's Weird, Band of Horses shares much in common with Built to Spill and The Shins, not only in that they play gorgeous melodies wrapped in a multi-colored ribbons of melody and spiraling glossy effects, but also in that Bridwell's singing is high and earnest, albeit unconventional by pop terms, even sounding quite a bit like My Morning Jacket's Jim James. This may also have something to do with Ben Bridwell's roots growing up in South Carolina.
If we should continue to talk about Phil Ek, I would say that with his aid, Everything All the Time was given the right amount of studio magic that these songs deserve. But the right amount of production would mean absolutely nothing without good songs, and as songs go, the ten on this record are as lovely and affecting as they come. The cleverly titled "First Song" splashes in with a stream of dramatically crashing cymbals and slowly strummed, shimmering guitar chords. Lyrically, Bridwell finds his muse in escape, singing "take me anywhere/we've suffered enough," mirroring the music's imagery of setting adrift. The arrangement has a fluid, I might even say "watery," quality to it that makes it both dreamy and immense.
The band picks up the pace on peppier tunes like the louder "Wicked Gil" or the slightly delay-treated, strutting "Our Swords." Though few songs do what you might call "rocking out," they're toe-tapping enough to break up the slower pace of some of the other songs, and more often than not, Band of Horses are in no hurry. They're much better off this way, however, as the depth of most of these songs would most likely suffer if rushed. "The Funeral," arguably the album's best song, starts off quietly with a gently sliding guitar riff, somber and ethereal, but fleeting. A minute or so in and the entire band kicks in, drums pounding, guitars chugging, still moving relatively slowly, but with a fierce intensity that starkly contrasts Bidwell's melancholy lyrics: "on every occasion/I'm ready for the funeral."
One other outstanding moment comes in a much simpler form, the acoustic "Part One," which finds some of the electric luster replaced with a restrained, fingerpicked acoustic sound. The My Morning Jacket seems most apt on this song, Bridwell's voice wrapped in reverb as he lends the sweet offer, "I'll love you always." Closer "St. Augustine" similarly finds the Horses stripped down to a spare arrangement, one which echoes Neil Young more than anyone else, which suits them well.
There are many facets to Band of Horses' sound, ranging from the more upbeat electric pop numbers to the moseying, rustic folk ones. Everything All the Time may be best characterized by its brilliant glow of gleaming electric guitar, but around every turn and in every nook there is sheer beauty.
Similar Albums:
My Morning Jacket – Z
The Shins – Chutes Too Narrow
Built to Spill – Keep It Like a Secret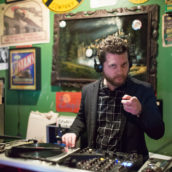 Jeff Terich
Jeff Terich is the founder and editor of Treble. He's been writing about music for 20 years and has been published at American Songwriter, Bandcamp Daily, Reverb, Spin, Stereogum, uDiscoverMusic, VinylMePlease and some others that he's forgetting right now. He's still not tired of it.