Best Song Ever: Oscar Edition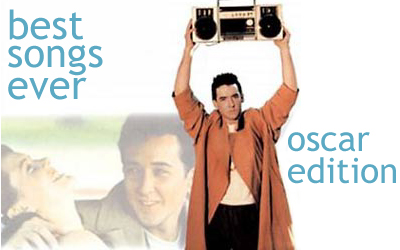 Entertainment awards ceremonies are always a mixed bag. As a rule, we typically don't follow them too closely. After all, the only awards that matter are the Trebblies, right? Well, we weren't impressed by the Grammys this year, and the American Music Awards might actually be worse than that. Do the Billboard Awards even still exist? Eh, it doesn't really matter. The Academy Awards are upon us, and even if we haven't seen all the nominees, we're going to have ourselves a sweet little Oscar party at Treble, and we're celebrating with our favorite songs from American Cinema…and European, Asian, and well, International Cinema altogether.
While the Academy Awards will honor one original song and one original score this year, we're going back through some our favorite musical selections in our favorite films, examining their placement in their respective scenes, how they relate to the storyline, how they set the mood, and why they stand out as such strongly memorable pieces. Some songs tug at our heartstrings, like those of Peter Gabriel and that lovable, banjo-pluckin' felt amphibian, while some get us amped up for on-screen action, like Isaac Hayes' theme for a badass private dick or John Barry's Bond themes. And then there are the two directors Anderson, Paul Thomas and Wes, whose films are each represented more than any other director here, all because of their prominent usage of pop music.
Here are sixty-something (you should know by now that we tend to avoid nice round numbers) of the Best Songs Ever in Film. We may have avoided a few more obvious selections, but we made sure that everything we have right here is downright essential to any record geek/cinephile's collection.
"Gonna Fly Now"
By Bill Conti
From Rocky (1976)
"Gonna Fly Now," the instantly recognizable training theme from Rocky, was nominated for a Best Original Song Oscar, though the Academy wound up giving the statuette to "Evergreen" from A Star is Born. As much as any average guy can dig a Streisand tune, "Evergreen" does not make me want to jog in the morning chill, drink raw eggs, do one-armed push-ups or use a side of beef as a heavy bag. The only thing "Evergreen" makes me want to do is stroke Kris Kristofferson's lovely beard. Based on that, the judges should've really given "Gonna Fly Now" the win on points alone. Since it's always overshadowed by "Gonna Fly Now," I should mention that the rest of Bill Conti's score for Rocky is just as good at capturing the determination and pathos of everyone's favorite palooka from Philly. – Hubert Vigilla
Watch
Download at

"Lust for Life"
By Iggy Pop
From Trainspotting (1996)
It syncs together so perfectly—the opening rumble and thwack of the drums, Renton's soliloquy which begins, appropriately enough, "choose life." But it's not so much an actual lust for life which makes this song such a perfect start to an iconic film, but rather the destructive, rock `n' roll lifestyle depicted in Iggy Pop's tune ("Here comes Johnny Yen again/with-a liquor and drugs…"), not to mention its fast pace. As Renton and his mates run frantically, and he rolls over the hood of a car and stares, quite creepily at the driver (the camera angle puts his gaze square in the viewer's eyes), "Lust for Life" merely adds to the action. However, its upbeat sound and lightheartedness also seem to provide contrast at the beginning of the film, as the characters' heroin addiction would gradually become more harrowing as the film goes on. – Jeff Terich
Watch
Download at

"Theme from Shaft"
By Isaac Hayes
From Shaft (1971)
Though not the first blaxploitation movie (that honor goes to Sweet Sweetback's Baadasssss Song which was released just months before), Shaft is the by far the most popular and well-known film in the genre and contains all the things a good blaxploitation movie should have. The most essential thing, of course, is a good score. Enter Isaac Hayes, who delivered to essential movie character theme song, one that's just as iconic as anything John Williams has ever put together. Over wah-pedal guitars, that hopping bassline and great string and horn arrangements, Hayes and his back ups singers tell the word exactly who John Shaft is; and by that I mean he's a strong, complicated, sex machine and one bad mother– well, you get the picture. "Theme from Shaft" went on to win an Oscar for Best Original Song, which just goes to show that every now and then the Academy gets something right. – Hubert Vigilla
"Jaan Pehechaan Ho"
By Mohammad Rafi
From Ghost World (2001)
By and large, the soundtrack to the adaptation of Daniel Clowes' Ghost World contains a hefty selection of old, crackly blues songs. Yet the opening sequence, featuring Thora Birch's Enid dancing spastically to a psychedelic Indian pop track, is easily the most memorable (aside from the Blues Hammer performance, of course). Something like a cross between the Kinks and big band, with Punjabi lyrics, "Jaan Pehechaan Ho" is a ridiculously catchy and super fun track, penned and performed by Mohammad Rafi, a staple in Bollywood and an artist who has seen his music make its way into more than 600 films, even earning a shout out in the Cornershop track "Brimful of Asha." A fantastic song on its own, it also provides a fitting introduction to the unusual Enid, who finds herself drifting away from Scarlett Johansson's increasingly more normal Charlotte. – Jeff Terich
"From Her To Eternity"
By Nick Cave & The Bad Seeds
From Wings Of Desire (1987)
Much of the movie looks like an early Depeche Mode video but it's Cave, the seminal gothic cowboy, who plays the rock club at which Bruno Ganz's fallen angel finally meets the voice in his head. Cave and the Seeds look their suspendored piratical best and play in real time, the crowd weaving in and out of focus. Ganz and Solveig Dommartin stay busy mythologizing their inner narratives but the song helps pry their focus away from themselves and toward each other. Cave knifes back and forth onstage the whole time like he's a puppet and they've got the strings. – Anthony Strain
"The Rainbow Connection"
By Kermit the Frog
From The Muppet Movie (1979)
Admit it: there was a time when you heard "The Rainbow Connection" and you cried your eyes out. I remember a specific time when I was a kid, during which you could sing one of two songs to me and I would start crying. One was "Somewhere Out There" from An American Tail. The other was "The Rainbow Connection" from The Muppet Movie. There isn't anything particularly sad about this song, but it's the wistfulness that comes from a puppet that somehow gets you. Jim Henson created an enduring straight man in Kermit the Frog. He's absolutely sincere and when you hear him sing "rainbows are visions, but only illusions" its frankness just hits you right in the heart. Perhaps it was the idealistic nature of the song that affected me so much and with the sometimes cynical nature of society, it's refreshing and touching to hear something so sincere. – Jackie Im
—
Possibly the best original song ever written for the big screen, "The Rainbow Connection" speaks to the dreamer in all of us. The film opens with the song, a banjo plucking away in a melody that rivals John Lennon's "Imagine" in its simplistic beauty and overall sentiment, as we zero in from a high helicopter shot to Kermit the Frog himself, sitting on a log in the swamp. In the movie, the first big screen venture for Jim Henson's Muppets, Kermit has the dream of becoming a star after coming across a talent agent in a rowboat (played by Dom DeLuise) and on his trek finds a bunch of Muppet misfits who all have the same dream. When I am in my darkest moods, doubting myself and my place in life, Kermit's voice reassuring me that "someday we'll find it, the rainbow connection, the lovers, the dreamers and me," I know that he's right and take comfort in his undying optimism. – Terrance Terich
Watch
"Needles in the Camel's Eye"
By Brian Eno
From Velvet Goldmine (1998)
To be perfectly honest, I was somewhat disappointed with Velvet Goldmine. It had all the makings of a great film—a killer soundtrack, great editing and direction. Somehow, its parts separately were worth more than the sum. Nonetheless, its opening sequence of crazed fans running through the streets of London set to Brian Eno's "Needles in the Camel's Eye" was absolutely perfect. Rather than give too much away about the plot, it begins merely with a feeling and an attitude, one of sexuality and of passion, of teenage angst and of rock `n' roll. Todd Haynes could have gone with a T. Rex song, a Bowie song, even the Stooges. But instead, Eno's finest hour, a reminder of how hard he once rocked, even if he progressed into ambient soundscapes and Music for Airports. – Jeff Terich
"Here Comes My Baby"
By Cat Stevens
From Rushmore (1998)
I love Rushmore. Yes I do. Does this make me tragically hip? Perhaps. But that's another topic entirely. The movie's soundtrack is very well put together, featuring music from the Kinks, John Lennon, the Who, and the man in question, Cat Stevens. "Here Comes My Baby" is a light-hearted love song, and a sweet example of Stevens' classic pop music. This song is paired with the development of Rushmore where we witness Max's growing infatuation with Ms. Cross and the beginnings of his unyielding pursuit of her affection. Well done, Mr. Anderson. – Anna Gazdowicz
"Tequila"
By The Champs
From Pee Wee's Big Adventure (1985)
I just love this song and this scene. I don't have any particular story behind it, nor any deep or meaningful anecdotes about its existence, but it brings a smile to my face every time I see the movie or hear the song. Also known as Pee-Wee's `big shoe' dance, the song / scene finds our intrepid boy hero wandering into a biker bar, nearly ready to be pummeled, before winning over the ruffians with this feat of `tippy-toe' acrobatics. Forget Doctor Zhivago's "Lara's Theme" or Casablanca's "As Time Goes By," the `big-shoe' dance set to "Tequila" out-icons them all. – Terrance Terich
Watch
Download at

"The Mickey Mouse Club Theme Song"
From Full Metal Jacket (1987)
War is hell and Kubrick did his damnedest to capture that sentiment in 1987's visually stunning and psychologically frightening post card from Ho Chi Min City, Full Metal Jacket. But where Kubrick's film ends, its inspiration (Gustav Halsford's novel The Short Timers) continues delving deeper into the grey matter maelstrom that invades the head of its protagonist, Joker. Singing in perfect unison and marching amidst the rubble of a crumbled city the Marine Corps unit that aided in spreading democracy and assassinating a 13 year-old sniper add a dash of the nonsensical to what many dub a senseless war. Their robotic stride and delivery contrasting the whimsical nature of the song sparks a glimpse of what the novel would come to realize—crippling madness of calendar time. – Kevin Falahee
"Bohemian Rhapsody"
By Queen
From Wayne's World (1992)
Stacy: "Happy anniversary, Wayne."
Wayne: "Stacy, we broke up two months ago."
Stacy: "Well, that doesn't mean we can't still go out, does it?"
Wayne: "Well, it does actually, that's what breaking up is."
Stacy: "Well, don't you want to open your present?"
Wayne: "If it's a severed head I'm going to be very upset."
Stacy: "Open it."
Wayne: "What is it?"
Stacy: "It's a gun rack."
Wayne: "A gun rack. I don't even own *a* gun, let alone many guns that would necessitate an entire rack. What am I gonna do . . . with a gun rack?"
Stacy: "You don't like it? Fine. You know Wayne, if you're not careful, you're going to lose me."
Wayne: "I lost you 2 months ago. We broke up. Are you mental? Get the net!"
And then they head-bang to "Bohemian Rhapsody" in Garth's car. – Anna Gazdowicz
Watch
Download at

"Brazil"
By Geoff Muldaur
From Brazil (1985)
In typical surreal Terry Gilliam fashion, there is a lot about Brazil that is confusing and seemingly nonsensical. In this futuristic, simultaneously hilarious and frightening urban Utopia, Orwell's vision of 1984 is made all the more wacky, particularly given the abundance of malfunctioning air ducts and the whimsical title song, Ary Barroso's classic, oft-covered paean to his home country. Two versions were recorded for the film, one by Kate Bush and one by bluesy guitarist Geoff Muldaur, which is the one that's heard most prominently in the movie. Of course, it can also be heard being whistled by characters in the film, adding to the recurrent surrealism, topped off by the fact that the movie doesn't even take place in Brazil. – Jeff Terich
"Jungle Fever"
By Chakachas
From Boogie Nights (1997)
This song does not even make an attempt at subtlety. It's sexy and it's dirty, and it makes absolutely no apologies for it. Trading back and forth between a horn section that you feel deep in your abdomen and the outright sexual wailing of a woman (she screams and gasps and moans in Spanish with utter abandon), the song takes place during the movie right when Dirk Diggler's hidden "talent" is discovered while he's still working at a nightclub frequented by well-known porn stars of the 1970's in Southern California. You can't ignore it, and you don't want to. And if you haven't listened to the song in its entirety, you should, because you get a real, uh, treat at the end. And by "treat," I mean full-on male grunting. It's beyond description, really. – Anna Gazdowicz
"The Wind"
By Cat Stevens
From Almost Famous (2000)
Songs are the backbone, and internal subtext, of Cameron Crowe's semi-autobiographical cinematic tale Almost Famous, and it is nearly impossible to choose the most musically evocative moment within the film. On each consecutive viewing, though, I find myself drawn into the weaving together of character and context, which is sewn intricately into sound and lyric; afterwards I find myself still singing-along to another discovered song among the scenes, for days after. In the director's cut of Almost Famous, fittingly titled "The Bootleg Cut," a scene resides which shows Penny Lane, unnoticed for once, dancing alone on the flower-strewn floor of the band's most recent venue. It is in this scene that you see the real Penny, exposed in both her absolute love of music, her wistful heart, and her hidden sense of loneliness. Cat Stevens beautiful song, "The Wind," with the lyrics "I let my music take me where my heart wants to go." says more about those inner-workings of Penny than any piece of dialog, or reel of film, ever completely conveys. – Laura Foxworthy
"Ambergris March"
By Björk
From Drawing Restraint 9
The title "Ambergris March" refers to a procession in Matthew Barney's film Drawing Restraint 9 that was written for the film by Björk. Whether this was the procession of a truckload of vaseline onto a whaling ship or the procession towards a large specimen of ambergris on the whaling ship is hard for me to remember, and trying to give you context for the scene in summary would only bring determent to the film, so I'll just ignore it. Björk's piece is based on traditional Japanese musical stylings, with an erratic range of bell and harpsichord strikes that are controlled in the utmost austerity of Japanese culture that inhabits the film. The rapid rhythm of the song made with hand-bells/cymbals is also steady, wherein the frantic speed of sound of the bells organizes itself into one collective sound like the members of a procession moving as one body in a specific framework. The great freedom expressed within the order of this song's orchestration goes back to the Confucian idyllic beauty of music and ritual, a theme in the film, though maybe not Confucian in its roots. If the film were available for public screenings outside of Matthew Barney's consent or home video, I would recommend the film to everyone as its solemnity of sight and sound has the grace of the word beautiful, but since its not, we're shit out of luck. Regardless the soundtrack is still available, and while without images, the songs are not as striking as they could be, fans of Björk at her most expressive will come to hold this album in high esteem. – Paul Bozzo
"Superfly"
By Curtis Mayfield
From Superfly (1972)
The score that Curtis Mayfield wrote for Superfly is, as a previous review on Treble pointed out, a masterpiece. Interesting enough, while the movie shuffles around the world of pushers and hustlers, Mayfield's music is cautionary, anti-drug and anti-crime (see "Pusherman" and "Freddie's Dead"). In Superfly's title song, Mayfield covers all the bases of who Superfly is, which is to say a smooth, pimped-out mofo who's dealing dope on ghetto streets. From the slinky, rubber band bassline and percussion to the blaring horns, "Superfly" is my favorite song from my favorite blaxploitation movie, one that immediately makes me want to groove and sing along in falsetto. The way "Superfly" fades in at the end of the film makes Ron O'Neal's last stand seem even more bad ass than it already is. – Hubert Vigilla
"Dry the Rain"
By The Beta Band
From High Fidelity (2000)
In theory, this entire feature could just be about High Fidelity, considering the fact that the movie is inherently about music, music elitists, relationships built around music, organizing your record collection autobiographically, making top five lists (top five songs to be played at your funeral, anyone?) and the like. There is one scene, however, that can be extracted for the purpose of this feature. Rob Gordon is slowly getting his confidence back in the midst of going through a bit of an existential crisis, and he's in his record store that currently contains a nice handful of browsing customers. He holds a CD in his hand and spins it nonchalantly around his finger as he whispers to his coworker: "I will now sell five copies of The Three EPs by The Beta Band." He plays "Dry the Rain," the opening track to a truly excellent compilation, which starts off gently and casually, and then it gets to that transcendent part where the full band starts playing, the horn section jumps in, and "I will be your light" is sung over and over. The customers start grooving, and wouldn't you know it, a guy asks (not getting too excited, of course, because that just wouldn't be hip), "Who is this? It's good," which of course receives the equally unruffled answer: "I know." Everything—the song, the whole scene—is perfect, and is probably one of the top five most memorable movie/music moments of all time. – Anna Gazdowicz
"Rose, Rose, I Love You"
By Anita Mui
From Mister Canton & Lady Rose (aka Miracles) (1989)
One of my favorite Jackie Chan movies is Mister Canton & Lady Rose, which closed out a prolific decade of his best Hong Kong output. A period gangster flick with shades of Frank Capra's Lady for a Day and Pocketful of Miracles, the quirky appeal of this Chan movie is epitomized by co-star Anita Mui's rendition of "Rose, Rose, I Love You." Yup, a classy, big band musical number in the middle of Jackie Chan movie and it actually works quite well. The musical arrangement is lush, and the montage the song is featured in is so well put together, it's hard not to be charmed. A couple minutes after the tune is over, Chan totally kicks ass in a restaurant fight scene, making this movie the complete package. – Hubert Vigilla
"Who Knows Where The Time Goes?"
By Nina Simone
From The Dancer Upstairs (2002)
I remember watching The Dancer Upstairs while I lived alone in New Orleans, the summer of 2002, and while I enjoyed the film, it's the song after the opening credits that will continue to live on in my memories. The opening scene is set in a pick up truck with three people driving through the mountains with darkness surrounding them. In the car, the only light is coming from the car stereo, which is playing Nina Simone. The first thing you hear before any dialogue is uttered in the film is a lengthy monologue by Simone. After Nina finishes her speech and one of the men in the car turns to the other one and asks, "Why does she talk so much?" The quiet man looks at him and replies—"she's getting ready to sing." It's hard not to relate to that one line of dialogue, the introduction by Nina and the song itself. Watching the movie again, it reflects where I am in my own life and how I connect with the characters in the film. In the movie, the characters are ready to sing, they are ready to tell their own story and that's how I feel.
Starting a movie off with a song like "Who Knows Where the Time Goes" is a thing of brilliance and a perfect example of blending music and film. It can be heard with sad ears but to me it's a song of reflection. It's a song about the choices we have made and where time has shown us the glories we have seen and the mistakes we have overcome. All of this is brought to life by Nina's haunting yet beautiful vocal. The themes of The Dancer Upstairs reflect on how the essence of time affects the choices that the characters make in the film. Time is a character, time is alive and time is something that is uncontrollable. At the end when the main character played by Javier Bardem makes a choice, it is time that will haunt him till the very end. After watching how the characters deal with the choices they made in the film helped me realize that it's what we do with our chances and choices in our own lives that make us who we are— and that time a reflection and a guide in our life. – Adrian Cepeda
"A Life Less Ordinary"
By Ash
From A Life Less Ordinary (1997)
Ash's song for the film of the same name seems like a collaborative triumph for audible and visual mediums. A nice, breezy indie power ballad, and a similarly likable, punches above its weight romcom get the best from each other. The result is more than the sum of its parts. "Only in Hollywood" love is rendered a near believable romantic urgency. Cameron Diaz and Ewan Macgregor are suddenly the stuff of High Fidelity style rants from delusional mid twenty-somethings, and Ash have another field slayer for the festival circuit. – Thomas Lee
"Afternoon Delight"
By Starland Vocal Band
From Anchorman: The Legend of Ron Burgundy (2004)
To be fair, the song is not actually performed by Starland Vocal Band in the movie. Instead, Will Ferrell and his merry gang sing an a cappella rendition in Ron Burgundy's office in response to a discussion of what true love is really like. And apparently, it's like when you want to hold your baby tight and grab some afternoon delight. Personally, I find the original song really amusing (it just sounds so innocent, making it charmingly deceitful, especially if you've ever seen Arrested Development), and when it's sung a cappella by four really funny dudes, it's downright hilarious. – Anna Gazdowicz
Watch
Download at

"Susie Q"
By Flash Cadillac
Apocalypse Now (1979)
There are only three actual `songs' on the Apocalypse Now soundtrack, if you count Wagner's "Ride of the Valkyries." The other is the over-the-top Doors epic, "The End." But Flash Cadillac's "Susie Q" stands out to me more than any other song in the film. The song is played as Playboy Bunnies are airlifted in for a USO show by helicopter and a riot of `anxious' Vietnam soldiers ensues. There's something about the near harmless qualities of the music combined with the overwhelming sense of danger and savagery that makes this scene truly memorable. – Terrance Terich
"Yekermo Sew"
By Mulatu Astatke
From Broken Flowers (2005)
One thing that's not said often enough about Jim Jarmusch is how well and how prominently he features music in his films, from the RZA in Ghost Dog to Neil Young's minimal Dead Man score to the incredibly diverse and broad selections in his most recent feature, Broken Flowers. While tracks by Sleep, The Greenhornes and Holly Golightly all make appearances in the film, the recurring instrumentals by Ethiopian artist Mulatu Astatke arguably add the most intrigue to the charming and mysterious film. Providing an exotic and enchanting soundtrack that mirrors the unexpected and suspenseful events that unfold before Don Johnston, "Yekermo Sew" among other Astatke compositions also make for a grooving reminder of Johnston's friend Winston, who was the one that convinced him to make the trek to find the possible mother of his child in the first place. – Jeff Terich
"Til the End of Time"
by DeVotchka
From Little Miss Sunshine (2006)
Little Miss Sunshine's soundtrack features several original DeVotchka tracks, including some instrumental collaborations with Mychael Danna that beautifully heighten the movie's quirky, sweet plot and stunning landscape. From the opening number of "The Winner Is," punctuated by exemplary string arrangements and plucky guitars, to the spare, accordion-crusted melody of "Let's Go," the songs are lovely and divine, just like the film itself. The highlight is of course "Til the End of Time," the tune that brings the movie and its music to a pensive conclusion. It's accentuated by a Western-style whistle that perfectly matches the desert background that the Hoover family drives through to reach their destination—the Little Miss Sunshine beauty pageant in Southern California from their Albuquerque home—and then back from where they came. The rest of the song is pure folk treasure, landing Devotchka right in the same boat as Calexico and Iron & Wine and all the others that we know and love. – Anna Gazdowicz
"The Blower's Daughter"
By Damien Rice
From Closer (2004)
To pick a face out of a crowd takes either a trained eye or a shimmering one. Natalie Portman falls with the latter. As Rice's feathered voice croons over a messy London sidewalk, Alice and Dan lock glances but it's her careless glide and Rice's minimalist approach that add shiver to the scene—one that ends in near tragedy as Alice falls victim to a hasty motorist with apparently no love for beauty. Perfectly timed, we are able to get the best of both worlds in Alice's smirk and the Cliff's Notes of Rice's tune, seconds before it becomes tired. – Kevin Falahee
"Sometimes"
By My Bloody Valentine
From Lost In Translation (2003)
I'm not sure what song I'd play right before dying, but if I had my druthers I'd throw on the scene from Lost In Translation with Bill Murray and Scarlett Johansson's cab ride after their woozy night/morning of karaoke and Charlie Brown. They slide over bridges, over interchanges; his head lolls, she glances not at him, not away from him, and half-smiles like he said something sort of amusing which he didn't and the window's down and her hair is dreaming around her to the soaring sugar crunch of My Bloody Valentine. Later the song cuts to a whisper, swimming in serotonin, and Bill puts Scarlett to bed and doesn't get in with her. (I die and go to Hell.) – Anthony Strain
"Try a Little Tenderness"
By Otis Redding
From Pretty In Pink (1986)
I actually don't really like Pretty in Pink, despite the resident 1980's John Hughes' charm. His take on the "she comes from the wrong side of the tracks" theme is portrayed just a bit too literally for the movie to qualify as legitimate cinematic art. However, the scene in the record store where Duckie lip-synchs to the last minute-and-a-half of this Otis Redding tune is just so completely awesome and amazing that I absolutely cannot resist. It's as if he metaphysically channels the spirit of Otis as he gyrates and spins and dances with more soul power than any other dorky white boy should ever be able to muster as Molly Ringwald and Annie Potts stare in awe, and it's more exciting than I can possibly describe in words. He even slaps the floor and does full-on crotch thrusts, for God's sake! You done Otis proud, Duckie my boy. – Anna Gazdowicz
Watch
Download at

"Adagio for Strings"
By Samuel Barber
From Platoon (1986)
I've always loved Barber's "Adagio for Strings." It's such an incredibly moving piece of music, that I was surprised not to hear it in nearly every sad movie. The adagio plays at several times during the film, but is most potent during one of the final scenes depicting the fate of the Christ-like figure Elias, played by Willem Dafoe. You know you have a powerful song in a film when you can't think of one without the other, and whenever I hear Barber's "Adagio for Strings," I can't help but think of Platoon. – Terrance Terich
"Jockey Full of Bourbon"
By Tom Waits
From Down by Law (1986)
Tom Waits is a central figure in Jim Jarmusch's Down by Law, not only because of his role as DJ Zack, but also because two of his songs from his immortal Rain Dogs album are featured as well. While "Tango Till They're Sore" ends the film, "Jockey Full of Bourbon" is featured at the beginning during a montage panning across the gritty, desolate streets of New Orleans. Few, if any people, can be seen, Waits' haunting samba not only adding to the lonesome, eerie vibe, but one could also argue that the "Bourbon" connection may have played a part in it as well. Waits' song also ties in well with the theme of a prison break, as he gruffly growls "hey little bird, fly away home/your house is on fire, children are alone." – Jeff Terich
"Ceremony"
by New Order
from Marie Antoinette (2006)
Say what you will about the film, Marie Antoinette had an impeccable soundtrack. Instead of the usual period-film orchestrals, director Sofia Coppola chose to soundtrack the film to the songs of her adolescence. Take the scene with Marie Antoinette's birthday celebration: opening with New Order's finger-plucked guitars, the song and the scene grow in a lush array of New Wave sound and New Romantic flare. Taking place before the chaos of the Revolution, Marie Antoinette (played effortlessly by Kristen Dunst) relishes in her party like any other teenager would. "Ceremony" becomes an innocent and carefree song in this context and perfectly captures the romance of the period. – Jackie Im
"I Am a Man of Constant Sorrow"
By The Soggy Bottom Boys
From O Brother, Where Art Thou? (2000)
This direct reference to the Delta Blues is a simply delightful bluegrass tune. The movie itself melds old-timey music with Southern politics with great film direction and a rather large collection of goofy, funny moments to choose from. I will never forget John Goodman with an eyepatch and George Clooney with a long fake beard. Additionally, the music from the film (including contributions from Allison Krauss, Emmylou Harris, Gillian Welch, Ralph Stanley, John Hartford, and more) spawned a following all on its own, practically reviving bluegrass for many more people to enjoy. For example, my parents enjoyed this movie so much that they bought the DVD, the soundtrack, and attended an O Brother, Where Art Thou? sing-a-long that was held in my hometown. This is a town that holds its own bluegrass festival, so I guess it's not totally unusual, but noteworthy nonetheless. – Anna Gazdowicz
"These Days" & "Fairest of the Season"
By Nico
From The Royal Tenenbaums (2001)
Wes Anderson picked two Nico songs to play, amidst a bunch of other great pieces of music, during his Salinger-esque tale of a New York dysfunctional family, The Royal Tenenbaums. Nico's voice is nothing if not unique, and these two tracks, both from her solo debut, Chelsea Girl, and both written by Jackson Browne, perfectly mesh with this pseudo-`70s meets 2000's world. The first plays when Richie and Margot meet at the bus terminal and the second during Royal's funeral. I remember going to my local comic shop in Delaware every Wednesday and hearing these songs long before the movie was released. The brothers who owned the shop declared their love for Nico every time I visited and now I understand why. – Terrance Terich
Watch
Download at

"Life on Mars?"
By Seu Jorge
From The Life Aquatic with Steve Zissou (2004)
Wes Anderson has a knack for not only putting together soundtracks that capture the character and mood of his films, but also make for some kickass listening on their own. Case in point: The Life Aquatic, whose soundtrack was so good, it actually upstaged the plot of the film. Featuring songs by The Stooges, Devo and Scott Walker, Anderson could have made a typical compilation of favorites and all would have been splendid. But he took it a step further, enlisting Brazilian troubadour Seu Jorge to play a laid back minstrel, performing breezy, exotic covers of David Bowie songs between scenes. Each one consists of just Jorge's voice and acoustic strums, the best of them his simple and beautiful take on "Life on Mars?" It may not have the orchestral majesty of the original, but its haunting sparseness provides chills of its own. – Jeff Terich
"Theme of Foxy Brown"
By Willie Hutch
From Foxy Brown (1974)
Okay, let me get this out of the way first. I like the "Theme of Foxy Brown" and Willie Hutch's arrangement and lyrics are soulful and powerful, particularly the strings and backing vocals. Yet I have to admit, the main reason I included "Theme of Foxy Brown" is Pam Grier. For those who haven't seen Foxy Brown, the opening credits feature Grier in her prime dancing and striking poses to "Theme of Foxy Brown," and if there's anything that makes a blaxploitation song even more super bad, it's Grier in a bikini. So that said, it's a great theme song for a movie about a strong, sexy woman who doesn't mess around… and Pam Grier is hot. – Hubert Vigilla
Watch
Download at

"Sister Christian"
By Night Ranger
From Boogie Nights (1997)
You may not love power ballads (and why should you?), but the scene in which this Night Ranger tune is displayed marks its allure undeniable. The room is hazy with smoke, the characters are coked up and rallying for more, and a dude in a silk robe and boxers with more time and money than he knows what to do with talks about how he puts all his current favorite songs on one tape and then enjoys them over and over. When "Sister Christian" comes on, he stops talking, scrunches up his face, and starts to air-mimic keyboard playing and makes non-descript vocal sounds along with the music, and it's just awesome. I can think of no other way to enjoy this song, really – minus the drug addiction(s) and the Chinese man shooting firecrackers off in the next room. – Anna Gazdowicz
"Ruby Tuesday"
By Franco Battiato
From Children of Men (2006)
Not only were early Stones songs great on their own, but most of them have since found new life in motion pictures, thanks mostly to The Big Chill and Martin Scorsese. It's really not surprising that anyone might get tired of hearing Mick and Keef over and over in films, but Alfonso Cuarón manages to do it in a fairly innovative way. Franco Battiato is an Italian Renaissance man, acting as a songwriter, composer, writer, actor, filmmaker and painter. His cover of "Ruby Tuesday," as used in the film, Children of Men, is simply stunning. – Terrance Terich
"I Am Waiting"
By The Rolling Stones
From Rushmore (1998)
I could have just as easily written about The Kinks, Creation or John Lennon songs in Rushmore, but the one song that always stands out as a highlight to me is The Rolling Stones' "I Am Waiting." Played during a climactic turning point in the film when Max Fischer has given up pursuing Miss Cross and trying to sabotage Herman Blume's efforts, it's a giant ball of tension just waiting to explode. And that's exactly how the song's written, a sort of gentle, yet unsettling calm pervading the verse, while the chorus becomes a much larger production, which is visually echoed by Max's own reclusion, Dirk Calloway and Margaret Yang coming to check on him while he merely pulls the curtains shut to avoid any outside contact from his new, humble life away from Rushmore and working for his barber father. It also serves as an intro to a moment of gallows humor, as Max tells Herman he was going to have a giant tree fall on him just before leaving the scene. Only moments later, that very tree collapses before Blume's eyes. – Jeff Terich
"Cello Song"
By Nick Drake
From The Good Girl (2002)
The Good Girl is by no means a classic movie, but it's well-acted, thought-provoking, amusing, and overall enjoyable. "Cello Song" is tucked quietly away at the end of the movie, used as a prolific and dreamy accompaniment to some of the final scenes. I've chosen this song not necessarily because I enjoyed the movie all that much, but solely because the use of the song in the film is worthy of recognition. From Five Leaves Left, "Cello Song," for me, completely epitomizes Nick Drake's music in all its beauty, and because of that I often can't escape the emotional ties that the song has to my life and my experiences. With its elegant guitar rhythms, nimble percussion, and haunting cello paired with Drake's signature vocals, the song fits the scenery of so many elements of my personal life—from great love, to disastrous heartbreak, to timeless friendship. The song's tenacity comes from its untainted beauty and pensive foreground, and as Drake hums deliberately along with the cello, the melody resolves itself with lingering, soft percussion, and I cannot wait to hear it again. – Anna Gazdowicz
"Nannou"
by Aphex Twin
from Morvern Callar (2002)
Essentially Morvern Callar is all about the beatific breakdown of a spoiled brat. It's also a film informed by its soundtrack, not the other way around. Besting doses of Broadcast and Stereolab is the shiny Aphex Twin cut that closes the film. Swathed in glockenspiel, "Nannou" is filled with broken beads of glass and hard-edged drips of light that drizzle a moody coda over a movie that was already a masterpiece of mood. I can't think of a better example of a well-chosen song keeping you in your seat long enough to read who the grips were. – Anthony Strain
"Please Please Please Let Me Get What I Want"
By The Dream Academy
& "March of the Swivelheads"
By English Beat
From Ferris Bueller's Day Off (1986)
I've never understood why, out of all John Hughes' movies, Ferris Bueller's Day Off never released an accompanying soundtrack. If any teenage film were rife with great music, this would be the one. "Oh Yeah" by Yello alone had teens running to their local record stores in droves, only to be disappointed by the absence of a soundtrack. Add to that Sigue Sigue Sputnik's "Love Missile F1-11," the Flowerpot Men's "Beat City," the Beatles' "Twist and Shout" and Wayne Newton's "Danke Schoen" and you have the makings of the one compilation that might surpass Pretty in Pink in popularity. But the true standouts for me are the Dream Academy's instrumental cover of the Smiths' "Please Please Please Let Me Get What I Want" (which plays in the art museum montage ending with Cameron staring into the details of a Seurat painting) and the English Beat's instrumental remix of their song "Rotating Head" (which plays during Ferris' famous mad dash back to the house through people's houses and backyards). One perfectly captures a sense of overwhelming wonder and awe, while the other masterfully complements the inherent tension in its scene. I watch this movie again and again, and mainly for the two scenes featuring these two songs. That and for Mia Sara. – Terrance Terich
Watch
"Chicago"
By Sufjan Stevens
From Little Miss Sunshine (2006)
I've always thought that "Chicago" was a classic road trip tune (and by "always," I mean since 2005 when I first heard the song), so when I heard it in a road trip movie, I was oh-so-very-excited. Those amazing opening chords are paired with the beginning of the family's trip in the old yellow Volkswagen bus, and then moves into the trumpet solo section to supplement their trip as they move into the long stretch. I can think of no other song to fit this particular part of the movie, and I just become so happy whenever I see it. I'm actually assured when hearing this song at this point in the film that despite the family's problems, their road trip will somehow change everything. How crazy is that? – Anna Gazdowicz
"Damn It Feels Good to be a Gangsta"
By Geto Boys
From Office Space (1999)
Not that Office Space is by any means highbrow comedy, but it took actually having to work real jobs before I could appreciate the film fully. After seeing this sequence, set to both an ironic and unquestionably appropriate track, undoubtedly thousands of people must have fantasized about parking in the boss's parking space, pushing over the walls of their cubicles, gutting fish on TPS reports and generally causing havoc in the office. This is one of the funniest and most badass scenes of any film I've seen. – Jeff Terich
Watch
"Ooh La La"
By The Faces
From Rushmore (1998)
With Rushmore, writer-director Wes Anderson compiled a soundtrack suitable for any self-respecting music nerd. It was originally composed of only Kinks songs to reflect Max Fischer's angst, but Anderson changed his mind a instead gave us an eclectic yet cohesive soundtrack. The highlight is The Faces "Ooh La La" which comes at the closing scene of the film. It's a fitting song to end a film. It has an uplifting tempo and it provides a sense of closure as we watch all of the characters dance at the after-party for Max's Vietnam War play. After all of the bizarre and dryly funny events that occur in the film, it's only fitting that a song whose chorus says "I wish that I knew what I know now" would end the film. – Jackie Im
"On Her Majesty's Secret Service"
By John Barry
From On Her Majesty's Secret Service (1969)
John Barry's scores for the James Bond movies have always been brassy and bold, but I've always felt that the theme song from On Her Majesty's Secret Service was the best opening credits Bond song of the entire series. Yes, better than even Shirley Bassey's tremendous vocal performance in the opening of Goldfinger. Barry's score is sinister, adventurous and the descending strings in the background are a great companion to the horns that dominate the arrangement. Like the iconic Bond theme that Barry arranged from and Monty Norman's music manuscript, this opening credits theme instantly screams suave spy movie and it definitely deserves more recognition. – Hubert Vigilla
Watch
"Mona Lisas and Mad Hatters"
By Elton John
From Almost Famous (2000)
The more `famous' Elton John song from Cameron Crowe's Almost Famous is, of course, "Tiny Dancer" thanks to the iconic bus scene after Russell Hammond's `Golden God' breakdown. But for me, the song that is `almost as famous,' ironically, as that song is the better of the two. "Mona Lisas and Mad Hatters" begins to play as young William Miller chases after Penny Lane, realizing that not only was she used and discarded by his rock and roll heroes, but that he loves her. John sings that `rose trees never grow in New York City,' but you'd never know it from the bittersweet scene between William and Penny in the park. – Terrance Terich
"Tiny Dancer"
By Elton John
From Almost Famous (2000)
Another movie focused around music, and quite a lovely movie at that. The lush pop of "Tiny Dancer" plays on the tour bus, and while everyone at first is depressed and disappointed after the turn of events, one guy can't resist singing along. Then, someone else joins in, then another, and then everyone is singing along, and just like that, it's a better day. This scene makes everything and everyone likeable—the characters and the song alike. At the end, when William says to Penny that he has to go home, and she says "you are home," it's cheesy, but you still buy it, and you still love it. – Anna Gazdowicz
Watch
Download at

"Pure Imagination"
By Gene Wilder
From Willy Wonka & the Chocolate Factory (1971)
I like Johnny Depp and all, but his anemic spaz take on Willy Wonka will never compare to Gene Wilder's sublime and imaginative eccentric. So what if Roald Dahl didn't like Wilder's interpretation of the character? He's still the Wonka that will endure in many people's minds, and similarly I'd assert that Mel Stuart's 1971 adaptation seems less dated than Tim Burton's more recent go at the Dahl book in question. I say this because I still melt with a smile and I still regress into a starry-eyed child every time I hear "Pure Imagination." The melody is enough to move me, and if not the melody, it's those hopeful lyrics, and if not the lyrics, it's Wilder's old-fashioned vocal delivery. Perhaps it's nostalgia that sweetens "Pure Imagination," or perhaps it's simply that the song makes the imagination seem as boundless as it ought to be and relishes in that. – Hubert Vigilla
Watch
"ABC"
By Jackson 5
From Clerks 2 (2006)
This movie pales in comparison to the original Clerks – I'll cite its use of bestiality and discussions of oversized female genitalia as examples (though Jason Mewes' spot-on impression of the famous tuck from Silence of the Lambs is totally hilarious). There was one scene, however, that involved Rosario Dawson's character teaching the goateed dude how to dance on a roof by shakin' her thang to "ABC" while he sits and watches. The theme is quite obvious to the viewer – her ability to be so gosh darn adorable while dancing to an equally adorable and infectious song causes the guy to fall in love with her, forgetting the fact that he is engaged to a woman who possesses the previously-mentioned oversized genitalia. It's a very cheesy and transparent scene, but what the hell, it was cute. It also involves a separate dance sequence in the parking lot, complete with costumes and choreographed routines to a song that truly deserves that kind of dorky and purely fun attention. – Anna Gazdowicz
Watch
Download at

"Here We Go"
By Jon Brion
From Punch Drunk Love (2002)
It's a shame Jon Brion doesn't write more pop songs of his own, because he's really good at it. His score for Punch Drunk Love was gorgeous, built around permutations of the melody in "Here We Go," which plays during the closing credits. "Here We Go" is the rare song that not only relates to the plot of the film, but also provides a stunning listen outside of the context of the film. In Paul Thomas Anderson's quirky, off-kilter romance, the bumbling Barry (Adam Sandler) and sweet, innocent Lena (Emily Watson) somehow create something magical together, a seemingly impossible deed given their fragile lives apart from each other. Brion's lyrics "you've gotta hope that there's someone for you, as strange as you are" sum up their pairing, while making for a universal statement overall. Musically one of the most gorgeous, kaleidoscopic waltzes ever to sync with celluloid, it's enough to give hope to anyone who's ever been unlucky in love, and to compel anyone to fall in love again. – Jeff Terich
"The Roses of Success"
By John Heawood, Michael Darbyshire, Kenneth Waller, Gerald Taylor,
Eddie Davis and Lionel Jeffries
From Chitty Chitty Bang Bang (1968)
Chitty Chitty Bang Bang is one of the first movies I remember seeing. Sure, it may be a bizarre train wreck, but it's a lovable train wreck. The movie also led to an innocent crush on actress Sally Ann Howes, eventually replaced by a not-as-innocent crush on Yvonne Craig from the '60s Batman show and then a downright prurient crush on Jenny Agutter from Logan's Run. Anyways, the best song in Chitty Chitty Bang Bang is "The Roses of Success," a tune tells you that failure is learning experience. Simple, effective, and the older I get, the more I think I need to hear that message. Who can't dig lyrics like "So when it gets distressing it's a blessing" or the goofy "Disaster didn't stymie Louis Pasteur"? Better still, it's performed by a group of hirsute old men trying to make a flying, floating super car. As a side note, after watching Chitty Chitty Bang Bang again, my crush on Howes has reached Agutter territory. Childhood is truly at an end. – Hubert Vigilla
"Lick My Love Pump"
By Nigel Tufnel
From This is Spinal Tap (1984)
Midway through the brilliant mockumentary, This is Spinal Tap, Nigel Tufnel (Christopher Guest) plays a delicate classical piece on the piano, saying it is part one of a trilogy of songs played in D-Minor, the `saddest of keys.' Compared to the rest of the music of Tap, the song is mature, beautiful and thoughtful, which is really nothing at all like Spinal Tap. The joke, of course, comes with the title, "Lick My Love Pump." Bravo. – Terrance Terich
"Wise Up"
by Aimee Mann
from Magnolia (1999)
The use of music within a movie can change the dynamics and audience perception of just about any scene, or any image coming at you from the whir of film spooling out and onto a big blank screen. Typically the most effective use of music does not overtake the action, it sits somewhere in the back almost acting as back-up singers, a melodic coloring-in, making the picture more vivid and the emotions almost leap out and chase after you. It is usually only within an actual musical that the music steps out of the imaginary fourth wall to become the voice of the characters, and often in that situation it lifts the story into a suspension of disbelief's playground; because it is not often in everyday life that people just break into song. Paul Thomas Anderson's unforgettable scene from Magnolia is an exception to the rule. It is done in such a moving and remarkable way that it brings every character's inner demons, fears and emotions into the center; all of them singing in a round robin style to Aimee Mann's "Wise Up." With every consecutive verse picked up by the next person, each in their own style and environment, another surface is peeled back and you get a closer look at what is going on within. With each individual's vocal interpretation you watch Aimee Mann's song become theirs, and for that moment, theirs alone. This is by far one of the most emotionally engrossing moments I have ever experienced within a film, and it is because of this musical interpretation that it feels like this. It is now impossible to ever separate those images from the song itself. I hear it and I am immediately transported from just another aural experience, feeling if I closed my eyes I could see all of the actor's singing along across my own personal movie screen. – Laura Foxworthy
Watch
"Danny Boy"
By Frank Patterson
From Miller's Crossing (1990)
Although the inclusion of "Danny Boy" in a film about Irish gangsters might seem cliché, the placement of this song in the film is anything but. The sad traditional classic doesn't play at a funeral or a wake as would seem fitting, but instead is featured during a fierce standoff shootout at the home of boss Liam O'Bannon. While Scorsese continues to use the Stones' "Gimme Shelter" over and over again in his films, the Coen brothers manage to produce their most powerfully violent scene with a song that nearly contradictorily enhances it. – Terrance Terich
Watch
Download at

"Always Look on the Bright Side of Life"
By Eric Idle
From Life of Brian (1979)
A friend once told me that he wanted "Always Look on the Bright Side of Life" played at his crucifixion. After giggling and bobbing my head in a dismissive way, he said "No, I'm serious." I laughed nervously and changed the subject. An absurd statement like that does fit the glass-half-full closer to the Monty Python flick Life of Brian. The song was supposedly written and conceived on the set while filming the movie's final scene. With everyone perched on their crucifixes, Eric Idle began to sing a little ditty to pass the time. The tune was fleshed out and eventually became one of the most delightfully quirky and ironic moments that the troupe committed to film. "Always Look on the Bright Side of Life" is both kitschy and catchy, like a Disney song or a show tune performed by a happy drunk with a penchant for whistling. And even listening to the song without the images, it can still make me laugh. – Hubert Vigilla
Watch
"In Heaven"
By The Lady in the Radiator
From Eraserhead (1977)
An oddly soothing yet no less eerie song in an otherwise nightmarish and confusing exercise in disturbing imagery and dream sequences, "In Heaven" is an unsettling lullaby, which, it should be noted, was co-written by David Lynch himself. Henry Spencer is serenaded with this tune by the grotesquely large-cheeked lady who resides inside of his hissing radiator, a device as possessed as the pipes and electricity running through the city, all of which was inspired in part by Lynch's residence in Philadelphia at the time. In the midst of every ghastly image, which include decapitations and deformed infants, "In Heaven" represents that good dream of Henry's, a reassurance that "in heaven/everything is fine…" – Jeff Terich
Watch
"In Your Eyes"
By Peter Gabriel
From Say Anything (1989)
When I was a junior in high school, I was driving around town with a friend of mine, and this song came on the radio. We sang along joyfully (of course), and she mentioned how much she loves that scene in Say Anything involving John Cusack and this song. I had not seen that movie and I tell her this with my charming innocence, and she proceeds to cancel our previous plans and instead redirect our night around the rental and visual consumption of this '80s classic. And I'm sure as hell glad she did. We spent the evening watching this incredibly sweet and insanely cute movie while enjoying contraband wine (we were underage – shhhhh), and it remains one of my favorite movies to this day. As Diane Court says to Lloyd Dobler as they're about to "go all the way" for the first time (in the backseat of her car, no less – teehee): "listen to this song – it's a really good song." And later in the film marks one of the most iconic cinematic moments – where Lloyd holds the boombox above his head outside Diane's window as it plays the song, he, wearing his trenchcoat and his high tops and his heart on his sleeve. Sigh. I love it. – Anna Gazdowicz
"Putting on the Ritz"
By Gene Wilder and Peter Boyle
Young Frankenstein (1974)
One of the most beloved moments from any Mel Brooks film (yes, better than Jews in Space), the "Putting on the Ritz" scene from Young Frankenstein was almost cut from the script. According to Gene Wilder, he and Brooks had a tussle over whether the scene was worthwhile. Brooks wondered if a scene in which the dapper doctor and his charnel house creation mangled an Irving Berlin tune would be brilliant or terrible. When an emotional Wilder argued for the scene's inclusion until he turned purple, Brooks said the scene was in, noting he wanted to see how hard Wilder would fight for it. But enough trivia. Did I mention it was really good? No? Okay, it's brilliant. – Hubert Vigilla
Watch
"Because"
By Elliott Smith
From American Beauty (1999)
This song doesn't play until the end credits, but sums up everything in the story quite nicely. I don't know if its sacrilege to say this, but I think that Smith's overlapping harmonies in this song are even sweeter than the original. We always knew up to that point that Smith's songs were beautiful, if a little melancholy, but with this single track we found out that he could also make a beloved classic his own. – Terrance Terich
"God Only Knows"
By The Beach Boys
From Boogie Nights (1997)
I wouldn't have necessarily pinpointed this Beach Boys track (from the classic Pet Sounds) as a great "closer," but it does the job quite splendidly as a musical accentuation of the film's conclusion. The song itself is sweet pop-rock in the form of a homage to love/partnership/friendship and everything in between, and this theme is mirrored in Boogie Nights as in the end, love and friendship stand true for the characters after their struggles with fame, drugs, and the evolution of the porn industry. – Anna Gazdowicz
"Just Like Honey"
By The Jesus and Mary Chain
From Lost in Translation (2003)
For Sofia Coppola's sparse, poetic film Lost in Translation, she chose an appropriately minimal soundtrack. From the elegant "Alone in Kyoto" by Air to the dreamy "Sometimes" by My Bloody Valentine, the songs captured the atmosphere of the film. Throughout the film there is a sense of displacement, not only in a foreign country but also in life in general. Scarlett Johansson's Charlotte and Bill Murray's Bob are both feeling out of place and unsure about their life. To end the film, Coppola chose the Jesus and Mary Chain's "Just Like Honey." Its languid pacing and reverb-soaked guitars fit perfectly with the meditative film. It also acts as a closing narrative for the next chapter in both Charlotte's and Bob's lives. "Listen to the girl, as she takes on half the world" is appropriate for Charlotte's emerging sense of self, but also for Bob's acceptance of his place. It's one of the Jesus and Mary Chain's best songs and Coppola couldn't have picked a better song to end the film with. – Jackie Im
Watch
Download at

"Something in the Way"
By Nirvana
From Jarhead (2005)
Jarhead is one of the best modern day anti-war films and the first honest portrayal of American servicemen in Iraq, Jake Gyllenhaal portraying the protagonist and the voice of the movie. It's a coming of age movie of a solider in a war where nothing much happens but the aching stain of loneliness. These guys are trying not go stir crazy while staring at the burning sunlight reflecting from the empty Iraqi desert as these soldiers wait for a battle that never comes. My favorite scene comes with the use of Nirvana's "Something in the Way" as a reflection of the mindset of Jarhead after his girlfriend has sent him a Dear John letter. He's dealing with being stranded in a Middle Eastern country and he feels disconnected with the rest of his unit. He is on the verge of major depression for being heartbroken and homesick away from a life that seems distant and further away as the days pass in the desert.
As the camera pans and you see the expressions on Jarhead as he tries to keep his head straight, you can feel the tears, the hurt and the aching as he covers his hands over his head, hiding out trying not to share his vulnerable side with his fellow grunts. You sense it, he's about to lose it. And now one better than Kurt Cobain can echo these sentiments as you hear Kurt singing, "Something in the way…yeah" it's as if he's hovering above and singing for Jarhead. The song was made for this once scene and this movie. You feel his pain and as Kurt sings you hear the hurting in Cobain's voice. It's a perfect match for the character played so brilliant, stoically and eloquently by Gyllenhaal. – Adrian Cepeda
"Where Is My Mind?"
By The Pixies
From Fight Club (1999)
I find it hard to believe that Chuck Palahniuk's Fight Club was adapted for the screen without this Pixies song already in mind for the ending. Where is Tyler Durden's mind? The movie's conclusion and the song itself completely mirror each other in their overall intensity and craft—even the credits seem artsy as this song plays along with them. Both the movie and the song are extraordinary projects by talented artists, and the pairing is simply perfect. – Anna Gazdowicz
"We'll Meet Again"
By Vera Lynn
From Dr Strangelove or: How I Learned to Stop Worrying and Love the Bomb (1964)
It takes a pretty dark sense of humor to end a movie the way that Stanley Kubrick did with Dr. Strangelove. As the Doomsday Device is set off and nuclear bombs start blasting in a sequence of destruction, we hear the dulcet tones of Vera Lynn, ironically cooing, "we'll meet again/don't know where/don't know when." It's pure cinematic absurdity, simultaneously frightening and hysterical. There's nothing quite like soundtracking the end of the world with an innocent, pretty standard, the kind reserved for romances, screwball comedies and musicals with big dance numbers. A dark sense of humor, indeed. – Jeff Terich
Watch
Download at