Most listeners' introduction to Blitzen Trapper was 2006's twang-addled rock opus Wild Mountain Nation, a fine place to dive into the Portland, Ore., band's scruffy body of work. Yet that was merely the band's third album, one of a trio of self-released gems that the band had released since 2003. While a sound like theirs is one that defies refinement, given that it is marked by an analog warmth, the group has nonetheless honed their grizzly rock `n' roll into something even greater than before on their outstanding debut for Sub Pop, Furr.
Certainly, the earnest tones of Blitzen Trapper would best be described as indie-pop, but this is neither Belle & Sebastian's twee nor The Shins' humble hooks. Blitzen Trapper play their Pacific Northwestern jangle with earnestness and soul. While it would be wrong to dub them `Southern rock' (in both sound and geography), it's also not too off the mark. On Furr, Fogerty and Lennon are in equal supply, as are the likes of the Dead, The Byrds, Bowie and Neil Young. While merely playing up to one's influences is no extraordinary feat in itself, Blitzen Trapper does so in a manner that sounds surprisingly modern and fresh. In spite of their rich, old school sounds, Blitzen Trapper are very much a band of today.
The band kicks off the celebration with a paisley, psychedelic pop number titled "Sleepytime In the Western World." Equal parts Beatles, Bowie, Elliott Smith and Beachwood Sparks, "Sleepytime" turns the subject of daytime dozing into a vibrant festival of melody and sparks. Transitioning toward a more straightforward rocker, Blitzen Trapper kick out some old fashioned American rock `n' roll guitar in the blazing riffs of "Gold For Bread." While space-age touches of analog synthesizer adorn the meaty rocker, it's the trippy carnivalesque lyrics that truly bump it into outer space: "there's a monkey in a mask and he's calling my name/ there's a midget on his back, he's waiting for the midnight train."
The folky, almost Cat Stevens-like title track is a gorgeous highlight, with curious lines like "I lost my taste for judging right from wrong" cropping up between soulful guitar strums and upbeat harmonica. It's a truly amazing song, and should Wes Anderson need more material for his next film soundtrack, this should do nicely. "Fire + Fast Bullets" finds the band cranking up the rock `n' roll grit once again, while "Saturday Nite" struts along an A.M. radio groove, its piano seemingly having time-traveled from the 8-track era into the present. Yet the album's true peak is murder ballad "Black River Killer," climaxing with its stunning chorus of "oh when, oh when, will the spirit come calling for my soul to ascend?/ oh when, oh when, will the keys to the kingdom be mine again?" It's gently rolling melody floats effortlessly along the slightly funk-addled beats, coming together in a mesmerizing track that's chilling in both message and sound.
"Not Your Lover" and "Love U" provide drastic contrast between the band's extremes, the former being a gentle piano ballad, while the latter is an aggressive and loud sludge pop song that brings to mind The Beatles' "She's So Heavy." Yet "War on Machines" merely serves to demonstrate what the band does best: guitar-heavy pop with hooks galore and Heartland grit (even though they're not from said Heartland). For as heavy as the music of the '70s may weigh in Blitzen Trapper's approach, they're anything but a retro act. They merely recognize the art in making an album as rewarding and as inviting as those they and like-minded ilk such as Fleet Foxes and Grand Archives were weaned on. Heartfelt American music like this is classic, no matter what the decade.
Similar Albums:
Beachwood Sparks – Beachwood Sparks
Fleet Foxes – Fleet Foxes
Okkervil River – The Stand Ins
MP3: "Furr"
Download at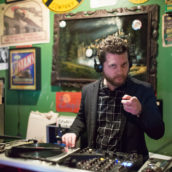 Jeff Terich
Jeff Terich is the founder and editor of Treble. He's been writing about music for 20 years and has been published at American Songwriter, Bandcamp Daily, Reverb, Spin, Stereogum, uDiscoverMusic, VinylMePlease and some others that he's forgetting right now. He's still not tired of it.