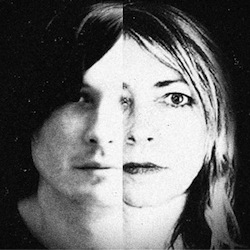 Buy at iTunes | Buy at Insound (vinyl)
The world of experimental music is full of cool, interesting, but ultimately useless ideas. Sampled water droplets, helicopter string quartets, genre-hopping spazz-jazz excursions — that's all brilliant stuff, and I'm happy to listen to it any day. But unlike most popular music, these works fail to perform a specific function. They might amuse a handful of intellectuals at a dinner party, but they won't get a dance floor bumping, or soothe a man who's gone through a nasty breakup.
Occasionally, though, an experimental album comes along that does respond to the call of pop duty. Coming Apart, the debut album by guitar noise duo Body/Head — composed of Northampton, Mass. musician Bill Nace and Sonic Youth vocalist/guitarist/bassist Kim Gordon — is just such an effort. Though it relies on outré methods (free-form guitar improvisations, atonal poetic verse), it melds with one's emotional landscape, speaking to the heart when the heart needs speaking to.
Of course, Coming Apart will sound incredibly alien to most listeners. Even those Sonic Youth fans who prefer the seedy dissonance of EVOL to the relative cleanliness of Dirty might be thrown off by Coming Apart's profusion of feedback/distortion and absence of drums. Still, the experimentalism here is far from abstract; there is a palpable sense of sadness and anger to each guitar drone, and Gordon's lyrics are some of her most vulnerable yet. Considering the facts behind the album—this is Gordon's first high-profile, widely-distributed release since her very public breakup with husband/bandmate Thurston Moore, reportedly due to an affair Moore was having with another woman; her first since the dissolution of Sonic Youth due to the breakup; and apparently her first since discovering she had DCIS, a noninvasive type of breast cancer — it's easy to see Coming Apart as a great purging of toxic emotions.
The Kim Gordon on this record is not the Kim Gordon most listeners are familiar with — that badass, cool-voiced rock 'n' roll role model who sized up Chuck D on "Kool Thing" and cried "Does 'Fuck you' sound simple enough?" on "The Sprawl." This time around, Gordon sounds tired and worn. Delivering free verse in a tuneless moan, her notes occasionally go flat, and her words sometimes devolve into grunts and cries: "Ah ah ah ah ah ah ah ah," she stutters over the tense strums and distorted drones of "Actress."
Still, Gordon is hardly broken. In "Aint" — a reimagining of Nina Simone's "Ain't Got No, I Got Life" — Gordon lists the things she ain't got — no shoes, no money, no skirts, no sweater, no perfume, no beer, no culture, no friends, no schooling — only to flip around and list the things the things she does have, things that "nobody can take away": her hair, her hands, her brains, her ears, her eyes, her nose, her mouth, her smile, her chin, her neck, her "boobs," her soul… Here, she almost comes across like an old blues singer, resilient even after she's been through some heavy shit.
When it comes to ripping the guts out of a six-string, Nace makes for an ideal partner. Throughout the album, the two conjure a startling range of guitar sounds: In the nearly seven-minute highlight "Last Mistress," they deliver pained wails, metallic plucks, sheets of feedback, and bursts of radio-style static, anchoring it all with a fragile guitar figure that oozes with dread. Though it's never clear to my untrained ear exactly what these two are doing with their hapless six-strings, all that knob-flipping and string-plucking leads to some truly beautiful moments. The 13-minute "Black" is particularly stunning: Like one of Fennesz's impressionistic pieces, it opens with some gut-churning guitar surgery only to eventually lapse into some calming noise that washes over the stereo field like waves lapping on a beach.
Body/Head's improvisational approach doesn't always work. With its random, tremolo-laden vocal cries, "Everything Left" reminds me of the kind of amateurish noise one-offs I used to record on a four-track with my friends. Still, for a duo as resolutely experimental as this, Coming Apart is a triumph. It's full of cool, interesting sounds, but it's guided by real, unvarnished emotions. Indeed, sometimes, the usual breakup albums aren't good enough. When only a smashed guitar will soothe the pain, Body/Head will be there to scoop up your tears.
Similar Albums:


Sonic Youth – EVOL


Excepter – Alternation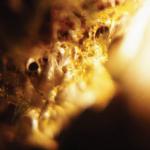 Jodis – Black Curtain