Brian Eno : Here Come the Warm Jets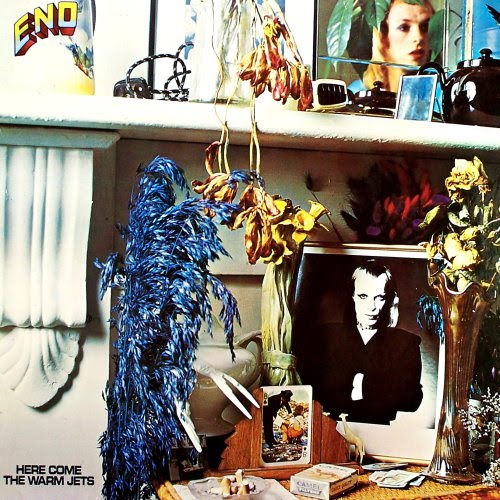 I am deeply ashamed. Let's just get that out of the way, shall we? How did it happen? Where did I err? In numerous times, in numerous ways, and in numerous places are the only answers I can possibly produce. It's a heinous mistake to be sure. It is an oversight of great magnitude for which I can only hope to begin to start making amends. For a fan of pop / rock music, this transgression can only be one of three things. Either I said 'The Beatles are overrated', I mislabeled a band's genre (i.e. emo vs. shoegaze, or calling Radiohead 'prog'), or I had never heard Brian Eno's solo albums. Yes, that's right. I had never heard Brian Eno's solo albums. You may commence the rock throwing.
I had so many chances! It's unbelievable to me even now. I had to go back in my memories and retrace my musical steps, climbing up the musical influence tree branch by branch, trying to find the jumping off points, the freeway exits that would have led me to this musical genius. For starters, as a collaborative producer along with partner Daniel Lanois, Eno produced two of the best U2 albums the Irish foursome ever created in The Joshua Tree and Achtung Baby. This was a few years before the glut of producer / artists such as Butch Vig and Steve Albini, so my mind was not yet accustomed to seeing the producer's name as I would an artist's. Flimsy excuse, but it will have to do.
Going back further, I have to wonder about some of his earlier production work, namely that of Talking Heads' first three albums, More Songs About Buildings and Food, Fear of Music and the astounding Remain in Light. But to add transgression upon transgression, I didn't make the leap from my all time musical hero, David Bowie. Brian Eno was the production mastermind behind Bowie's Berlin trilogy of albums, Low, "Heroes", and Lodger. What was I thinking? I wonder now if it had something to do with the fact that I became aware of Bryan Ferry post-Roxy Music. I found the man's songs enjoyable fluff, entertaining but not very deep. I knew that Eno was part of Roxy Music, I just didn't know enough to know the whole story, that he was there for their first two groundbreaking albums and then split. It could have also been the fact that every time I asked about Eno, I was only told about his ambient work such as Music for Airports. If only I had make that extra connection, followed any one of those single threads, for together, they made a beautiful tapestry of a man and his incredible music. My only consolation is…it's never too late.
As you can tell from this series of Truly Great album reviews, Astralwerks has re-released four of Brian Eno's signature albums, transferred from the original masters for an experience closest to that heard during the time of original release. Eno's first solo effort, Here Come the Warm Jets, was hot on the heels of collaboration between Eno and King Crimson guitarist Robert Fripp, a collaboration that would become a milestone in recording history. Fripp joined Eno once again for his solo debut. Hearing this album for the first time was a revelation and I wouldn't have traded it for an earlier knowledge of the man. Here was an album that resembled nothing and everything I had ever heard. It was a clear next step from Roxy Music, but light years ahead of its time. It was both a follow-up and a precursor to David Bowie's material. Having been released in the same year as Diamond Dogs, this year marking the 30th anniversary of both, there are some tracks that are, dare I say it, better than Bowie's. I have been a Bowie fan for so long that listening to this album almost felt like cheating on a lover. I felt like talking to my entire row of Bowie CD's, pleading my case, "It was only one time! OK, OK, it was a few times, but I was thinking about you the whole time!"
From the Roxy Music-esque "Needles in the Camel's Eye", to the Bryan Ferry imitation of "The Paw Paw Negro Blowtorch", and the near perfect "Baby's On Fire", the album is a work of exquisite rock art from start to finish. It is worthy of note that the "frippertronics" guitars of "The Paw Paw Negro Blowtorch" were later used on another Eno production, U2's "Where the Streets Have No Name." "Cindy Tells Me" is what would be created by an artist who is created from the seed of Iggy Pop and Elton John, cultivated in an egg from Patti Smith, and then born in a test tube which was given a healthy dose of gamma rays. I mean that in a good way.
Eno has always been an innovator, and this album is no exception. Aside from the aforementioned "frippertronics" he created along with its namesake, Eno also experimented with different sounds and effects to create a multi-layered experience. Just listen to all of the subtle layers of "Baby's On Fire" and try to pick out all of the different sounds / track layers in just that one song. What was amazing to me, listening to it for the first time, was the fact that listening to it now, it didn't seen anachronistic, it fit right in with a lot of the music I buy currently, and this was recorded over 30 years ago! Crikey!
Another absolutely stunning track is "Blank Frank." I have no idea whether or not Charles Thompson (aka Black Francis, Frank Black) got his name from this song, but looking at the lyrics makes me think that I sure would have changed my name to get some of that damn cool rock cred. "Dead Finks Don't Talk" is the closest thing to a Bowie song musically, predating "Scary Monsters (And Super Creeps)" by some six years. The lyrics are pretty much narration by Eno who, according to him 'subconsciously', tears Bryan Ferry a new one with his words. He also does another mock Ferry impression as he warbles the line, As you make your way up here. The song ends with some experimental noise that was, again, before its time. While it was probably a shock in 1974, it became a staple on albums by Nirvana, Nine Inch Nails, and others in the early nineties.
"Some of Them Are Old" is a beautiful song featuring more guitar work that the Edge would later steal / borrow. The song makes me wonder if Uncle Eno sat a young Moby on his lap, played him this song, and said "This is how it's done lad. Now go forth and make me proud someday." Eno channeled a little bit of Freddy Mercury in this song and to great effect. And just when you think it can't get any better, the title track plays. An amazing ending for a Truly Great album.
What else can I say about Here Come the Warm Jets? I can only say that my words cannot do it justice. If you are like me, and had not been exposed to Brian Eno's work, and you own any of the albums listed below, you must go out immediately and pick up a copy of this fantastic reissue. All I can think of now is all of the time I have spent without Eno and what I did to get by during those years. I don't know how I did it, but the wait is now over. I am a proud owner of Here Come the Warm Jets and you should be, too.
Similar Albums/ Albums Influenced:


David Bowie – Low


U2 – The Joshua Tree


Roxy Music – For Your Pleasure