Live Review: British Sea Power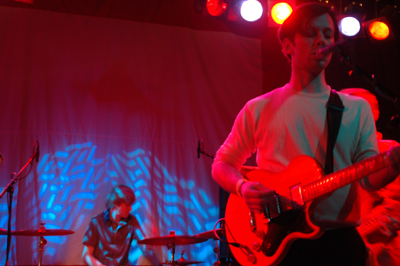 Of the famed British Sea Power performances of lore, shows featuring antique military costumes, stuffed birds stood on pedestals, and stages hung with vines, one cannot help but expect to be fully engaged in an atmosphere of mythic proportions. So it was with a tinge of disappointment when I saw the boys from Brighton take the stage (for the first time) in less than their full uniforms.
Still, the outfits were at least nautically themed, with small colored flags tied around pant legs and stuffed in pockets. The stage, back-dropped with enormous flags of simple patterns, added to the ambiance in its own subtle way.
The inciting chants of "All In It" preceded the band's actual appearance on stage, a recorded looping of the intro from the latest release Do You Like Rock Music?, which served to tease the audience with their impending arrival. Bassist Hamilton, donning his right red raincoat, opened the set in proper fashion with "No Lucifer."
With the furious pacing of a dedicated punk ensemble, BSP rocketed through the regal rock of past albums, most notably a blistering rendition of apocalyptic proselytizer "Oh Larsen B," as well as way back ditties from first album The Decline Of British Sea Power (the elegiac "Blackout").
Although earplugs appeared to be in short demand, it seemed providential I'd remembered mine, such was the deafening roar that issued in overwhelming washes from onstage. Frontman Yan handled most vocal duties, in the swelling anthem "Waving Flags" and low-key breath-catcher "Canvey Island." Instrumental "The Great Skua" built methodically to a smashing crescendo, and was perhaps the band's most gelled performance of the night.
Of course no British Sea Power concert would be complete without its share of acrobatic tendencies, and guitarist Noble lived up to the task, clambering up to the balcony, much to the concern and delight of those watching from above. Damn the torpedoes, I'll take a performance from England's best rock group any day.