Broken Social Scene : Forgiveness Rock Record

Rare is the band able to create something both fractured and excessive, and somehow make it into a cohesive whole. That's exactly what Broken Social Scene did when they released their second album, You Forgot It In People, a sprawling work that shuffled musicians, singers and styles from one track to another. Individually a great group of songs, but an even more stronger whole, it's the kind of enigmatic epiphany that shouldn't work but somehow does, almost miraculously. In 2005, however, when they released their self-titled effort, they oh-so-slightly overplayed their hand, amassing a work even bigger and more brazen, brilliant and bold yet dangerously close to collapsing under its own weight.
After a work of that scale, it's understandable that the band opted for a slightly different approach for their fourth album, Forgiveness Rock Record. With producer Dave Newfeld sitting out this round, the band enlisted Tortoise's John McEntire to step behind the boards, and the contrast is striking. It's still very much a Broken Social Scene album, but one that's nowhere near as dense or as heavy. The melodies have more room to breathe, the amplifiers never sound on the verge of explosion, and there's nothing remotely close to the battle royale of "Windsurfing Nation." It's an album less about making an effort to overwhelm, and more about the focus directed to the songs themselves, which are as strong as ever.
Kevin Drew and Brendan Canning remain the central architects of Broken Social Scene's dynamic rock 'n' roll world, though Forgiveness features a typically broad cast of contributors, from longtime collaborators Emily Haines and Andrew Whiteman to newest member Lisa Lobsinger, whose dreamy delivery on standout "All to All" is reminiscent of the angelic pipes of Stars' Amy Millan. Leslie Feist, who helmed prior favorites such as "Almost Crimes" and "7/4 (Shoreline)," has taken more of a background role this time around, but Whiteman's "Art House Director," all spunky rhythms and brassy accompaniment, more than makes up for that. Behind the scenes, meanwhile, Tortoise's Doug McCombs, Pavement's Spiral Stairs, Death From Above 1979's Sebastian Grainger and The Sea and Cake's Sam Prekop, to name but a few of the album's many contributors, play a supporting role in something even bigger than the sum of their performance credits.
Part of casting off some of the chaos means working tightly as a unit, albeit an evolving and amorphous one, and here the group maintains a strong balance between streamlined and passionate. The sprawling leadoff track "World Sick" is a masterful showcase of the band's strengths, both for building drama and for creating a mesmerizing atmosphere. In a little less than seven minutes, the song travels from understated and pretty opening to a chorus of crashes and Kevin Drew's confession, "I get world sick, every time I take a stand." It's glorious and powerful enough to squeeze a tear out of the listener, or a Bic out of his pocket, but either way, it's hard not to be won over by its sweeping statement.
While it's exactly those big statements that made Broken Social Scene the highly regarded collective as we now know them, they prove just as skillful and affecting with the bombast dialed down. "Texico Bitches" and "Forced to Love" provide a pair of highly infectious pop gems in the album's first half. Yet two of the album's most breathtaking tracks, "Sweetest Kill" and "Romance to the Grave," are placed back to back toward the end. The former is a stunning and delicate ballad on par with "Gang Bang Suicide," another of Drew's most tender compositions. "Romance," however, picks up the tempo without overloading the production, combining surf-like guitar and melancholy strings with a jazzy, Sea and Cake-like pop sound—Sam Prekop even adds guest vocals to drive the comparison home.
This paradoxically tighter and more spacious permutation of Broken Social Scene yields few missteps, though that isn't to say they don't exist; "Me & My Hand" adds very little, while "Highway Slipper Jam" could have been spared the weird scat intro. Still, for an album that extends beyond 64 minutes, Forgiveness Rock Record is remarkably lean on filler, while high on grace and exuberance. In the five years it's taken for Broken Social Scene to deliver a new album, their focus has shifted away from attempting to build even bigger songs. Instead, they've settled on merely delivering their best.
---
Label: Arts & Crafts
Year: 2010
Buy this album at Turntable Lab
---
Similar Albums: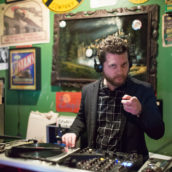 Jeff Terich
Jeff Terich is the founder and editor of Treble. He's been writing about music for 20 years and has been published at American Songwriter, Bandcamp Daily, Reverb, Spin, Stereogum, uDiscoverMusic, VinylMePlease and some others that he's forgetting right now. He's still not tired of it.