Bruce Springsteen : High Hopes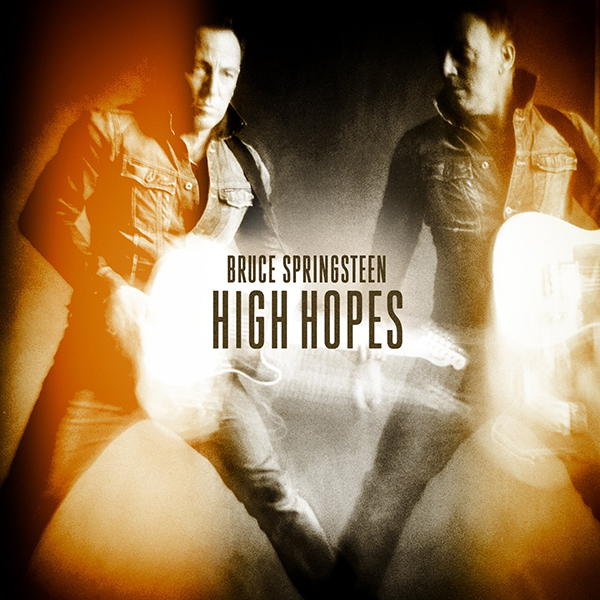 Buy at iTunes | Buy at Insound (vinyl)
From 2002's The Rising forward, rock's most empathetic writer channeled our scrambled, post-9/11 desperation, our wayward militarism, and our socio-economic desolation into solid imperatives. Even if this millennium's Bruce Springsteen recordings didn't sustain the sort of artistic genius he harnessed from Born to Run through Born in the U.S.A. (maybe Tunnel of Love too), he reinforced his approach as a novel-length creator.
High Hopes is the first Bruce Springsteen album not intended to make sense – as an album, that is. In that directive, it succeeds. A seemingly random selection of covers, reworkings of previously released songs, and originals that just fell through the cracks (or off their original albums), it's an album that doesn't follow his usual rule of establishing a long-form narrative. So as a collection of short stories, I guess, High Hopes becomes an extraction of the principles that make up Springsteen's character since The Rising, probably the most desperate stretch of time for America since the beginning of his recording career.
To give the illusion of continuity, Springsteen treated High Hopes as an album project, re-recording his old tracks with the E Street Band with special guest Tom Morello on guitar. The first listen revealed an unevenness you'd expect from the nature of a project like this. The second time answered some questions for me, and made sense out of some choices Springsteen makes. But then I thought, "Why didn't I pick up on those choices the first time I heard this? Now they seem so obvious."
Listing out the album's moments of surprise is pretty quick. The biggest is "Harry's Place," which I really disliked the first time through, then completely revised my opinion about the second. Springsteen's detached portrait of a local capo is accompanied by the most synthetic music of his career, a synth-driven stomp that reminded me, no joke, of Glenn Frey's "Smuggler's Blues." The late Clarence Clemons provides a pinched saxophone as Springsteen dispassionately outlines the scope of Harry's power: "Got a special sin, mister, you can't quite confess/Maybe baby needs a new dress… Your blood and money spit shines Harry's crown/You don't fuck with Harry's money, you don't fuck Harry's girls."
I couldn't get past the sleazy '80s affectations on "Harry's Place" the first time through. The second time through, though, I realized: that's the point. The music throbs with steadiness and smoked-out confusion, ending in a Morello solo that spins into atonal metal. (Which, again, sounded much better the second go-round.) It's Bruce's riskiest chance of recent years, and the weirdest song he's ever put out. But it works, given a second thought.
The other most successful tracks are also the most surprising. "Hunter of Invisible Game" starts out with orchestral strings from a John Ford movie and settles into, of all things, a light Bacharach-type swing. (Or Tunnel of Love's "Valentine's Day," if you'd rather.) The object of Bruce's search is simpler than he initially realizes in the album's best lyrics: "We all come up a little short and we go down hard/These days I spend my time skipping through the dark/Through the empires of dust I chant your name/I am the hunter of invisible game." "The Wall" is a quiet stunner, a plainspoken account of a man on a mission to see his friend's name on the Vietnam Memorial. Springsteen conveys nostalgia now carbonized as myth and some nibbling, unexpected sarcasm: "I remember you in your Marine uniform laughing, laughing at your ship out party/I read Robert McNamara says he's sorry."
Springsteen and Morello's duet on "The Ghost of Tom Joad," which Springsteen originally recorded in 1995 and Morello's Rage Against The Machine covered in 1997, is a shock revelation. No Springsteen song has rocked so recklessly, as he and Morello trade verses about the fractured immigrant experience in America. Springsteen gives the song over to Morello's squall, while drummer Max Weinberg pounds with power and looseness. If it weren't for Morello's effect-flooded, second guitar solo, which adds a coda of distraction to a powerful foundation, it would be the album's best song pound for pound.
Those are the extent of the album's revelations. The rest of High Hopes is fairly predictable, and its worth depends largely on execution. The title track, a cover of a song from Gothic blues artist Tim Scott McConnell, moves along crisply with a Latin groove and some biting irritability ("Before the meek inherit they'll learn to hate themselves"). Springsteen's cover of The Saints' "Just Like Fire Would" is remarkably similar to the original, which sounded like a Springsteen song anyway. His handling of Suicide's "Dream Baby Dream" is a worthy display of Springsteen's adventurous tastes, but whether framing it within his standard template of build and release (think "Drive All Night" with more instruments) is a compromise in spirit of Alan Vega's druggy, ambivalent original is probably answered by how you would rather feel.
The songs that don't work are missed opportunities, not horrible ideas. Well, okay – the jaunty "Frankie Fell In Love" contains what might be the worst verse Springsteen's ever written, about Einstein and Shakespeare meeting in a bar. Please don't ask me to type it out. But the song about losing one's favorite waitress to love does contain the good joke, "From here on in we're eating takeout." High Hopes' other letdowns come from overdressing. "Down In The Hole"'s stark narrative about 9/11 first responders is done in by a busy rhythm track, which first made me (very inappropriately, guiltily) think it was a sequel to "I'm on Fire."
"Heaven's Wall" and "This Is Your Sword" act as anthems of restoration and faith, which employ some of Springsteen's most-used bags of tricks over the last decade: rousing choirs, uninvolving gloss and lavish conquest. The remake of "American Skin (41 Shots)," Springsteen's controversial song about the 1999 police shooting death of Amadou Diallo, utilizes the same triumphant blueprint, which feels incongruous with the maddening, despondent subject matter.
Which all goes to show the truth about Bruce Springsteen's artistry: He takes the long view, he ventures forth with purpose, and does his best work when he starts from the ground up and picks the right details. An odds-and-sods approach just doesn't convey what he's capable of (although that doesn't explain why I so loved his outtakes album The Promise). Though Morello works fairly seamlessly with the E Street Band, with some noted interruptions, the moments of High Hopes that gently or intellectually succeed are met with others that drown in luster, piety or forced victory. Grandeur has its limits.
Bruce Springsteen is incapable of being hollow; whatever missteps he makes are never born from his constitution. But just a bit too much of this album stays stuck in the hopeful stage. For a guy who realizes his bigger ambitions as gallantly as Springsteen does, High Hopes feels more like low-hanging fruit.
Similar Albums:


Bruce Springsteen – Working On a Dream


Okkervil River – The Silver Gymnasium


The Hold Steady – Heaven Is Whenever
Paul Pearson
Paul Pearson is a writer, journalist, and interviewer who has written for Treble since 2013. His music writing has also appeared in The Seattle Times, The Stranger, The Olympian, and MSN Music.