Celebrate the Catalog : The Beatles
Tomorrow Never Knows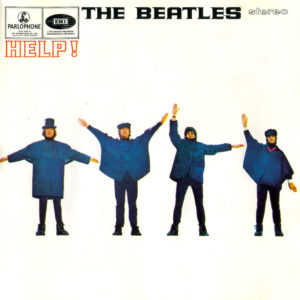 Help!
(1965; Parlophone/Capitol)

By 1965, The Beatles were an already established outfit and a massive success. Shortly after the release of Help!, the band played a packed house at Shea Stadium in August 1965, which would eventually become the subject of a documentary released a year later. Help! was not only just an album on its own, but it featured a few songs from the film of the same name. In addition, this would also be the last album that featured any covers and was the second in which George Harrison contributed any songs since With The Beatles.
True to its name, Help! is in fact an album that explores themes of seeking help. John Lennon has stated, the album's title itself was a plea for help. Despite it's upbeat tempo, which was only done for commercial purposes and has since resonated within pop culture, the title track was written as a means to cope with Lennon's depression.
Meanwhile, "Ticket To Ride" finds Lennon singing about a loved one ready to leave somewhere far with no reservations. "Act Naturally," one of only two covers in the bunch, puts Ringo Starr behind the microphone in a bouncy country-fried paean to heartbreak; "You're Going To Lose That Girl" is exactly what the titles implies; and the heavily covered "Yesterday" features a moping Paul McCartney seeking a second chance at a lost relationship. Help! may seem like a frivolous pop album on first listen, but it's far from it. It's a launching pad for much more in depth songwriting from The Fab Four in the years to come. – Giovanni Martinez
Rating: 8.6 out of 10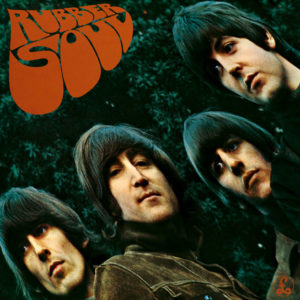 Rubber Soul
(1965; Parlophone/Capitol)

What is a Rubber Soul? I'd like to imagine it being a space inside the body where emotions bounce around; a place where passion never falters. Most importantly, Rubber Soul is one of the best Beatles albums, and one of the finest records in the history of recorded music. Rubber Soul was a breakthrough for the Fab Four, as their first album recorded over one straight session. The previous five records had been made sporadically between tours and film projects, but Rubber Soul is where the Beatles truly became cohesive.
I'd like to make clear that I've never heard the UK version of Rubber Soul; I own the 12-song American release because I'm an American. So, sorry to all the British fans out there, but the state-side release of Rubber Soul is all I've ever known. I'm sure that "Drive My Car," "Nowhere Man," "What Goes On," and "If I Needed Someone" are grand songs (It's THE BEATLES!) but maybe I haven't heard them, at least not in the context of this album. Regardless, this is Rubber Soul, psychedelically tinged folk rock at its apex.
The record starts with Lennon reminiscing about a pretty girl behind a frenzied acoustic guitar jig on "I've Just Seen A Face." "Norwegian Wood" follows with a sitar riff, and more amazing acoustic guitars. Lyrics about women are all over Rubber Soul, most notably at the end of the record on "Run For Your Life." Lennon draws a line in the sand: "You better run for your life if you can little girl, hide your head in the sand little girl, catch with you with another man, that's the end," Lennon sings, but the irony is that his vocals don't make him sound all that threatening. It should be terrifying, but the music sounds sunny and upbeat, and the George Harrison solos really bring the song to life.
And that's why Rubber Soul is astonishing — it's overflowing with energy. The Beatles would go on to transcend popular music, and this is where they begin to reach the summit. – Jordan J. Michael
Rating: 9.5 out of 10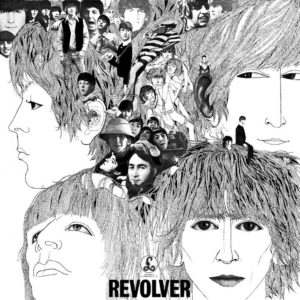 Revolver
(1966; Parlophone/Capitol)

Though the earthier, folk-soaked vibes of 1965's Rubber Soul marked a huge creative step forward in the Beatles' career, much of it seemed of a piece with their early pop catalog. The following year's Revolver was a full break from their earlier material, the first clear statement of the breadth of their ambition.
After all, is there any album in the Beatles catalog — their scattershot self-titled album aside — with as broad a palette as this one? The children's song simplicity of "Yellow Submarine" somehow manages to coexist on an album with Ravi Shankar-influenced tracks "Love You To" and "Tomorrow Never Knows." Those tracks sandwiched in with the bouncing horns of "Got to Get You Into My Life" and the soaring elegiac strings of "Eleanor Rigby." The album cover, a collage of different images of the band members' faces, doesn't lie: Revolver shows us different sides of the band that we didn't even know existed.
I was about 15 when I listened to Revolver for the first time. My experience with the Beatles was pretty basic: a few listens to Sgt. Pepper's here, a cassette of their early hits there. But then I heard "Eleanor Rigby." It was — and still is — unlike anything I had ever heard, a song of such simple despair and self-assured brilliance that I had to stop the CD and just sit. No song had made me feel such a contrasting mix of emotions in just two minutes. Even then, I knew I'd crossed some musical rubicon. I felt changed. My entire perception of the Beatles —  and music as a whole — had just been fundamentally altered.
The title, Revolver, in addition to being a cheeky reference to a turntable's movement, implies some sort of shift; this album is full of change. It's the first real preview of the back half of the band's career — the real Meet the Beatles, if you will — and though subsequent albums followed Revolver's lead, few of them managed to top it. – Sam Prickett
Rating: 10 out of 10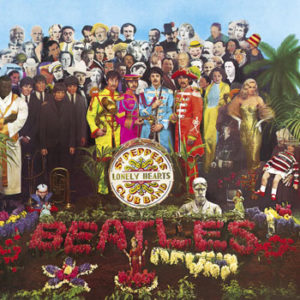 Sgt. Pepper's Lonely Hearts Club Band
(1967; Parlophone/Capitol)

The Beatles not only beat the odds with their prolific output; their experimentation and innovation in the studio is one of the many reasons their music still resonates today. Revolver was the tipping point where The Beatles went from being a great rock band to a greater studio band. Even with the emergence of The Who, Rolling Stones, and The Kinks, they still found ways to push the envelope and stay relevant in an industry that tried to suck every drop of life out of them. They preformed their last concert caged in a six-foot-high fence behind second base of Candlestick Park, on a stage equipped with an armored vehicle ready for extraction. After this, save the impromptu gig on Apple's rooftop in '69, The Beatles ceased performing live; after a brief hiatus, Paul found the solution to their creative woes. Enter the alter-ego group: Sergeant Pepper's Lonely Hearts Club Band.
Sgt. Pepper's opens with a faux live performance as the washed-up Lonely Hearts Club Band trying to make a comeback. Their desire to entertain is a satirical reenactment of the industry's love affair with nostalgia that plagued The Beatles after their debut on the Ed Sullivan Show. Besides the title track, its reprise, and "With a Little Help From My Friends," the initial idea of a concept album didn't pan out as initially planned. Yet the alter-ego effect benefited the group psychologically resulting in a true masterpiece of an album. This album is the only one in The Beatles catalog to be listed in the Library of Congress' National Recording Registry for its cultural and aesthetic significance.
The unsung heroes of Sgt. Pepper's are Principal Engineer Geoff Emerick and Producer George Martin. Automatic Double Tracking (ADT) was introduced in the studio with Revolver, but by Sgt. Pepper's inception Martin & Co. peaked in their ability to make the band's sound more ambitious, refined, and in the case of "A Day In The Life," devastatingly beautiful. Increased time in the studio didn't impact their charm in songs like "When I'm Sixty-Four," but where Sgt. Pepper's stands out among previous albums is the surplus of psychedelic noises and effects. Even Lennon couldn't derail the album's attraction on "Getting Better" by admitting, "I used to be cruel to my woman/ I beat her and kept her apart from the things she loved." – Dan Pritchett
Rating: 9.5 out of 10