Celebrate the Catalog : The Beatles

Public Domain
Is any rock artist's catalog as universally celebrated as that of The Beatles? Probably not, which is why we at Treble were left scratching our heads when we noticed we were missing a feature on The Fab Four's short yet prolific career.  From their earliest output to their final chord, the ground that John, Paul, George, and Ringo covered in a short seven years of studio-recordings was more than vast — it was cavernous. And with this month marking the 50th anniversary of the band's first trip to the States, now seems the perfect time to pay tribute to this timeless collection of albums.
Any serious survey of The Beatles' discography is likely to get a little messy. With multiple versions of their earlier releases, as well as an aggressive assortment of singles and b-sides, it would be daunting — nearly impossibly so — to cover every song the band recorded. You won't find classics like "Day Tripper" or "Hey Jude" here, and we've even omitted Yellow Submarine, since over half the tracks are either recycled material or George Martin's orchestral score for the film of the same name. Still, the remaining albums faithfully represent The Beatles' brief history as a band, and reflecting upon them further reveals just how inspired and expansive these recordings truly are.
The Beatles were able to evolve in a manner few bands have the chance to. After perfecting their brand of family-friendly rhythm-and-blues, the boys were eventually able to break free from their label's stylistic reigns.  Not that The Fab Four were particularly rebellious.  Rather, the public kept loving each new direction they took; The Beatles' creative unpredictability became a natural extension of their already charming presence in the world. However, even then, the band had grown weary of touring, and tensions thickened between the former child-stars as they entered adulthood. Like the young love and psychedelic adventures scattered throughout the group's lyrics, their era could only last so long before fizzling out or crashing down. Thankfully, each step along their short-lived journey is beautifully captured on the following 12 records. So, please, join us as we honor the brilliant Beatles discography.
Buy these albums here to help support our site.
Workin' Like a Dog: The 'Beatlemania' Years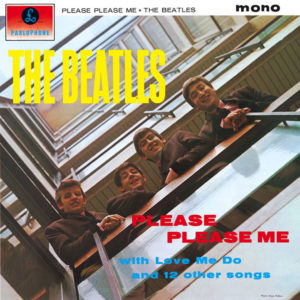 Please Please Me
(1963; Parlophone)


It's hard to imagine the lads before they assumed complete creative control. Still, eight of the 14 tracks on Please Please Me are Lennon/McCartney originals, including two No. 1 singles — "Please Please Me" and "Love Me Do" — which prompted George Martin to push for a quick full-album release. Martin scheduled two sessions for the same day (February 11, 1963), with each session to last about three hours. This may have been the only move ever made with regard to the Beatles that turned out to be too ambitious. The young Liverpudlians needed three sessions to polish their live act. The Beatles ended the day with "Twist and Shout" to save John Lennon's voice for other recordings. That last song went down in one take.
Indeed, a huge appeal of this album stems from its R&B inflections. Just a year prior, "Twist and Shout" was a No 2 single for The Isley Brothers, an homage also infused into their own style as opposed to the Pat Boone covers of the '50s. This genre bending, plus the sugary pop coating on everything in sight, was irresistible. There aren't many young bands that could take a 10-track set and lay them down with the perfect mix of spontaneity and panache. Please Please Me did not relinquish the top album spot on the charts until the release of their own follow up. It was only the beginning. – Justin Stephani
Rating: 8.6 out of 10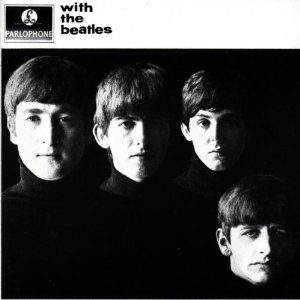 With The Beatles
(1963; Parlophone)

It's easy to see why The Beatles' second release is the lowest rated album in their robust catalog. With the Beatles is perhaps their least iconic album, holding the dubious honor of being their only early album without any top 10 singles in the U.S. On top of that, it's the only early Beatles album without any perceivable artistic growth. It sticks to the same formula established on Please Please Me — eight originals and six covers of various Motown, R&B and early rock and roll songs- without covering much in the way of new stylistic ground.
Still, even a second-rate Beatles album is pretty rewarding. It largely maintain the gleeful exuberance of their debut, and Lennon/McCartney originals like "It Won't Be Long" and "All My Loving" are stellar slices of pop-rock. Likewise, the Fab Four turn out fantastic covers of "You've Really Got a Hold on Me" and "Devil in Her Heart." And, although requisite Harrison track "Don't Bother Me" and covers of "Till There Was You" and "Roll Over Beethoven" are disposable, everything else here ranges from good to great. Even if it's a pretty slapdash sophomore effort, history contains few bands that could rush out an album (arguably their weakest) and still have it be this enjoyable. – Chris Karman
Rating: 7.9 out of 10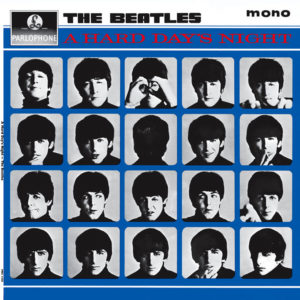 A Hard Day's Night
(1964; Parlophone/United Artists)

In 1964, The Beatles became stars of the silver screen with the release of Richard Lester's A Hard Day's Night. A peculiar yet lovable combination of scripted mischief and performance clips, it showcased The Beatles more as goofball characters than serious musicians. The irony is that A Hard Day's Night was the band's most sophisticated album at the time of its release. Their first album to comprise all original material, A Hard Day's Night is, stylistically, in a similar vein as Please Please Me and With the Beatles, but with a broadening of their scope. The heavy Little Richard influence of the former faded a bit, while new influences begin to creep in unexpected places, like the bossa nova beat of "And I Love Her."
Still, while Paul McCartney and John Lennon were maturing as songwriters, they still came across as fun-loving guys on A Hard Day's Night; after all, the album is fun concentrated, bottled and catalyzed into a musical reaction. The opening chime of the title track causes a kind of biological reaction in anyone that hears it — you know what's coming next, you're most likely going to sing along to it, and as many times as you've heard it, it's still a gas to hear it again. Though A Hard Day's Night is rife with highlights that haven't been played to death either, like "I Should Have Known Better" and "Things We Said Today." It's a significant step for a band that would come to be historically recognized as the greatest in the world. This is simply where they became great. – Jeff Terich
Rating: 8.4 out of 10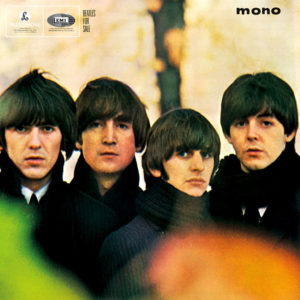 Beatles For Sale
(1964; Parlophone)

You can't really say with a straight face that The Beatles ever released an overlooked album. Still, Beatles for Sale is perhaps the band's most under appreciated album. At the time of its October 1964 release, the album — with its world-weary photo of the Fabs — conventional wisdom had it that the album was a let-down. After all, it came out three months after the album and film A Hard Day's Night, the artistic apex of the band's Beatlemania years. A Hard Day's Night was also the first Beatles album composed entirely of Lennon-McCartney originals; there's not a loser on the album.
So it's a little disappointing that Beatles For Sale returned to the band's previous, covers-heavy form, and featured only eight originals. (It should be noted at the time of the album's release, the band put out the originals "I Feel Fine" and "She's A Woman" as a double A-side single — two bright stars you can see clearly without a telescope, friends.) Despite McCartney's lovely, balmy "I'll Follow The Sun," the heart of Beatles For Sale belongs to John Lennon. Lennon's growth as a songwriter and lyricist — he was by this time under Bob Dylan's spell — as well as a vocalist are the album's greatest legacy. Lennon's "No Reply" is the first true adult love song the group recorded. The lovers he depicts stopped holding hands a long time ago; you can tell from jealous snarl in John's voice singing, "I know where you've been/ When I saw you walk in your door," that this is not going to end well.
Next up, is Lennon's introspective "I'm A Loser," where his vocals sound tired, but still demand your attention. For a songwriter who could keep bashing out hits until he beat his fans' brains in, it's the mark of a searching artist who wants more to offer his listening public to deliver lines like, "Tears are falling like rain from the sky/ Is it for her or myself that I cry?" Here, everyone, thanks for coming — I'm doing this now. Lennon's third winner on Beatles For Sale, the folksy "I Don't Want to Spoil the Party," the tale of a drunk guy acting like a jerk at a party because of unrequited love, gets at deeper, more complicated emotions than Lennon had mined on earlier releases.
As for the covers, there are competent close-jukebox reads of Chuck Berry's "Rock n Roll Music," Buddy Holly's "Words of Love," and the medley of "Kansas City" and "Hey-Hey-Hey-Hey." The best is the version of Carl Perkins' "Everyone's Trying to Be My Baby," archly sung by George Harrison and likely directed at the legions of hangers-on caught in the black hole of Beatlemania. Seen in the context of the band's entire catalogue, Beatles For Sale is what, with 60-plus years of rock n roll in the rear-view, we would now call a transitional album. It's not quite the bridge to the brilliance of Rubber Soul and Revolver that Help! would be. Beatles For Sale is more like the first look at the blueprint. And you can tell that when they finally build the thing, it'll be beautiful.  -Stephen Chupaska
Rating: 8.3 out of 10