Celebrate the Catalog: Guided by Voices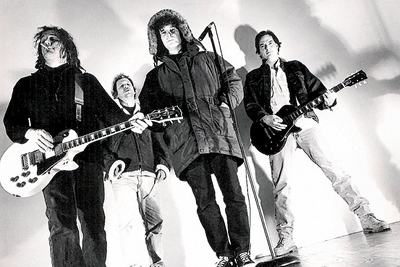 Few indie rock bands have a career that's been as influential or prolific as that of Dayton, Ohio's Guided By Voices. Having recorded and released four full-lengths and many more EPs before ever really being noticed by critics or music-junkies, the Dayton, Ohio rockers combined Beatles-style pop, prog-rock, psychedelic influences and gritty punk to create a sound that continues to fuel the imagination of guitar-heroes of a multitude of genres.
Despite many almost-break-ups, a multitude of line-up tweaks, and a major lineup shift mid-discography (from the classic Pollard/Sprout/Mitchell/Fennell/Demos lineup to Pollard and members of Cleveland band Cobra Verde), GBV produced almost one studio album per year for 17 years and maintained a rather consistent following. Then, in 2011, the classic lineup reformed and announced a new string of albums. And, as far as anyone can tell, GBV is here to stay for a while. But, since 17 albums is quite enough for one article, we at Treble consider this occasion enough for celebrating their immense and influential catalog.
So grab a cheap brew, turn your lowest quality speakers to full volume, and let's get to rockin'.
Early Days

Devil Between My Toes
(1987; Schwa)
While there would be many years until GBV truly blossomed into a must-listen among indie-rockers, Devil Between My Toes is proof that Robert Pollard & Co. had a pretty solid idea of what they were going for from the get-go. Though not yet boasting the lo-fi production that Guided By Voices would cling to during their first burst of popularity, the production is definitely raw enough to display what GBV's classic line-up could do with minimal tools. It's an excellent half-hour of romping drums, clanging guitar and, of course, Pollard's crystal baritone.
Even early on in their career Pollard et al managed to cover a lot of ground in half an hour from open hearted thrashers to spacey ballads ("The Tumblers") to British-invasion styled pop anthems ("Dog's Out" is a good example of a skew on the classic pop format). And just when tracks like "Discussing Wallace Chambers" or "Hey Hey, Spaceman" start to sound a bit too much like R.E.M., guitarist Tobin Sprout treats each track with his own signature style, or Pollard's voice bursts at volumes Michael Stipe would barely consider. With a debut this solid, it's hard to see why it took several more years for GVB to develop a solid fan base.
Rating: 7.1 out of 10

Sandbox
(1987; Halo)
GBV's second self-released effort in 1987, Sandbox took the spontaneity and tunesmithery from Devil Between My Toes and presented those attributes in the form of a slightly more accessible pop-rock album. There are still rockers ("Lips of Steel", "Can't Stop"), short but slow jams ("Trap Soul Door") and a few longer, epic pieces ("Get to Know the Ropes", "Barricade"), but the production is generally more consistent than the fuzzy four-track recordings that would later earn GBV their fan base. Perhaps this quality is what got the band lost among other indie-rock acts of the era (Guadalcanal Diary, R.E.M., etc.)
However, that same aesthetic might be the most alluring aspect of the album as well. While the 12 tracks on Sandbox may remind the listener of the Beatles or the Rolling Stones, there is a deeper quality behind the writing of these songs, as well as the chemistry of the band, that alludes to indie acts-to-come (think Pavement). The jangly-stomper "I Certainly Hope Not" is an excellent example of the way Pollard graces and blurs the lines of noisy-punk and classic-pop. Sandbox is yet another GBV album that would have its greatness overshadowed in the wave of releases to come.
Rating: 8.2 out of 10

Self-Inflicted Aerial Nostalgia
(1989; Halo)
This is where things start to get interesting. In the two years between recording Sandbox and Self-Inflicted Aerial Nostalgia, something big left an impact on Pollard's approach to songwriting and recording. Though not quite an example of GBV's lo-fi approach, the band began branching out stylistically and started to embrace and build upon the little accidents made during recording sessions. This release was grittier than the last two, and showcased the first instances of the `stop-start' transitions that would become ever more present on albums like Bee Thousand.
Stylistically, GBV stopped riding the middle-line between pop and indie rock. "The Qualifying Remainder" and "White Whale" are disparate and noisy, and "Slopes of Big Ugly" and "Liar's Tale" are quite minimalist in composition. However, tracks like "Short on Posters," Chief Barrel Belly" and "The Future Is In Eggs" are more reminiscent of the rock-staples heard on past releases. All in all, while there are some great tracks on this album, it's a little sloppy and doesn't build as well as past or future GBV releases. That being said, Self-Inflicted Aerial Nostalgia does much to pave the way for the band's growing sound and Pollard's ever more distinctive songwriting style.
Rating: 7.6 out of 10

Same Place the Fly Got Smashed
(1990; Rocket #9)
Taking the energy displayed in Self-Inflicted Aerial Nostalgia, but tightening the production just a bit, Same Place the Fly Got Smashed is perhaps the most cohesive recording of GBV's early years. Stylistically, the record includes the same variety showcased in past GBV releases. But in these 13 tracks, a sense of unity is found in the record's thematic element of alcoholism. Tracks like "Order for the New Slave Trade," "Pendulum" and "Local Mix-Up/Murder Charge" brought Pollard's writing style to a new height and truly displayed his cunning potential as a songwriter.
Rating: 8.5 out of 10

Propeller
(1992; Rockathon Records)
Thanks to major developments in production and tone, Propeller launched GBV into indie-rock fame. While recorded in a professional studio, it was on this album that Pollard began his extensive use of 4-track cassette recording techniques and other lo-fi attributes. Propeller was originally intended as a `farewell' album following more than five years of self-releases and local shows. However, that plan quickly backfired when GBV's popularity exploded (relatively speaking) following the release of the record. While there are several reasons why this might have happened, one glaring aspect makes Propeller stick out.
Because of their transition to lo-fi techniques, GBV's usual songwriting style was given a new platform to excel upon. Perhaps Pollard had stopped caring about impressing anyone, boasting a raw sort of spirit in recordings like "Unleashed! The Large-Hearted Boy" and "Particularly Damaged." Or maybe the underground scene and GBV finally met at a place they could agree on. Whatever it is, it is clear that, while not too far off from their previous releases, there's something mesmerizing about Propeller that some fans argue was never matched.
Rating: 9.2 out of 10
Underground Heroes

Vampire on Titus
(1993; Scat)
While not an album to be forgotten, Vampire on Titus is, in many ways, the least impressive example of a GBV record. It's not that Pollard doesn't offer some good songs, but something about the album just doesn't quite hit the spot. Recorded as a follow-up to Propeller's success, but before the total reformation of the band, Vampire on Titus is more of a solo effort by Pollard, with support from his brother Jim and guitarist Tobin Sprout.
While there's something mesmerizing about the blatant lo-fi approach shown on these tracks (i.e. "Wished I Was A Giant," "Unstable Journey"), the record is definitely lacking the depth provided by the rest of the classic GBV line-up. Ultimately, Vampire on Titus largely serves to point out what makes GBV so great as a unit.
Rating: 5.9 out of 10

Bee Thousand
(1994; Scat)
Regarded by many as the quintessential GBV record, there is something chaotic yet captivating to be found in Bee Thousand. Applying the raw approach heard on Vampire on Titus, Bee Thousand was originally planned as yet another `farewell' album. Almost in the style of the White Album, Pollard responded to the pressure to write a final album by re-purposing sections of older, unused compositions. The result was simple but effective: a collection of 20 short but successful rock songs.
Part of Bee Thousand's appeal is possibly found in the pairing of fuzzy production with some of GBV's most thoughtful compositions. It's almost as if, even upon the very first pressing, the record already sounded like a classic. It would be a little tough for first-time listeners to dive into, but the range of tracks, especially "The Goldheart Mountaintop Queen Directory," "Gold Star for Robot Boy" and "Hot Freaks" will quickly engulf the listener if given the chance. Any GBV enthusiast will tell you the aesthetic quality of Bee Thousand transcended their previous efforts and would not be matched by later albums. One thing is certain: Bee Thousand definitely anchored Guided By Voices in rock history.
Rating: 9.7 out of 10

Alien Lanes
(1995 Matador)
Continuing down the lo-fi road, GBV, now signed to Matador Records, followed Bee Thousand up with the 28-track Alien Lanes. While loaded with great tracks and highly regarded by critics past and present, Alien Lanes sometimes sounds like an album divided, often separating the straight forward ("Blimps Go 90", "Close You Are") from short psychedelic tracks ("Cigarette Tricks," "They're Not Witches," "Gold Hick"). However, there are still unmistakably brilliant moments, like "(I Wanna Be A) Dumbcharger," for example.
Compared to Bee Thousand and Propeller, Alien Lanes is rather long-winded. The album rounds out at an even 41 minutes, and the majority of the tracks are under two minutes, with many about a minute long or shorter. And while Alien Lanes is enjoyable, the listener gets the feeling that GBV just did not feel like cutting any material or devoting too strongly to a cohesive album-sound. Perhaps it was an omen of the band's lineup change to come.
Rating: 7.9 out of 10

Under the Bushes Under the Stars
(1996 Matador)
Under the Bushes Under the Stars was a landmark album, both as GBV's last album as the `classic' lineup, and as the band's first return to a 24-track studio since Propeller. The band claims recording the album was an exhausting process, but the result was a very fitting `so-long' to the legendary lineup. It's a lengthy album (about 55 minutes on its own with an additional 6 minutes of bonus tracks included), but there are a lot of jewels and most of the fat is trimmed. In fact, the bonus material comes from ditched songs that Matador insisted on including in the total package as a separate EP. And for the music junkies out there, this one includes tracks produced by legends such as Kim Deal and Steve Albini.
Highlights of the album are scattered throughout. This writer is particularly fond of "The Official Ironmen Rally Song," "Ghosts of a Different Dream," "Underwater Explosions," "Office of Hearts" and acoustic track "Bright Paper Werewolves." However, the entire record is a great listen, and shows maturity from Pollard as a writer, and the band as a whole.
Rating: 9.1 out of 10
"Guided by Verde" Era

Tonics & Twisted Chasers
(1996; Rockathon)
Much like Vampire on Titus, Tonics & Twisted Chasers could easily be considered an excursion from the regular GBV catalog. Boasting 19 tracks, most co-written by Sprout and Pollard, the duo recorded the album on their own, using a drum-machine and other effects to create a rounded sound. And while many tracks are memorable, the album lacks the momentum of other GBV releases. Additionally, Tonics & Twisted Chasers marked the excursion of Mitch Mitchell and Kevin Fennell from GBV and was the last album to feature Sprout as a primary musician. All three, however, would join Pollard and drummer Greg Demos for the 2011 reunion.
Rating: 6.9 out of 10

Mag Earwhig!
(1997 Matador)
Mag Earwhig!, recorded in the absence of the classic lineup, served as the perfect platform for Pollard to redefine himself as an artist and GBV as a band. While the album includes a few key tracks left over from the band's prior lineup, the sound of the album makes a huge shift with the addition of glam-rock outfit Cobra Verde. In many ways, Mag Earwhig! And other Cobra Verde-supported GBV efforts remind me quite a bit of Dick Valentine and the Detroit-based Electric Six. While the band is talented and the songs are reasonably well crafted, something is missing in the chemistry of the album. So while the songs are solid, there is something left to be desired by fans of GBV's scruffier roots. And certainly, in the context of past Pollard releases, it must've been a shock to hear a somewhat by-the-book rock record from GBV.
That being said, Mag Earwhig more than carries its own weight as a terrific rock record. "Bulldog Skin" is fun and lively, "The Colossus Crawls West" and a few other shorter tracks give a taste of the psychedelic elements found in GBV's heaviest days, and the album is overall satisfying, as long as you set aside your expectations of what a GBV album is supposed to sound like.
Rating: 7.4 out of 10

Do the Collapse
(1999; TVT)
Produced by Cars frontman Ric Ocasek, Do the Collapse is by far GBV's most clean-sounding and straightforward record. However (and many GBV fans will disagree with me on this one), I think what makes the record so brilliant is that Pollard had never strived for that sort of straight pop sound before, and, thus, marks a unique and unexpectedly delightful entry in their discography. That lone fact, as well as Pollard's expansive career as a writer and self-producer, allowed GBV to crank out some pretty fantastic pop-rock tracks on Do the Collapse.
Full of momentum, well timed and lyrically enchanting, the record opens with synth-heavy "Teenage FBI," and continues with 15 more pristine tracks. "Dragons Awake!" is one of Pollard's most beautiful acoustic recordings to date, and "Surgical Focus" is an understated prog-pop anthem worth an extra few listens. Admittedly, it might have been smart for Pollard to release this and other post-classic-lineup albums under a different guise. However, "Optical Hopscotch," "Strumpet Eye" and others offer enough of a classic GBV feel to make the album fit into the rest of the discography. While it would be reasonable for hardcore GBV devotees to write off Do The Collapse as an over-produced misstep, they would be missing out on some of Pollard's best tunes by doing so.
Rating: 9.0 out of 10

Isolation Drills
(2001 TVT)
Isolation Drills is where GBV appear to catch a case of identity crisis, which continues for a few albums until 2004's Half Smiles of the Decomposed. There are some truly beautiful tracks on this record ("Twilight Campfighter" is a personal favorite), and Elliott Smith's presence on keys in three separate tracks is definitely an appealing factor. Although, as much as I enjoy listening to Isolation Drills, I can't help but think I'm no longer listening to a GBV album. Per usual, Pollard switches up the styles of his compositions on a pretty regular basis, but this time there is no discernible connection throughout the record. And with the majority of songs clocking in at around or above 3 minutes, Pollard has lost the chaotic appeal that made Bee Thousand so successful, without replacing it with anything equally substantive.
That aside, "Sister I Need Wine" and "How's My Drinking" are beautiful songs, and "Want One?" is one of several foot-stomp, fist-bump worthy tracks on the record. A flawed but important piece in the GBV discography, Isolation Drills' biggest fault is that it seems to show that, perhaps, Pollard had moved on past the bombastic stylization and spunky youth found in the first large chunk of GBV releases.
Rating: 7.8 out of 10

Universal Truths and Cycles
(2002; Matador)
If not a true return to lo-fi, Universal Truths and Cycles was at least an attempt at minimalism for a band that had spent several years exploring the possibilities of high-end producers and full-treatment production. And the resulting material was altogether successful if Pollard was attempting to recapture GBV sounds of the past. "Eureka Signs," "Zap" and "Everywhere with Helicopter" and many other tracks on Universal Truths have the same kind of energy as heard on past GBV releases, but don't quite offer anything extraordinary on top of that format. However, if you're looking for a good mixture between high-quality production and Pollard's classic song-writing talent, this might is the album for you.
Rating: 8.0 out of 10

Earthquake Glue
(2003; Matador)
As mentioned in this article's introduction, no Guided By Voices album can truly be called "bad." Rather, Pollard's approach to releasing his music seems to be to arrange everything he created as best as possible. This often results in albums that are built up with just a little too much excess material hiding the real gems from clear view. Earthquake Glue is an excellent example of a GBV full of great songs that somehow don't create the best album together. Somehow, something indescribable is missing from the record. No song is much shorter than two minutes; all the pieces are strongly written and highlight the talents of Pollard and Cobra Verde. Yet Earthquake is just a little too straightforward for GBV, a group that always seemed to define themselves by pushing the limits of indie-rock.
Still, many other indie-rock bands would be hard pressed to release an album full of as many high-quality songs as these. "Dead Cloud" (a clanky, jagged rocker), "I'll Replace You with Machines" (a glam-rock-styled anthem) and "Apology in Advance" (a drone-filled confessional) are all textbook examples of indie-rock done right. But again, little here really stands way above much of GBV's previous discography.
Rating: 7.0 out of 10

Half Smiles of the Decomposed
(2004; Matador)
Concluding the brilliant tradition of GBV creating brilliant `farewell' albums (including Propeller, Bee Thousand and Under the Bushes Under the Stars), Half Smiles of the Decomposed was released shortly after Pollard announced that GBV was to be no more. And, per usual, Pollard and gang excelled under pressure. It's in Half Smiles of the Decomposed that the Guided By Verde lineup found their true voice, creating brilliant and unique soundscapes and no longer sounding like a cover band performing underneath Pollard. A delightfully creepy riff drives "Sleep Over Jack" and a quiet, energetic rhythm section drive "Asia Minor," while "Tour Guide at the Winston Churchill Memorial," "Everybody Thinks I'm a Raincloud" and "(S)mothering and Coaching" all have a more traditionally GBV feel about them. Half Smiles grabs a hold of you from its first riff, and pulls you throughout for a smooth but intense ride through crunchy jams and Pollard's thoughtful analysis of the world around him and his experience within it.
And, for the time being, it was the best farewell possible…
Rating: 9.1 out of 10
Return of the Classic Lineup

Let's Go Eat the Factory
(2012 Guided By Voices Inc.)
…But, although much longer than past GBV break-ups, this one was also not as permanent as it seemed. In 2011, seven years after Half Smiles and 15 years after the dissolution of the `classic' GBV lineup, Pollard once again joined Sprout, Mitchell, Fennell and Demos on stage as Guided By Voices. And before long, they had announced not one, but two new albums. (The second is due out in May, with a third already promised. It appears that Pollard is back to his one-or-more-a-year antics.)
Let's Go Eat The Factory picks up right where the classic lineup left off, using a combination of lo-fi and traditional recording methods to construct a sound much more reminiscent of Bee Thousand than the later "Guided By Verde"-dubbed albums. Album opener "Laundry and Lasers" seems to acknowledge that it's been a while since the `good old days', beginning with a distorted guitar drone that eventually leads Pollard's vocals into a driving mash of prog-rock goodness.
From there, the 21 tracks of Factory give the dedicated GBV enthusiast exactly what's expected of this lineup, with the added wisdom and artistic touch of some very, very well-experienced musicians who aren't afraid to try a few new things ("Hang Mr. Kite," "The Unsinkable Fats Domino," "Imperial Racehorsing" and "We Won't Apologize for the Human Race" are must-listens). As I said in my review of the album in January, it's definitely not the best album by this lineup, but it is "a good addition to the GBV discography and a solid collection of songs that introduce the band's sound to a new generation of PBR-chugging indie rockers." Keep it up, gang. Can't wait to hear the next one.
Rating: 8.5 out of 10