A Beginner's Guide to Coil's experimental industrial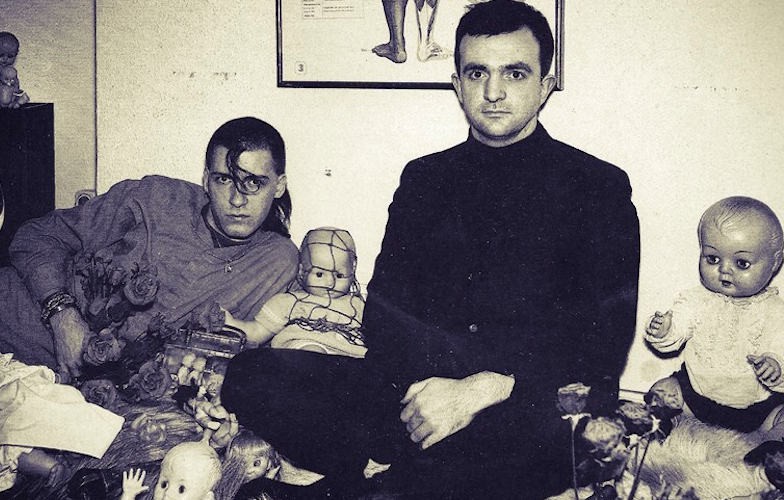 There's an alternate reality where Coil, the constantly evolving, often inscrutable industrial project of John (Jhon/Jhonn) Balance and former Throbbing Gristle member Peter Christopherson, became a major label act and exposed the mainstream to their demented alchemy. That almost happened; Nine Inch Nails' Trent Reznor was a fan and angled to release a new album of theirs via his Nothing imprint in the '90s. Of course that didn't happen—a band like Coil, by design, shouldn't make sense in the boardroom. It's art that's as visceral as it is cerebral.
The irony, of course, is that we'd have no Nine Inch Nails without Coil. A crucial bridge between the proto-industrial performance art of Throbbing Gristle and the more club-friendly permutations of industrial from the likes of Ministry and Skinny Puppy, Coil employed the tools of noise and abstract sound art toward more haunting forms of songwriting. The pendulum of Coil's music swings from ritualistic occult ambient toward punishing electro-industrial experiments, with curious moments of accessibility pocked throughout, like 1986's "Slur," a bouncy gothic blues featuring the guest vocals of Soft Cell's Marc Almond. Or perhaps more famously, their 1985 cover of "Tainted Love," which reinterpreted Gloria Jones' Northern soul standard as a mournful commentary on the AIDS crisis, complete with an official video (which also featured Marc Almond) that is now part of the collection at the Museum of Modern Art.
Coil, of course, didn't become a major label sensation, and though they remained prolific and constantly challenging throughout their career, it was cut short in 2004 when founder John Balance died in a freak accident. Yet what he left behind was a massive catalog of nearly 100 items. Coil does present something of a challenge to listeners intrigued by their darkly experimental appeal. Though they only truly recorded around a half-dozen proper "albums" by the standards we typically judge them, they've issued an astonishing amount of limited release projects, EPs, CD-Rs, live albums (most of them from late in their career, as the group largely avoided live performance until later on) and collaborations. It's an overwhelming amount of material, though there is a logical way to navigate it all.
Ahead of the group's reissue of their 1999 album Musick to Play in the Dark in November via Dais, here's a beginner's roadmap through the best Coil albums and other releases to begin your journey.

Buy these albums at Turntable Lab
---
First Steps: The Best Coil Albums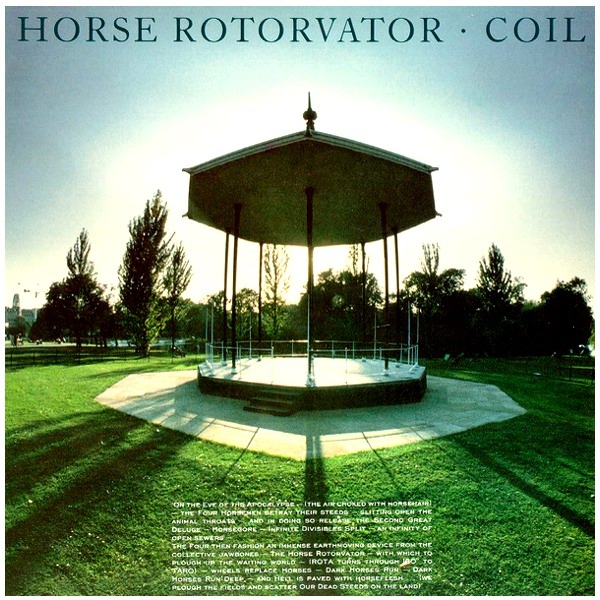 Horse Rotorvator
(1986; Some Bizzare)
Horse Rotorvator is 34 years old but it still sounds like the coming of the apocalypse. The title is a reference to a grotesque but oddly hopeful post-apocalyptic future in which the soil is tilled by tools created from the jawbones of horses, and the fairly innocent looking gazebo on the cover sits in Hyde Park—rebuilt after being bombed by the IRA. There's always something more sinister lurking beneath the surface of everything here, like how, for instance, the album's prettiest track is "Ostia (Death of Pasolini)", a gothic folk ballad about the murder of Italian director Pier Pasolini. Every moment of the album is teeming with dread and menace, particularly on a track like "Blood from the Air," a discordant textural dirge that sounds like the gates of hell opening up. That it's such a disquieting listen seems to betray its reputation as Coil's most iconic album, but there's melody and accessibility throughout this exercise in fear. The atmosphere is crawling with phantoms, but the songs are all essentially airtight, their hooks front and center rather than buried beneath the din—a trick that Reznor no doubt borrowed early and often.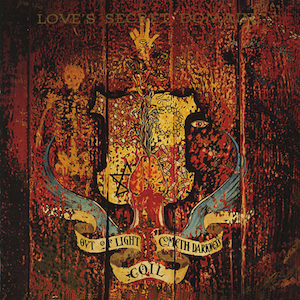 Love's Secret Domain
(1991; Wax Trax!)
As industrial and electronic dance music converged in the early '90s, Coil found themselves partnered with Wax Trax! Records for their third full-length LP, a dramatic shift away from the eerie occult industrial of Horse Rotorvator. Instead, Balance and Christopherson embraced a heavier influence from house and techno, as well as lots and lots of drugs. (The acronym for the album is L.S.D., after all.) It's not a dance album exactly—it does feature dance-oriented tracks like the hypnotic beats of "The Snow"—but the group's embrace of electronics feels ahead of its time, even if some of the acid house influences seem connected to a particular time and place. The vocoder effects on "Teenage Lightning 1" act as a disorienting introduction to the album, and eight tracks go by without the presence of Balance's human vocals at all (though a few guest vocalists lend theirs)—it's not until the druggy club jam "Windowpane" that he finally steps out from behind the processors. But by this point Coil weren't so much a "band" as a studio project, showcasing a journey through disorienting and hypnotic pieces like the darkly atmospheric "Dark River" and the deeply unsettling "Titan Arch," featuring previous collaborator Marc Almond of Soft Cell. Throughout the album, the "Teenage Lightning" melody provides a kind of recurrent theme, anchoring the psychedelic experiments that happen throughout. But the peak moment is saved for the end—the incredible title track, as much a bridge to Coil's terrifying early industrial material as it is a window into their increasingly experimental future.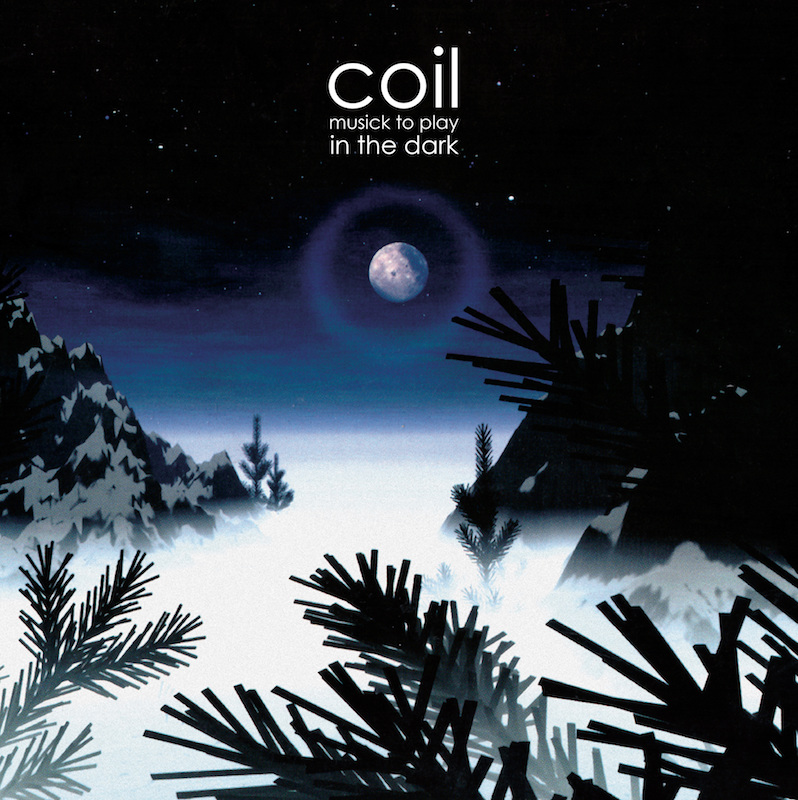 Musick to Play in the Dark
(1999; Chalice)
It took Coil eight years to release a proper follow-up to Love's Secret Domain, though it's not as if the group had reduced their output much. Following that album, they released an entire full-length LP's worth of outtakes originally recorded for LSD, followed by a drone album under the name Time Machines and a subscription-only dark ambient record, Astral Disaster. But their next finished album, Musick to Play in the Dark Vol. 1, an album that marked their transition into "moon musick," their nocturnal kosmische phase. Much like Love's Secret Domain, it's dominated by electronic sounds, and tracks like the lengthy "Red Birds Will Fly Out of the East and Destroy Paris in a Night" descend from Berlin school progressive electronics, with interwoven waves of repeating synth patterns and a kind of hypnotic, rhythmic quality. And there are a handful of extremely peculiar tracks, to be sure—it wouldn't be a Coil album without some oddball experiments. "Broccoli" is a song about the importance of eating your greens, and "Strange Birds" is a sequence of bird songs set against a beat-driven electronic backdrop and Balance hissing "your eggs are going to hatch." The detours in the middle of the record are all curious, sometimes eerie and consistently interesting tracks, but Musick's peaks are its bookends: the buzzing gothic-industrial opener "Are You Shivering?", which eases into a minimal synth pulse, and the closer, chilling ballad "The Dreamer Is Still Asleep," one of the best moments of pure songwriting to bear Coil's name.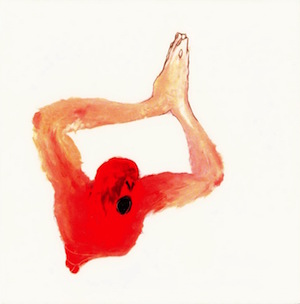 The Ape of Naples
(2005; Threshold House)
It's hard not to hear a mournful quality in 2005's The Ape of Naples, the album released following John Balance's death in 2004. It doesn't help that first track "Fire of the Mind" (a track originally intended for the lost album Backwards) begins with the line "Does death come alone?" It's an unusual record in the Coil catalog—it largely comprises material that had been written long beforehand, though these are the "final" versions of each track, and as such often don't feel tied to the harsher, experimental industrial music of their earlier years. The subdued, subtle synth tones here color some of the group's most accessible and even prettiest material—there's a darkness and even menace to a track like "Triple Sun," but it's gorgeous nonetheless. Yet the album is by and large a new-generation reworking of the Coil archives; this take on "Teenage Lightning," originally a reoccurring motif on 1991's Love's Secret Domain, is more atmospheric and haunting. The update of "Heaven's Blade" is less catered toward club sounds, more of an ominous minimal synth pulse. Some of the material is only slightly different than where it appears elsewhere, like "Cold Cell," but by and large this is less an industrial work and more one of a nocturnal, gothic chamber-pop, a chilling and gorgeous final work, if such a thing can even be said of The Ape of Naples. As a collection of mostly tracks that have been tinkered with and revisited over the years, it's strangely cohesive, and even has a more logical sequence than the counterpart albums from which these tracks appear in different form. But the truth is that these tracks, however close to perfect they are here, remain open ended.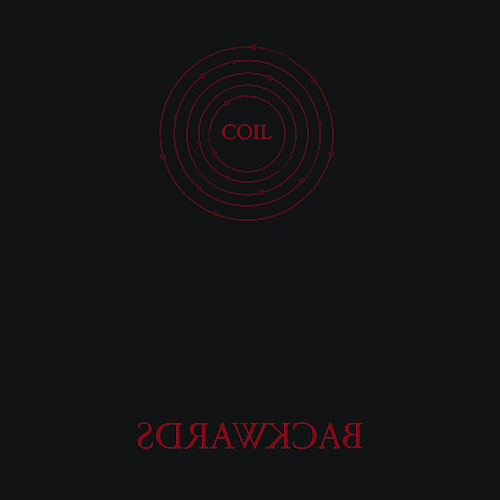 Backwards
(2015; Cold Spring)
In the '90s, Coil had begun work on a follow-up to 1991's Love's Secret Domain that was originally intended to be released on Trent Reznor's Nothing imprint, as Reznor had long been a fan of their music and had even worked with them a handful of times—Coil remixed some of the material on The Downward Spiral and Christopherson even directed the "snuff film" that accompanied Broken, which was never officially released. This fabled major label debut never actually came to fruition while the band had the opportunity, however, partially due to dissatisfaction with the material (these songs were reworked and rerecorded a few times) as well as being partially due to what producer Danny Hyde dubbed "issues with grey men," likely a difference of vision between Interscope and the group. And to be fair, Backwards is a strange album. Many of its songs have been released in different fashion, and to say any of the versions that have been released is "definitive" is up for debate. This is, however, the readily available version of the album that's titled Backwards, featuring the actual recordings from the sessions in the '90s in New Orleans, and thus as close to the official proposed Nothing release as we're going to get. Similar to Love's Secret Domain, it's sequenced in pretty strange fashion; following the opening title track, an intense but recognizable industrial rock song, the group segues into gothic dirge "Amber Rain" before igniting a pair of noisy electronic experiments. As disorienting as this material is—and that's almost certainly by design (though the sequencing makes a little more sense on 2008's reworked The New Backwards), there are a lot of great moments here, like the tuneful and powerful "Fire of the Mind," the dreamy and mournful "A Cold Cell" (which also appears on The Ape of Naples), the punishing club workout "AYOR" and the gothic acid-house jam "Heaven's Blade." It sounds less like a missed opportunity than the assured creation of a band that couldn't be reined in by commercialism.
---
Also Recommended: After getting schooled in what are arguably the five best Coil albums, the next logical step is Scatology, Coil's debut album with a notably hostile name. It's the closest moment in their discography to their 1986 masterpiece Horse Rotorvator, but it's not as intricately developed, song-wise. It feels more connected to early, abstract industrial, but everything there is still interesting, particularly with the bonus track of "Tainted Love" added. From there, seek out Time Machines, Coil's drone album under a different name, whose music is fairly accessible and hypnotic—at least in the same way that, say, Nurse With Wound's Soliloquy for Lilith is—but has a strange psychological effect, due to the differences in frequencies in each speaker or headphone, creating a kind of dreamy, disorienting feeling.
Advanced Listening: If you really want to go back to the beginning, seek out How to Destroy Angels, the early EP that introduced Coil with an extended abstract piece of hypnotic, industrial drone (which influenced the name of a psych band with Trent Reznor three decades later). And though it was only ever officially released on CD-R, 2004's Black Antlers is a strong companion album to The Ape of Naples, similarly mournful if somewhat glitchier. Beyond that, there's still a lot to explore but it gets more complicated, as there are a number of thematic EPs, records of outtakes, drone and noise limited-release albums, and so on, a good number of which are on Bandcamp in some form or another. If you've made it this far, just keep going.
---
Support our Site: Become one of our monthly patrons on Patreon, or help fund our Indiegogo, and help support an independent media resource while gaining access to exclusive content, shirts, playlists, mixtapes and more.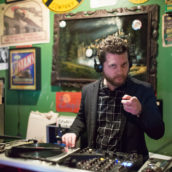 Jeff Terich
Jeff Terich is the founder and editor of Treble. He's been writing about music for 20 years and has been published at American Songwriter, Bandcamp Daily, Reverb, Spin, Stereogum, uDiscoverMusic, VinylMePlease and some others that he's forgetting right now. He's still not tired of it.